DNC Chair Tom Perez: 'Rigged' Is A Loaded, 'Dangerous' Term
09:25
Play
This article is more than 1 year old.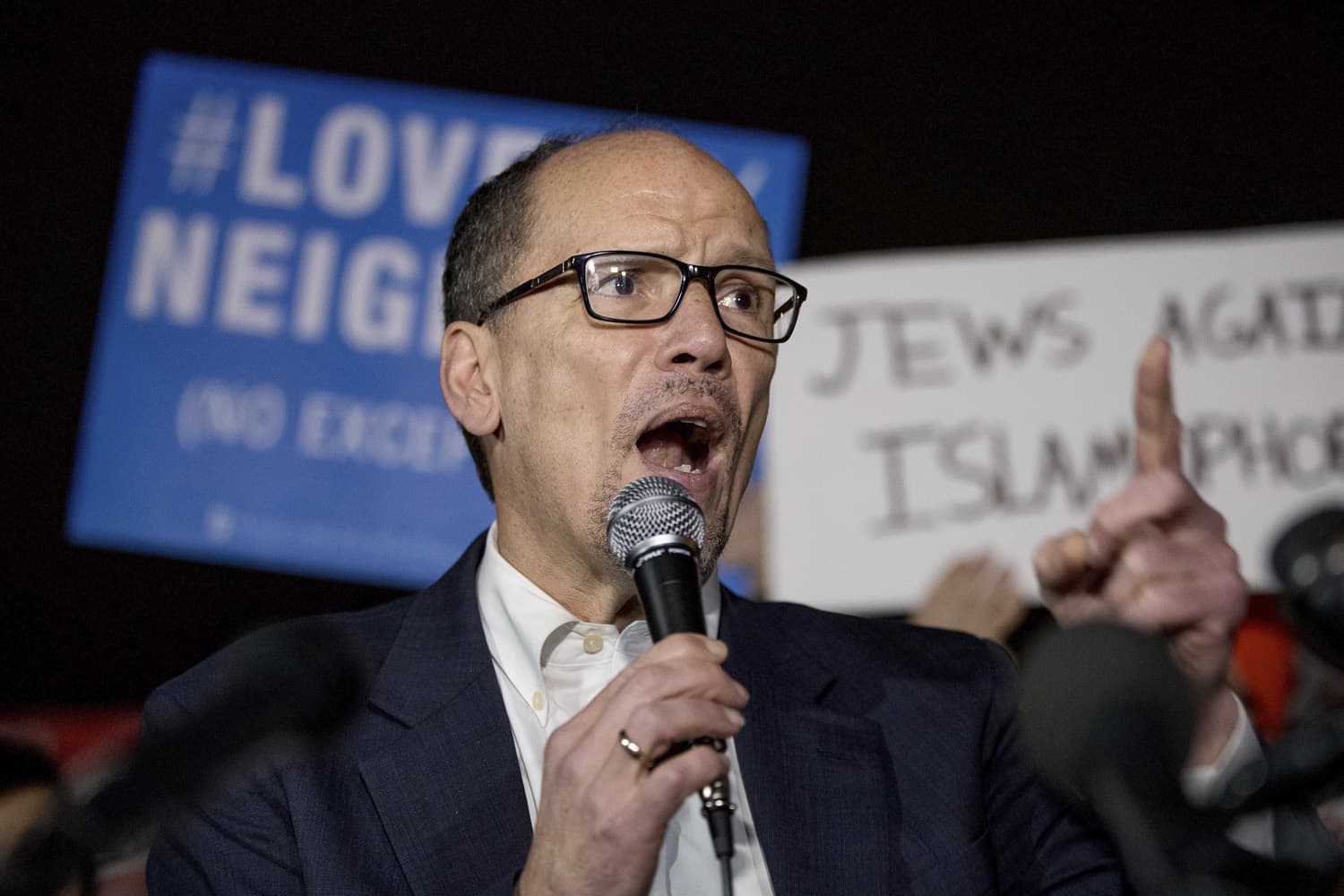 Democratic National Committee Chair Tom Perez pushed back against using the term "rigged" to describe the 2016 Democratic primaries in an interview with On Point's Tom Ashbrook.
"When we talk about something being rigged, that is a term that is a loaded term, it's a term that I think is a dangerous term," Perez, who became the Democratic chairman in 2017, said in an interview on the NPR show Tuesday morning.
Perez's successor, Donna Brazile, said in a book published Tuesday that Democratic Party insiders tilted the playing field toward former Secretary of State Hillary Clinton over Vermont Sen. Bernie Sanders. The vote tallies didn't change, Brazile said, but she described a party apparatus that was influenced by one candidate — Clinton — before the Democratic voters had even had their say.
In an interview Tuesday — the same day voters went to the polls to elect governors in Virginia and New Jersey — Perez didn't point out any specific favoritism in the Democratic nomination process in 2016, but said the party would do better.
Without meeting it head on, he also deflected some criticism: He pointed out that the party doesn't control primaries, where Clinton did better, but it does control caucuses, where Sanders did better.
"I think the DNC fell short in many important ways in the 2016 cycle, and I accept responsibility for fixing that," Perez acknowledged.
(Brazile herself has walked back the term "rigged" and called the process fair after an excerpt of her book, published in Politico, made waves.)
Perez, meanwhile, told On Point that the party would start scheduling debates before the candidates are even known, a response to criticism that the debates were timed to favor Clinton.
Much of Brazile's criticism centered around agreements between the Clinton campaign and the DNC before Clinton was the nominee. One was a joint fundraising agreement, which Perez noted had been offered to all candidates; Sanders and Clinton both took them up on it.
But according to reports in NPR and other media outlets, Brazile was talking about a second agreement that gave the Clinton campaign oversight and influence over staffing for positions like communications director.
Perez said the focus should be on the races in Virginia and New Jersey.
"700 miles I've put on my car in Virginia, not one question about Donna Brazile," Perez said.
Perez's conciliatory tone is to be expected; he's the head of a party at a crossroads and in the wilderness, to mix two metaphors. Various factions are fighting over what lessons to take from 2016 and where to go in the future. A stunning loss to Donald Trump; the minority party in Congress; on the wane in statehouses; but still reliving the bitter 2016 primary fight between Clinton and Sanders.
It's clear Perez wants to move past it and focus on the upcoming races in 2017 and beyond. Whether he'll succeed is another matter.
Nina Turner, an Ohio Democrat who's the head of the Sanders-wing progressive group Our Revolution, took a different tack.
In a separate On Point interview, Turner said the Democratic Party needed to own up to its failures, and portrayed a process that was — in a word — rigged.
"We need truth and reconciliation," Turner said. "You can't cover this up. We have to admit that things happened that should not have happened."
This segment aired on November 7, 2017.