CBS's Major Garrett: Fewer Questions, More Talking Points At Trump Press Briefings
02:12
Play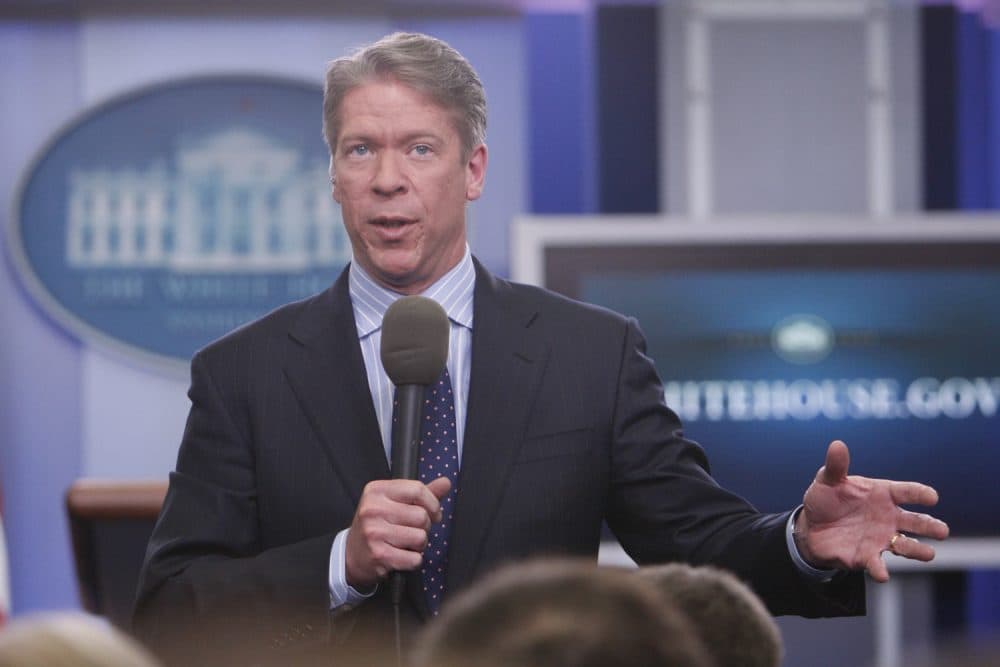 This article is more than 3 years old.
President Donald Trump's White House media operation wields talking points like "sledgehammers" and, unlike prior administrations, seems to have no fear of a media it considers illegitimate, CBS News correspondent Major Garrett told On Point Monday.
There's no give and take in the White House briefing room, said Garrett, a fixture there.
"There is only give — we give you what we want to give you, and that's it, you can either like it or lump it," Garrett told host Tom Ashbrook our show Monday morning about Sarah Huckabee Sanders and the modern White House press secretary.
The full show can be found here. 
The relationship between the White House and an the adversarial corps can seem especially contentious — and important — in an age when the president himself lambastes the media as "fake news" while spreading false claims of his own. Most recently the president retweeted a far-right British activist with misrepresentations about Muslims. He was fact-checked by the Dutch embassy on Twitter.
It's Sarah Huckabee Sanders' job to stand at the podium, expanding on 280-character presidential missives, tamping down self-created controversies and generally presenting the White House's view of the world.
But those briefings are shorter now, Garrett said, and characterized at times by attempts to delegitimize and attack the press.
The briefings now last 17 to 20 minutes, when they used to last 40 minutes to an hour or even an hour and a half. People who used to be able to ask six questions get two or three. And, in line with the Trump administration's aversion to broader political persuasion, it's driven by talking points, Garrett said.
That's not to say that other presidents, from Lyndon B. Johnson about the Vietnam War to Ronald Reagan on Iran-Contra to George W. Bush on the Iraq War, always told the truth, Garrett said. And not every administration has been a "rich atmosphere to gather information."
"But this White House from the very top believes it won the presidency by not just criticizing… the media but trying to obliterate and undermine the the essential purpose of a free press and its level of accountability, and its level of believability," Garrett said.
We were also joined by syndicated Washington Post columnist Kathleen Parker, who said that Sanders presents herself as a "wall" to block information rather than disseminate it. That's a reflection, Parker said, of the president himself, who has built a narrative that the media is the enemy. His supporters, Parker said, are willing to side with him over the press, and at times with the facts.
"That's that's the sort of existential danger of this president — if people are willing to believe anything then where does he take them?" Parker said.
This segment aired on December 4, 2017.