Time Editor: No, Trump Wasn't Going To Be Person Of The Year
01:04
Play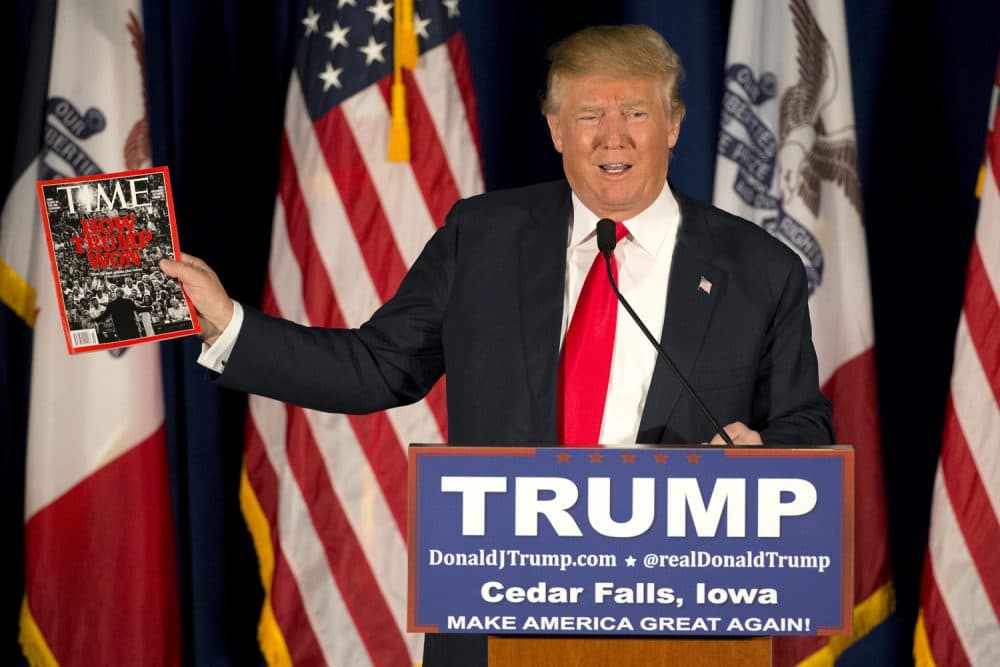 This article is more than 3 years old.
An executive editor of Time said in an interview on NPR's On Point Thursday that President Trump was not on the verge of becoming the Person of the Year, despite his tweet boasting of the honor.
Story continues below
Subscribe to the podcast
And there's evidence: Susanna Schrobsdorff said the cover photo of the actual Person of the Year — women who had reported sexual harassment, abuse and assault — was taken before Trump's tweet.
"We photographed the cover about five days before he put that tweet out, so no, he was not" headed toward being Person of the Year, Schrobsdorff told host Tom Ashbrook.
Schrobsdorff joined the program, along with colleague Haley Sweetland Edwards and Tufts professor Sarah Sobieraj, joined the program Thursday to talk about the people who launched the movement by speaking out.
Full show: Time Names Silence Breakers As Person Of The Year
Trump tweeted Nov. 24 that Time had contacted him and told him that he was "probably" going to be Person of the Year for the second year in a row, but that he'd have to sit for a photo spread and interview, so he said he'd take a pass, "Thanks anyway!"
But by the time Trump had sent the tweet, Time had already taken the picture of its actual Person of the Year, featuring Susan Fowler, Adama Iwu, Taylor Swift, Isabel Pascual and the arm of a woman who remained anonymous.
Schrobsdorff said Time made its decision on the annual feature when the team, including the editor-in-chief, gathered to take a look at the work the Time reporters had put together. The printouts of the women who'd said "Me Too" stretched across an entire conference room table.
"That did it for him, as far as making this the choice," Schrobsdorff said about editor-in-chief Edward Felsenthal. "There are just too many women."
Thursday's show was an object lesson in how widespread the allegations are; while we were live on air, U.S. Sen. Al Franken, a Democrat of Minnesota, announced on the Senate floor that he was going to resign from his seat in the coming weeks — but on the way out, blasted President Trump, who has been accused by 20 women of inappropriate conduct.
This segment aired on December 7, 2017.