California's Future In The Age Of Wildfires
Play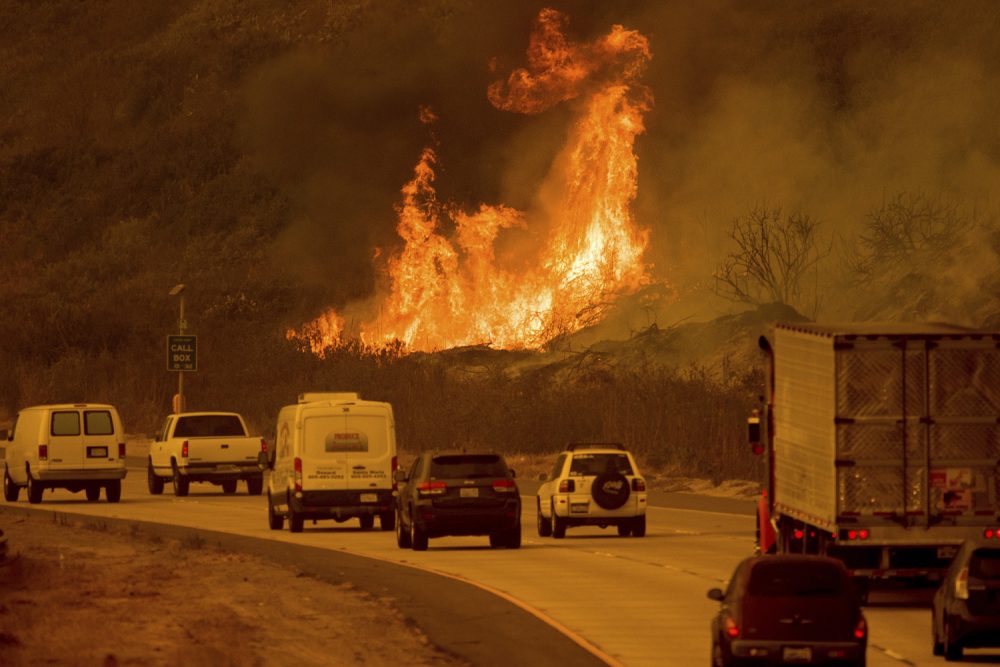 This article is more than 5 years old.
With guest host Anthony Brooks.
California burning – again. The region's worst wildfire conditions on record. What are the solutions?
"It's unlike anything I've ever seen before."

Jaclyn Cosgrove, Los Angeles Times
We get an update from Los Angeles Times reporter Jaclyn Cosgrove about the devastation, which she called "unlike anything I've ever seen before."
Plus, one our guests, Kenneth Klein, says: Buy insurance. Get the best you can, at true replacement cost. Richard Halsey, the executive director of the California Chaparral Institute, points out that homes in Australia, where wildfires are common, have sprinkler systems that douse buildings with water.
And our guest Alex Hall, who directs the Center for Climate Science at UCLA, says the conditions in California that are causing these wildfires tracks with predictions that are being made about global warming.
"It does seem like the signs of climate change are really emerging in these types of events," Hall says. "And I do think this is very much the emergence of a changing climate."
Guests:
Jaclyn Cosgrove, reporter for the Los Angeles Times. (@jaclyncosgrove)
Kenneth Klein, professor of law at California Western School of Law.
Richard Halsey, executive director of the California Chaparral Institute.
Alex Hall, director of the Center for Climate Science at UCLA.
From Anthony's Reading List:
Los Angeles Times: Southern California's Fire Devastation Is 'The New Normal,' Gov. Brown Says — "Gov. Jerry Brown surveyed the devastation Saturday in Ventura — the area hardest hit by firestorms that have displaced nearly 90,000 people in Southern California — calling it "the new normal."
The visit came four days after Brown declared a state of emergency in response to the wildfires. In all, blazes from Ojai to Oceanside have destroyed more than 790 structures and burned 175,000 acres."
Los Angeles Times: Sure As The Sun Rises, One Day Your California Town Will Be On Fire. Get Insurance — Lots Of It — "But after the fires are extinguished, thousands of Californians will learn that they are not prepared, because they do not have enough insurance to rebuild their homes. Worse, they may not receive much, if any, assistance from the federal government. FEMA coffers are being depleted from the rising number of annual declared disasters, and federal policy under the current administration seems to change by the day. There are no guarantees."
Los Angeles Times: Why Are California's Homes Burning? It Isn't Natural Disaster, It's Bad Planning — "The fires raging in Los Angeles County and Ventura are an urgent signal that we need to start asking the hard questions — about the true cost of expanding the local tax base with new residences in high fire hazard zones. We need to stop having the same conversation over and over again, a conversation laced with non-sequiturs and focused on outdated, ineffective solutions. The devastating loss of life, the destruction of so many family homes, and the dangers faced by those who protect us demand nothing less."
Southern California is burning, as Santa Ana winds fan multiple fires. Thousands have fled. Homes, farms ad animals incinerated, leaving behind a charred landscape. Governor Jerry Brown says global warming means this is the new reality. But wildfires are nothing new, and some say this is not the result of natural disaster, but of disastrous planning.  This hour, On Point, why California's homes are burning and how to save them. --Anthony Brooks
This program aired on December 11, 2017.