Deep-Red Alabama Elects A Democrat — Now What?
45:51
Play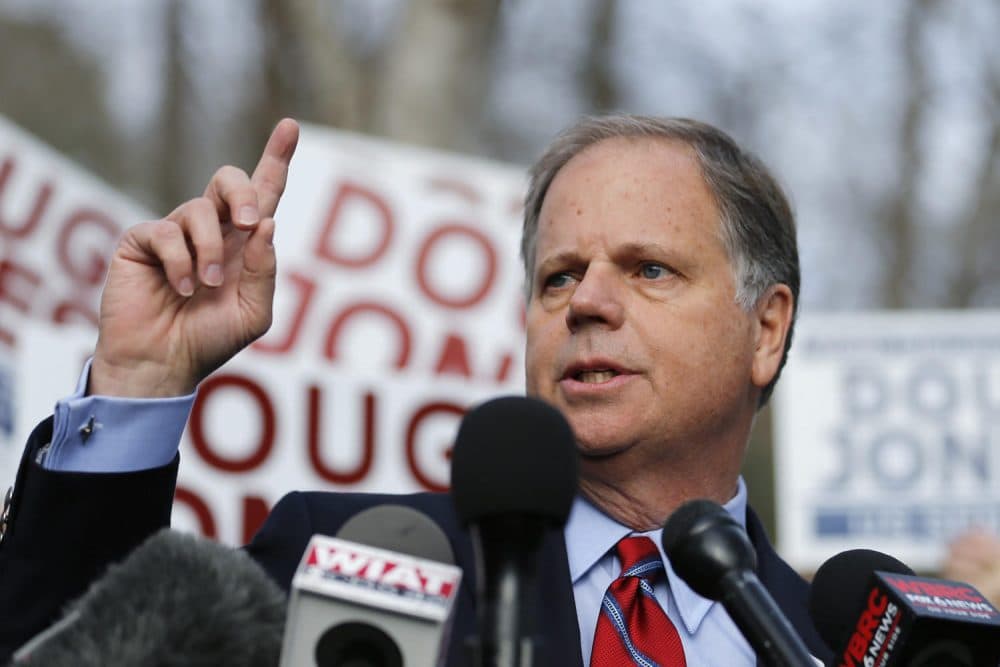 This article is more than 3 years old.
With guest host Tom Gjelten.
The Associated Press has called the U.S. Senate race in Alabama for the Democrat, Doug Jones, the culmination of a stunning series of events that will have national reverberations. Jones defeated Republican Roy Moore — who'd been accused of sexual misconduct with underage girls — in the heavily GOP state.
Our subject: Where does the country go next?
Guests:
Leada Gore, reporter for AL.com. (@LeadaGore)
Winston Groom, novelist and historian, author of "Forrest Gump" and last year's "El Paso."
Jennifer Rubin, opinion writer of the "Right Turn" blog for the Washington Post. (@JRubinBlogger)
John Bresnahan,  Capitol Hill bureau chief for Politico. (@BresPolitico)
From The Reading List:
AL.com: Alabama Senate Race 2017: Roy Moore Vs. Doug Jones Final Polls — Who Will Win? — "Election day in Alabama is Dec. 12 and voters will be deciding between Republican Roy Moore and Democrat Doug Jones.
The final polls reflect a close race."
Washington Post: Be Wary Of What You Wish For In Alabama — "If Alabama voters send Moore to the Senate in the wake of Minnesota Democratic Sen. Al Franken's resignation announcement, they also will succeed in painting the GOP as a refuge for credibly accused sexual predators. They will sentence every Republican on the ballot in 2018 (and many others who'll face the electorate in 2020) to a non-stop stream of questions. (How can they be in a party that accepts Moore? Should he be expelled in contravention of voters' wishes?)"
Politico: Moore Expulsion Idea Splits Republicans — "When asked about a potential expulsion vote, Senate Majority Whip John Cornyn of Texas, who earlier said Alabama voters would have the 'final judgment' on Moore, declined to weigh in and merely noted: 'There hadn't been an election yet.'"
Voters in Alabama surprise the election forecasters, choosing Democrat Doug Jones as their next Senator. Judge Roy Moore told supporters he wasn't ready to concede, but Alabama's Secretary of State says it's highly unlikely Moore can prevail. African Americans, women, and suburbanites made the difference; President Trump intervening on Moore's behalf wasn't enough. This hour, On Point: What the Alabama race means for the country … and the Trump presidency. --Tom Gjelten
This program aired on December 13, 2017.