A 'Daily Battle' To Stop Trump From Firing Mueller
02:01
Play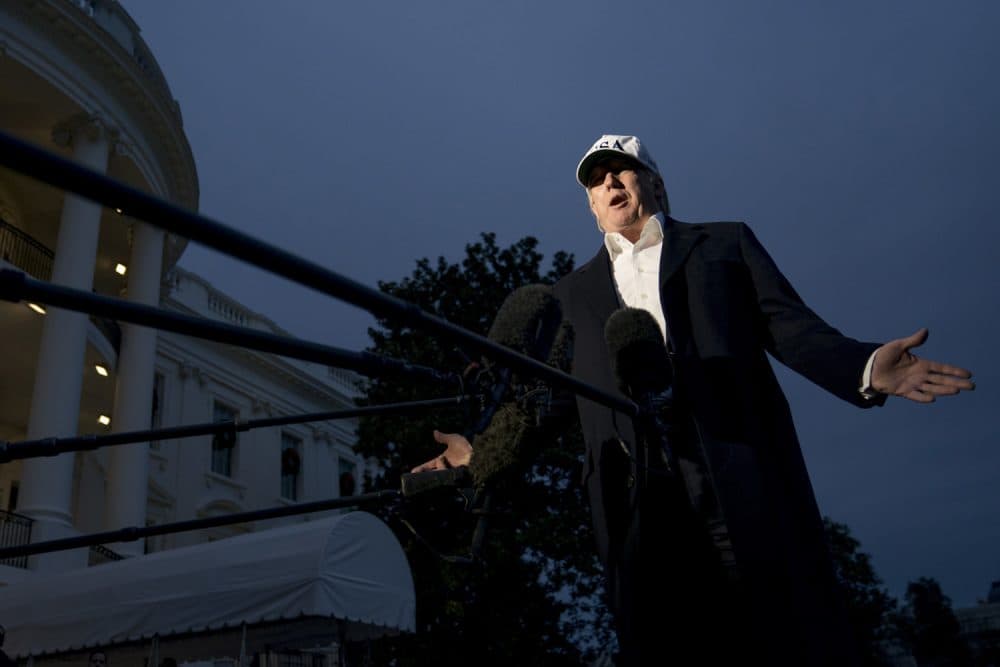 This article is more than 3 years old.
Despite President Trump's recent denial, there's been speculation of late that he will fire Robert Mueller, the special counsel looking into collusion between the Trump campaign and Russia.
Will it happen? On Point discussed the subject on our show Monday about the political battles roiling the FBI.
"There's no telling," Del Quentin Wilber, Department of Justice reporter for the Wall Street Journal, told On Point guest host Meghna Chakrabarti. "If you had said the president is going to fire (FBI Director) Jim Comey in late April I would've said no there's no way he'd do that. And he did."
"It's probably a daily battle inside the White House," said Greg Miller, a Washington Post intelligence reporter. "His lawyers and advisers probably are weighing in constantly trying to push against this impulse that undoubtedly exists."
For the full show, click this link. 
Mueller was appointed this year by the Department of Justice to investigate collusion between the Trump campaign and Russia. The FBI is part of the executive-branch department overseen by Trump cabinet member Attorney General Jeff Sessions, who's recused himself from the investigation.
It's mostly been a tightly run ship, but recent revelations about anti-Trump text messages have led to criticism from Trump and his allies about an allegedly tainted probe. Peter Strzok, a top counterintelligence investigator, was quickly removed from the investigation after text messages to his mistress — FBI lawyer Lisa Page — surfaced in which they called Trump, among other things, an "idiot."
The texts became public this month, a few months after Strzok was removed.
A Trump lawyer has also accused Mueller's investigators of illegally obtaining transition emails, a charge the special counsel team denied.
Despite the heated rhetoric, Trump said Sunday in response to a question about whether he was considering firing Mueller: "No, I'm not."
"These are efforts to undermine institutions that we count on for democracy to function in the United States."

Greg Miller, Washington Post
But he has said the FBI was "in tatters" and needed to be brought back to greatness. During an interview with White House adviser Kellyanne Conway, Fox News displayed a banner that pondered whether the Mueller probe was "A Coup In America?"
The attacks are of a piece with broader assaults on other American institutions, including the CIA, the media and the judiciary, Miller said.
"I wonder what the legacy will be for this administration in terms of how much damage these attacks end up causing," Miller said. "These are efforts to undermine institutions that we count on for democracy to function in the United States."
This segment aired on December 18, 2017.