Students Have Been Marching, But Will They Vote In November?
Play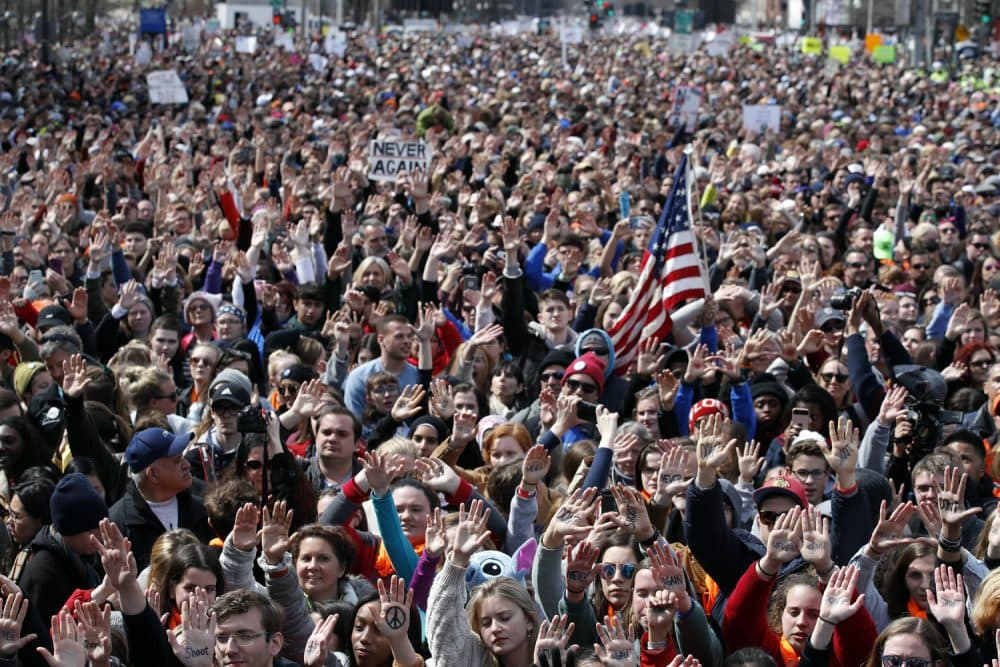 This article is more than 4 years old.
With Melissa Block
After Parkland, are youth activists registering to vote? We'll look at that and the new push to lower the voting age.
Guests: 
Sam Craig, 15-year-old sophomore at Chatfield Senior High in Littleton, Colorado. Student organizer and executive director of Vote For Our Lives, a student-led movement encouraging youth voter registration to end gun violence. (@SamCraigVFOL)
John Della Volpe, Director of Polling at the Harvard Kennedy School Institute of Politics. (@dellavolpe)
Andy Bernstein, Executive Director of HeadCount, a nonpartisan organization that works with musicians to promote participation in democracy. (@HeadCountOrg)
Joshua A. Douglas, law professor at the University of Kentucky specializing in election law and voting rights. Douglas advocates lowering the voting age to 16. (@JoshuaADouglas)
From The Reading List: 
Washington Post: Youthful March for Our Lives revives push to lower voting age to 16 in D.C. -- "[D.C. Council member Charles Allen] introduced similar legislation in late 2015, but it never came up for a hearing or vote. This time, he says the politics may be shifting. 'It's pretty hard for anyone to watch the events of the last couple of months and not understand the pure power and maturity of incredibly young voices,' he said."
NBC News: Washington, D.C., may let 16-year-olds vote for president. Is that a good idea? -- "A coalition of progressive groups recently launched a major push to register high school students to vote in 10 key battleground states in this year's midterms. 'America's children took to the streets and led marches with a unified message that rang out across the country: We need a Congress that will protect us,' said former Rep. Gabrielle Giffords, whose gun safety group is involved in the effort. 'We are making sure that they have the opportunity to cast their ballots for the first time and truly make a difference.'"
They're calling it Vote for Our Lives. That's the student movement to register and mobilize young voters – building on the youth activism that bubbled up after the school shooting in Parkland, Florida. Will that activism translate into votes at the polls? And should the voting age be lowered from 18 to 16?

This hour, On Point: getting out the youth vote. And we'll hear what's behind CIA Director Mike Pompeo's surprise visit to North Korea.

-- Melissa Block
This program aired on April 18, 2018.