Week In The News: Pledge To End Korean War, Cosby Found Guilty, VA Nominee Withdraws
48:03
Play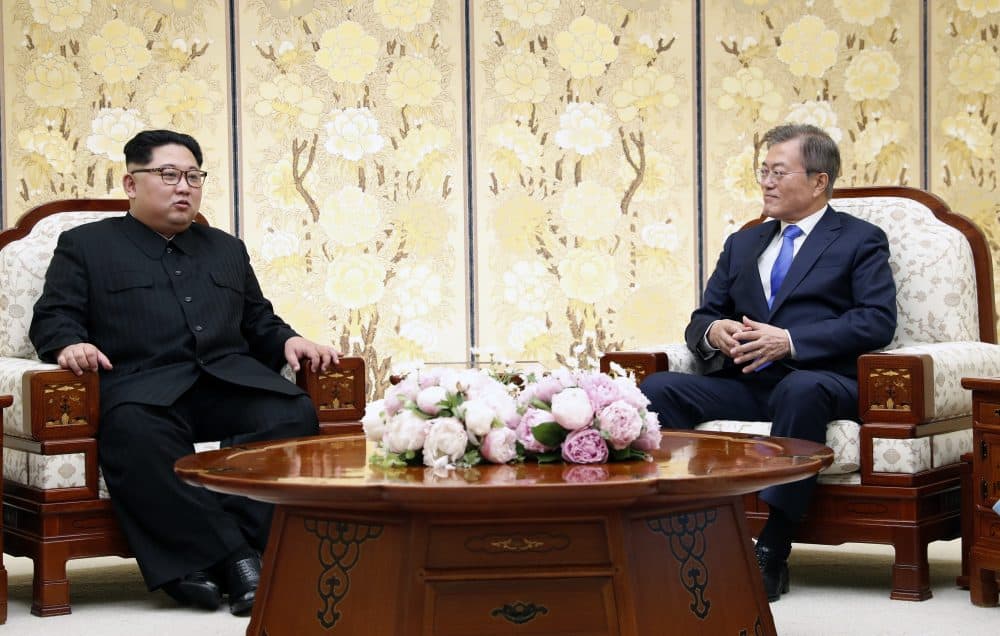 This article is more than 2 years old.
With Meghna Chakrabarti
North and South Korea say they will work toward peace. Bill Cosby found guilty on three counts. VA nominee "regretfully" withdraws. Our weekly news roundtable dives in.
Guests
Michael Crowley, national security editor and senior foreign affairs correspondent for Politico. (@michaelcrowley)
Shawna Thomas, Washington bureau chief for Vice News. (@Shawna)
Jack Beatty, On Point news analyst. (@JackBeattyNPR)
From The Reading List
NPR: "Kim, Moon Pledge End To Korean War And Denuclearization Of Peninsula" — "Following a historic meeting between North Korea's Kim Jong Un and South Korean President Moon Jae-in, the leaders appeared side by side to make an extraordinary announcement: The two nations — technically in a state of war for more than six decades — would work toward a permanent peace treaty and the elimination of nuclear weapons from the peninsula."
NPR: "Bill Cosby Found Guilty Of All Charges In Sexual Assault Retrial" — "A Pennsylvania jury has found Bill Cosby guilty of three counts of aggravated indecent assault, setting up the comic legend for the possibility of years of imprisonment for drugging and sexually violating a woman 14 years ago on a couch in his Cheltenham, Pa., home."
Military Times: "Ronny Jackson drops bid to become VA secretary amid allegations of drinking, mismanagement" — "Jackson, a 23-year naval officer who serves as the White House physician, was a surprise pick for the post following the firing of former VA Secretary David Shulkin last month. President Donald Trump had repeatedly backed Jackson in recent days, even as Senate Republicans and Democrats publicly questioned whether he could ever be confirmed."
An historic end to an intense week of news. The leaders of North and South Korea agreed today to work towards removing nuclear weapons from the Korean peninsula, and pursue talks to formally end the Korean war. Earlier in the week, the French president warns the U.S. against isolation. Ronny Jackson withdraws from the VA nomination. Mike Pompeo confirmed as Secretary of State. Bill Cosby found guilty.

This hour, On Point: the week in the news goes behind the headlines.

-- Meghna Chakrabarti
This article was originally published on April 27, 2018.
This program aired on April 27, 2018.