Tick-Borne Diseases Are On The Rise
Resume
With Anthony Brooks
Amid warming weather, a new report from the Centers for Disease Control and Prevention (CDC) warns of a surge in tick-borne diseases. We'll talk about what you can do to prevent them.
Guests:
Dr. Lyle Petersen, director of the Division of Vector-Borne Diseases at the Centers for Disease Control.
Felicia Keesing, community ecologist who studies tick-borne diseases, professor of science, mathematics, and computing at Bard College.
Dr. John Aucott, director of the Johns Hopkins Lyme Disease Clinical Research Center, assistant professor of medicine at the Johns Hopkins University School of Medicine, where he is an internist and Lyme disease expert.
From The Reading List:
The Washington Post: "Diseases spread by ticks, mosquitoes and fleas more than tripled in the U.S. since 2004" — "The report, released Tuesday, shows that the number of reported cases of these diseases jumped from 27,388 cases in 2004 to more than 96,000 cases in 2016. The data includes illnesses reported in U.S. states and territories. During that period, more than 640,000 cases of these diseases were reported to the CDC.
Officials say the actual number of people who have become sick is much higher, in part because many infections are not reported or recognized. Some patients may experience mild symptoms and not seek medical attention, and not all diseases were reported for the full 13-year analysis period or from all states and territories. The data 'substantially underestimate disease occurrence,' the report said.
For example, recent data from clinical and laboratory diagnoses estimate that Lyme disease infects about 300,000 Americans every year, which is eight to 10 times the number reported in the CDC analysis. In 2016, the number of Lyme disease incidents reported for the United States was 36,429."
(Video Courtesy CDC)
What You Can Do: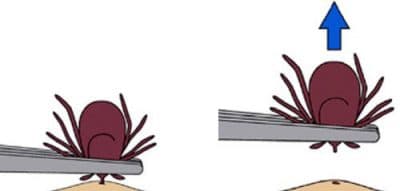 Use an Environmental Protection Agency-registered insect repellent.
Wear long-sleeved shirts and long pants.
Treat items, such as boots, pants, socks, and tents, with permethrin or buy permethrin-treated clothing and gear.
Take steps to control ticks and fleas on pets.
Find and remove ticks daily from family and pets.
Take steps to control mosquitoes, ticks, and fleas inside and outside your home.
Along with the warming of spring comes tick and mosquito season and growing alarm about the diseases they spread. A new CDC report finds that illnesses like Zika, Lyme disease, and West Nile virus more than tripled in recent years. Accelerating global movement of goods and people are spreading the viruses. Climate change might also contribute.

This hour, On Point: longer and warmer tick and mosquito seasons, and what to do about it.

- Anthony Brooks
This program aired on May 3, 2018.