Our Team Tried To Guess The Amount Of Calories In Our Lunches. Here's What We Found
On Wednesday, our second hour was focused on calories. According to a mandate, restaurant chains in the U.S. are required to add calorie counts next to their items.
Some say it helps Americans choose healthier options. Others ignore them completely. But when calorie counts aren't given to you, is it easy to estimate?
Our producers took a small test.
The On Point team guessed how many calories were in our lunch. Then we used a calorie counter (we used this one) to determine about how many calories our food actually contained. For meals we picked up at restaurants, we tried to avoid looking at the counts on the menu, and then after our guess, we verified the calorie counts online, or, with the counter app.
(Disclaimer: no one on our staff is a nutritionist, food expert, or anything similar. We do realize that our results aren't entirely accurate.)
Here's how we did:
Stef, Producer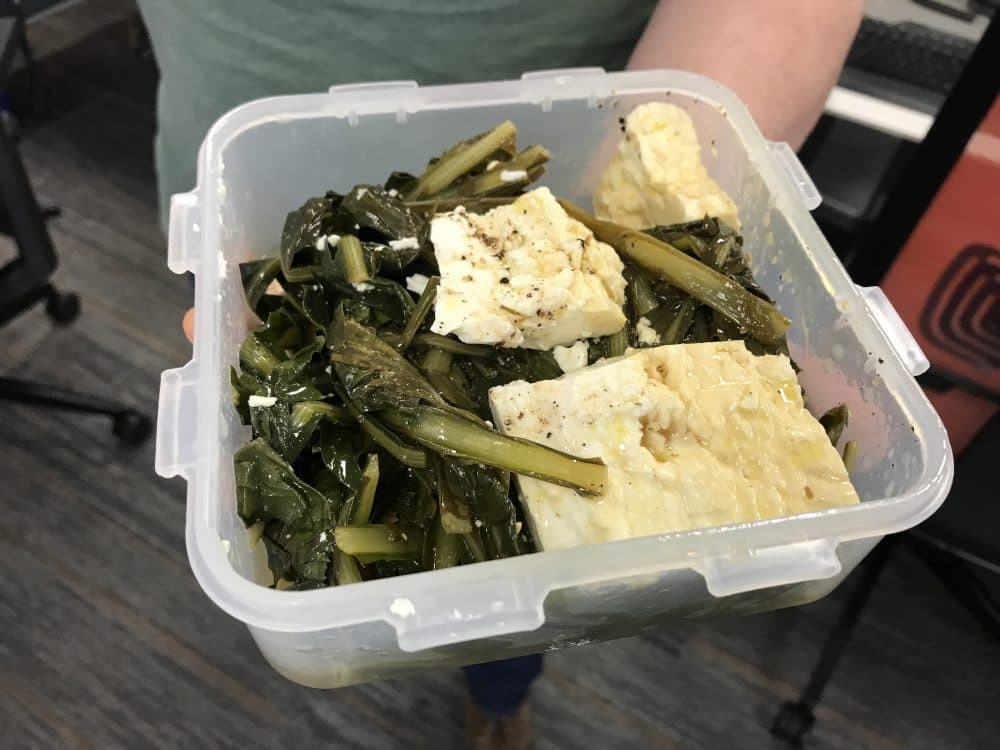 Lunch: Boiled dandelion greens (1 cup), feta cheese (2 oz.) extra virgin olive oil (1 tbsp), lemon juice, salt and pepper.
His estimate: "I'd put it at 350."
Actual count: 295
Allison and Anna, Producers:
Lunch: grilled chicken breast (1), lettuce (2 cups), feta cheese (1/8 cup), olives (5), banana peppers, red onion, Italian dressing (2 tbsp), pita bread (1 pocket).
Allison's estimate: "A thousand. That was a joke. Um, 800."
Anna: "I need to consult with Allison... I'm gonna guess 200."
Actual count: 373
Eileen, Director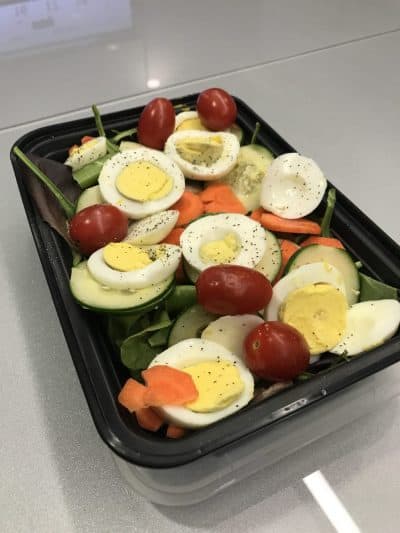 Lunch: grape tomatoes (5), large hard-boiled eggs (2), sliced cucumbers (1/4 cup),sliced carrots(1/4 cup), salad mix (2 cups), sugar snap peas (1/4 cup).
Her guess: "I would say... 200."
Actual count: 206
Jeremy, Digital
Lunch: One Siggis yogurt (150g), one banana, almonds (1/4 cup)
Guess: 210
Actual count: 385
Karen, Exec. Producer: 
Lunch: Two slices of roast beef, spinach (1/4 cup), one flax seed flatbread.
Her guess: 130
Actual count: 98
What we learned:
It's easy to overlook calorie counts, especially when they're not made accessible. (We were off, for the most part — with the exception of Eileen). This could especially be true for meals you pack at home, rather than a meal you'd pick from the menu (most likely, now, with a count right next to it).
Calories aren't the one metric with which you should measure your health. It goes without saying that exercise and physical activity also play a vital role in staying healthy. In any case, if you're interested in counting your calories, there's no shortage of free counters online — and apps for your phone — that we found helpful when tallying up. We encourage you to play around with them!
This story is part of our On Point weekly newsletter. You can subscribe here!