Week In News: Gaza Violence, North Korea Talks, Trump's Michael Cohen Payment
47:27
Play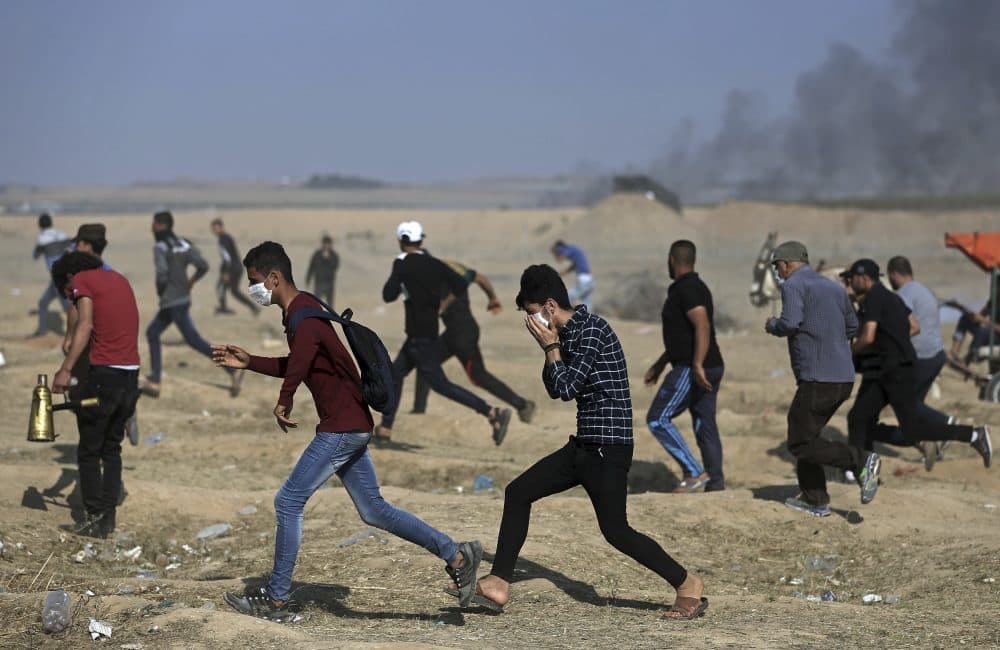 This article is more than 2 years old.
With David Wright
Gaza violence. North Korea talks, maybe? Trump discloses payment to Michael Cohen. The roundtable takes it all up.
Guests:
Paula Reid, justice department and legal affairs correspondent for CBS News. (@PaulaReidCBS)
Zack Beauchamp, senior reporter at Vox covering foreign policy. (@zackbeauchamp)
Jack Beatty, On Point news analyst. (@JackBeattyNPR)
From The Reading List:
NPR: "After Gaza Killings, World Reacts With Wave Of Condemnations, Calls For Restraint" — "Israeli forces killed at least 60 protesters and injured more than 1,000 on Monday, firing on demonstrators who had massed along its roughly 40-mile border with the Gaza Strip — but by Tuesday, the bloodshed's political fallout had reached nearly every continent.
"Several countries called for international inquiries, citing what the United Nations described as "appalling, deadly violence," while others summoned Israeli diplomats to explain the security forces' actions. From South Africa to Saudi Arabia, from Turkey to Guatemala, Israel was met with a mixture of condemnations, pleas for restraint — and, in some cases, open arms."
CNN: "Trump, still planning summit, reassures and warns Kim Jong Un" — "President Donald Trump on Thursday said US and North Korean officials are continuing to prepare for a scheduled diplomatic summit next month, even as North Korea threatened in recent days to pull out of what would be a historic first meeting between a North Korean leader and US president."
Time: "President Trump's Disclosure of Payments to Lawyer Michael Cohen Raises More Questions" — "President Donald Trump revealed in his financial disclosure Wednesday that he reimbursed personal attorney Michael Cohen as much as $250,000 for unspecified "expenses," with no mention of a $130,000 payment to porn actress Stormy Daniels to keep quiet about a sexual tryst she said they had."
The summit with North Korea. Will it happen or not? In Gaza, violence flares as the U.S. opens its new embassy in Jerusalem. In Washington, the Mueller probe enters its second year. Is this scandal surrounding this investigation "bigger than Watergate?" President Trump discloses a big payment to his lawyer Michael Cohen. And denounces so-called sanctuary cities in California, calling some undocumented immigrants "animals."

This hour, On Point: The weekly news roundtable goes behind the headlines.

-- David Wright
This program aired on May 18, 2018.