Looking At The Week Ahead In The News
47:25
Play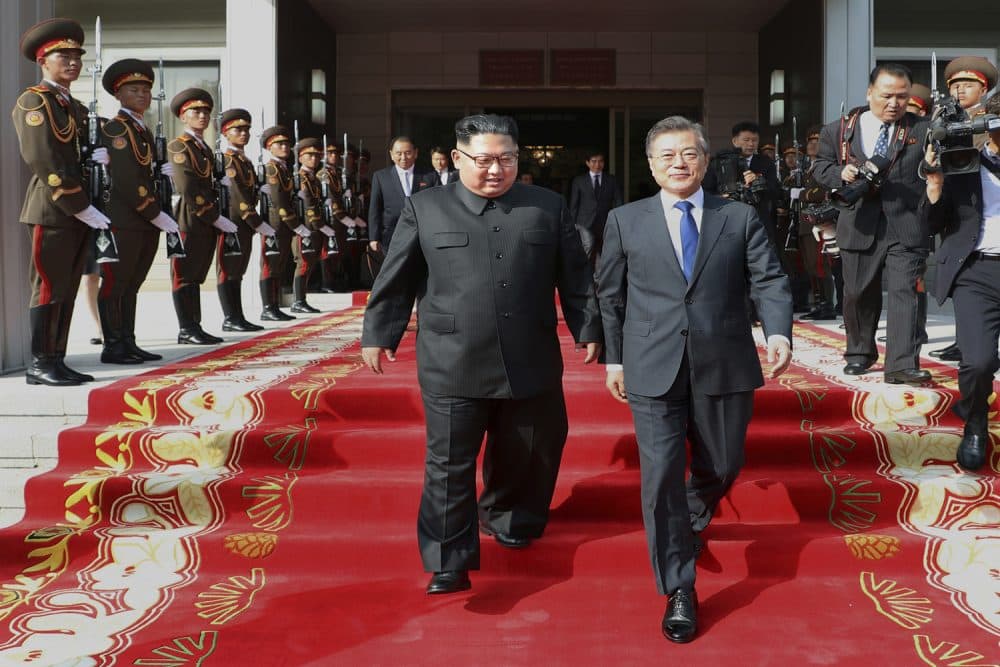 This article is more than 2 years old.
With Jane Clayson
Top reporters open their notebooks and look ahead to the week in Washington and around the globe.
Guests:
Michael Crowley, national security editor and senior foreign affairs correspondent for Politico. (@michaelcrowley)
Shawna Thomas, Washington Bureau Chief for Vice News. (@Shawna)
Byron York, chief political correspondent for The Washington Examiner and Fox News contributor. (@ByronYork)
From The Reading List:
The New York Times: "U.S. Officials Enter North Korea to Lay Groundwork for Summit Meeting" — "Technical and diplomatic experts from the United States have crossed into North Korea to meet with their counterparts, American officials said on Sunday, as part of an intense behind-the-scenes effort to resurrect the possibility of a summit meeting between the two countries' leaders.
Led by Sung Kim, a veteran diplomat with years of experience negotiating with North Korea, the team is seeking detailed commitments from Kim Jong-un, the North Korean leader, about his regime's willingness to abandon its nuclear weapons program. News of the delegation was first reported by The Washington Post."
Politico: "Giuliani slams Mueller probe as 'illegitimate'" — "Rudy Giuliani, President Donald Trump's personal attorney, on Sunday dinged an investigation into Russian influence in the 2016 presidential election as illegitimate.
Asked in an interview with CNN's "State of the Union" whether he believes special counsel Robert Mueller's probe is legitimate, Giuliani responded, "Not anymore."
"I did when I came in, but now I see 'Spygate,'" Giuliani told host Dana Bash, referencing a term used by Trump to described revelations that an informant made contact with his campaign as part of an FBI investigation into Russian meddling in the election. Trump has lambasted the Mueller and Justice Department, calling the ongoing investigation an effort to undermine the validity of his election."
Don't cancel that ticket to Singapore just yet. Talks with North Korea may be on.
Trump's top lawyer Rudy Giuliani admits Spygate is a PR tactic. Another Trump tweetstorm. Lawmakers head home to their districts –perhaps facing an earful. Gas prices spike. Gaza and Israel trade firepower. Missing migrant children. Starbucks closes for racial bias training.

This hour, On Point: Top reporters open their notebooks and look ahead to the week in Washington and beyond.

- Jane Clayson
This program aired on May 29, 2018.