The State Of Trade Under Trump: Tariffs, Bailouts And More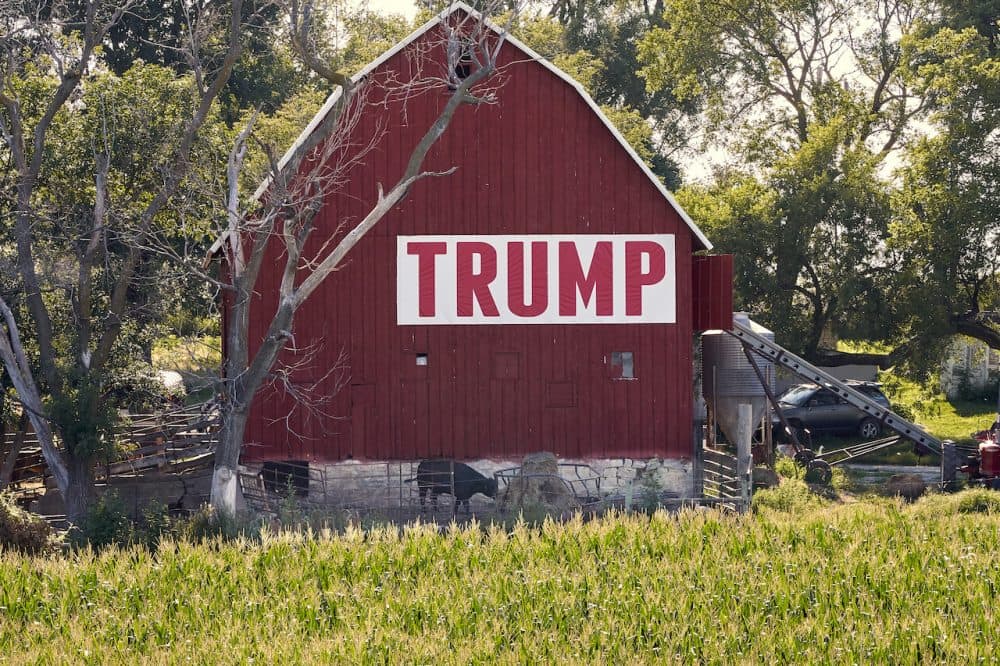 This article is more than 3 years old.
Tracking the trade war — there's a lot to cover. Amid ongoing tariff talk and action with allies and rivals alike, the latest development has been an easing of tensions between the European Union and U.S. on Wednesday. This comes  on the heels of of Trump's  announcement of a $12 billion bailout for farmers suffering.
Other countries have responded to U.S. tariffs on aluminum and steel with tariffs of their own on American exports of agricultural products.
To help On Point put all of this in context, we spoke to a fourth-generation soybean and corn farmer, Jay Reiners of Nebraska. He says that soybeans are at a 10-year low and corn isn't far behind.
"It's been a real struggle in farm country," Reiners explained. "Just a lot of external factors."
And as for a solution, Reiners isn't convinced Trump's bailout is the best option.
"It's a toss-up. First and foremost, most farmers, we want trade and not an aid package," Reiners said. "$12 billion seems like a lot from a taxpayer's perspective, but when you put it all across the whole ag industry, it's a drop in the bucket.
"There's other mechanisms that the president could use to go against China. But tariffs — nobody wins in a trade and tariff war. And agriculture in the U.S. is always the target."
Despite this, Reiners says he is optimistic for the industry, "just because of the growing world population."
"We are growing more food for the population on less acres than was even 20, 30 years ago," he said.
He's waiting on Trump to deliver on his campaign promises to strike new free trade agreements with other countries.
"I guess we'll wait and see, and I hope we hurry up and get this wrapped up because that's going to hurt farmers really bad this summer," Reiners said.
Did we see the start of a resolution on Wednesday, when Trump met with European Commission President Jean-Claude Juncker? New York Times reporter Ana Swanson says it's possible.
"We weren't necessarily expecting anything to immediately come out of that meeting, but the White House called a surprise press conference in the Rose Garden yesterday afternoon," Swanson said. "The two stood side by side and announced that they were beginning talks for a new kind of trade agreement."
The president has imposed tariffs on the EU, and the EU has retaliated. Those tariffs have been left in place, but there were some positives to come from the meeting, according to Swanson: talk of increased EU purchases of American soybeans, liquefied natural gas and other non-auto industrial goods.
Despite this de-escalation of trade tension, Swanson acknowledges "on the other hand, the president does seem to be kind of taking credit here for solving a crisis of his own making."
"It seems like the beginning to kind of a long road," she adds.
In the meantime, the effects will continue to be felt by farmers like Jay Reiners and consumers.
"Tariffs affect the cost of products that the average individual has to pay," our caller Susan said.
"The sad irony about what Trump is doing is that the people he intends to help — those who have lost jobs in declining industries, farmers and so on — are precisely those being hurt by the approach he is taking to this issue," said Eswar Prasad, a professor of trade policy at Cornell University and a senior fellow at the Brookings Institution.