Looking Ahead To The Week In News
49:15
Play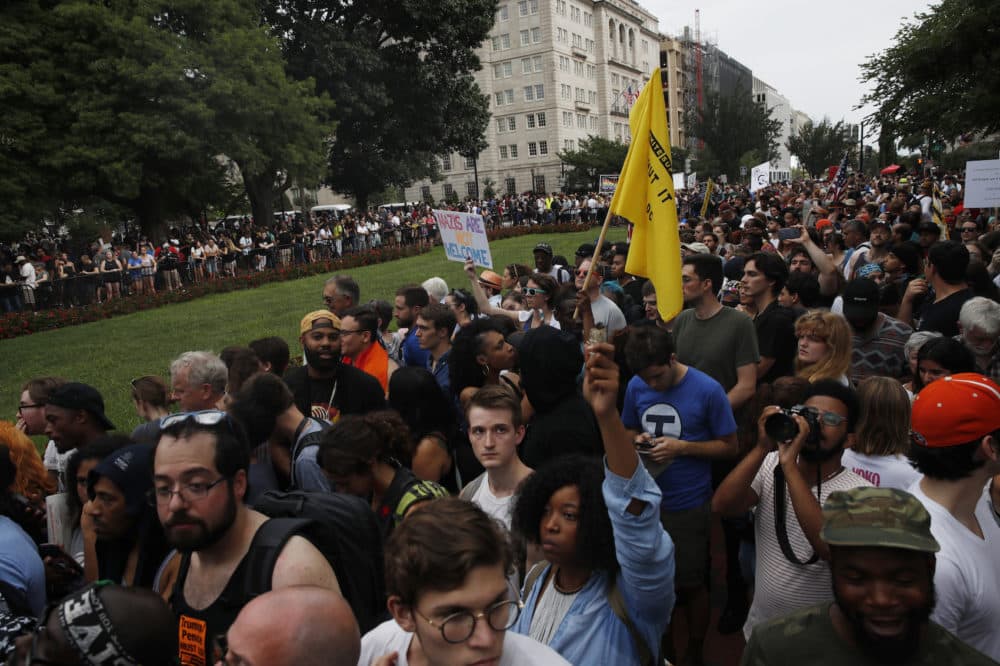 This article is more than 2 years old.
With Budd Mishkin
Top reporters help you prepare for the week ahead by breaking down the big news stories.
Guests
Jane Coaston, senior politics reporter at Vox who focuses on conservatism and the American right. (@cjane87)
Molly Ball, national political correspondent for Time. (@mollyesque)
Seung Min Kim, White House reporter for The Washington Post. (@seungminkim)
From The Reading List
NBC News: "Omarosa Manigault Newman reveals recording she made of President Trump day after she was fired" — "Omarosa Manigault Newman, the former 'Apprentice' contestant who became a White House aide, has provided an audio recording that she says is from 2017 and on which President Donald Trump expresses surprise that she'd been fired from his administration.
"The tape, which was played exclusively Monday on 'Today,' appears to show Trump having no idea that Newman had been dismissed by his Chief of Staff John Kelly."
Vox: "What Sunday's Unite the Right 2 rally tells us about the state of the alt-right in America" — "On Sunday, 'white civil rights activist' Jason Kessler will lead an undetermined number of alt-right, far-right, and white supremacist individuals and organizations in Unite the Right 2, gathering in Washington, DC on the first anniversary of the group's disastrous rally in Charlottesville, Virginia that claimed the life of a young woman.
"As I wrote on Unite the Right 2 earlier this week, the ultimate size of the event is anyone's guess.
"But no matter the number of rally-goers present, Unite the Right 2 — taking place on the first anniversary of much of America's first experience of the alt-right's racism and anti-Semitism — will have a lot to tell us."
Time: "Stacey Abrams Could Become America's First Black Female Governor—If She Can Turn Georgia Blue" — "People tend to remember the first time they heard Stacey Abrams speak, and it's easy to see why. On a Friday afternoon in May, the Democratic nominee for governor of Georgia is at a union hall in Augusta, telling a story about her father, a college-educated black man who was relegated by his race to working at a shipyard in southern Mississippi in the 1970s. The family had one car, so Robert Abrams would sometimes hitchhike home in the middle of the night. When he didn't come home one time, the rest of the family set out to pick him up and found him half-frozen by the side of the road, having given his coat to a homeless man. They asked why he, a poor man on a lonely road at night, would do such a thing. And Robert said, 'Because I knew you were coming for me.'
"You can hear scattered sniffles in the union hall as his daughter pauses. Then she roars: 'I am coming for you, Georgia! Help me get there!'
"This kind of moment is one reason why Abrams, 44, has a chance to become America's first black female governor."
Washington Post: "Trump condemns 'all types of racism' after a week of racially tinged remarks" — "President Trump on Saturday condemned 'all types of racism and acts of violence' on the first anniversary of the deadly white nationalist rally in Charlottesville, calling for the nation to 'come together' after a week in which he stoked racial divisions with attacks on black athletes and other minorities.
"Taking to Twitter ahead of a controversial 'Unite the Right 2' white supremacist rally Sunday in Washington, Trump decried the 'senseless death and division' spawned by what he called the 'riots in Charlottesville.' A counterprotester was killed when a man who police say identified himself as a Nazi drove a car into a crowd.
"'I condemn all types of racism and acts of violence,' Trump wrote. 'Peace to ALL Americans!' "
It was the white nationalist rally that wasn't much of a rally. Still, what are the ramifications? Plus, there's an end in sight for the Paul Manafort trial and a start date for the hearings on the Supreme Court nomination of Brett Kavanaugh. Omarosa Manigault Newman talks, and plays a tape of her own firing. And, yes, the Russia probe.

This hour, On Point: our reporters roundtable on another busy Sunday and the week ahead.

— Budd Mishkin
This program aired on August 13, 2018.