A New Mission For U.S. Troops In The Middle East?
16:48
Play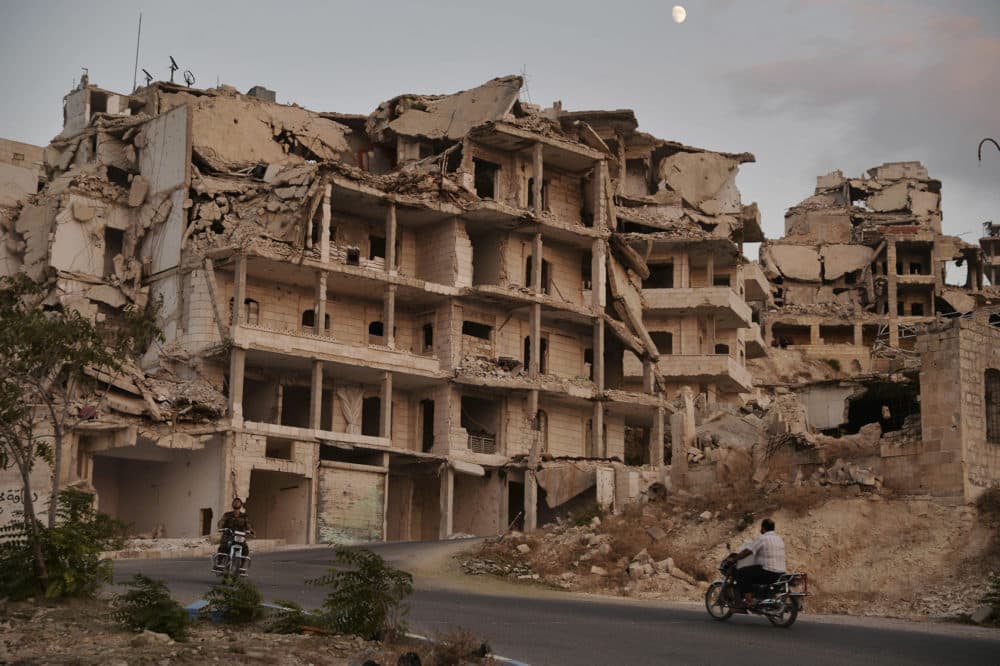 This article is more than 2 years old.
With Meghna Chakrabarti
Despite an Islamic State on the brink of defeat in Syria and Iraq, the White House has started to unveil a new plan for U.S. troops to stay in the Middle East to contain Iran.
Guest
Kyle Rempfer, Early Bird Brief Editor for Military Times and a former Air Force combat controller. (@Kyle_Rempfer)
Liz Sly, Washington Post Beirut bureau chief, covering Lebanon, Syria and the wider region. (@LizSly)
From The Reading List
Military Times: "DoD faces scrutiny on mission creep in Syria to 'counter Iran'" — "Recent White House statements that U.S. troops should stay in Syria to contain or counter Iran are getting push back from lawmakers who say that's not constitutional without a new congressional vote of approval.
"Military officials testifying on Capitol Hill said using American troops to counter Iran would mark a fundamentally new mission compared to the current counter-terrorism one targeting Islamic State militants.
"The new tension between Congress and the Pentagon comes after National Security Adviser John Bolton said Monday: 'We're not going to leave [Syria] as long as Iranian troops are outside Iranian borders, and that includes Iranian proxies and militias.' "
Military Times: "The White House has revealed massive mission creep in Syria. Here's why." — "The Islamic State is on the brink of total military defeat ― but don't expect U.S. troops in Iraq and Syria to be coming home anytime soon.
"The Islamic State's caliphate has collapsed. They have almost no territory remaining except for a small piece of eastern Syria and the militants appear to have very little combat power left.
"At the same time, ISIS is losing its international influence as terrorist attacks in the West are declining. And the latest intelligence reports suggest the group has very little ― if any ― operational control over its affiliate groups in other countries in Africa and beyond.
"Yet top U.S. officials at the Pentagon and the White House are avoiding anything that sounds like a declaration of victory."
Washington Post: "In a blow to Israel, Russia says it will send Syria powerful antiaircraft missiles" — "Russia said Monday it would equip Syria with sophisticated air defense systems, a move that could worsen a rift with Israel by limiting its ability to bomb across its northern border.
"Defense Minister Sergei Shoigu said Moscow would send Russia's powerful S-300 ground-to-air missile systems to Syria, a longtime ally, in the next two weeks. Israel, which has repeatedly bombed Iranian targets in Syria, has long opposed such deliveries, and Russia up to now has refrained from supplying the weapons.
"But the downing last week of a Russian reconnaissance plane with 15 service members aboard changed the dynamic. The plane was shot down by a Syrian missile, but Russia faulted Israel for the crash because an Israeli fighter jet allegedly had used the Russian plane as a screen against Syria's air defenses.
"Israel, by contrast, said that its air force had not violated any agreements with Russia and that Israeli jets had already returned to Israeli airspace when the missiles were launched. The crash was one of the deadliest incidents for regular Russian service members in the Syrian war."
This segment aired on October 1, 2018.