Week In The News: Latest On Saudi Saga, Midterm Battles And More
46:28
Play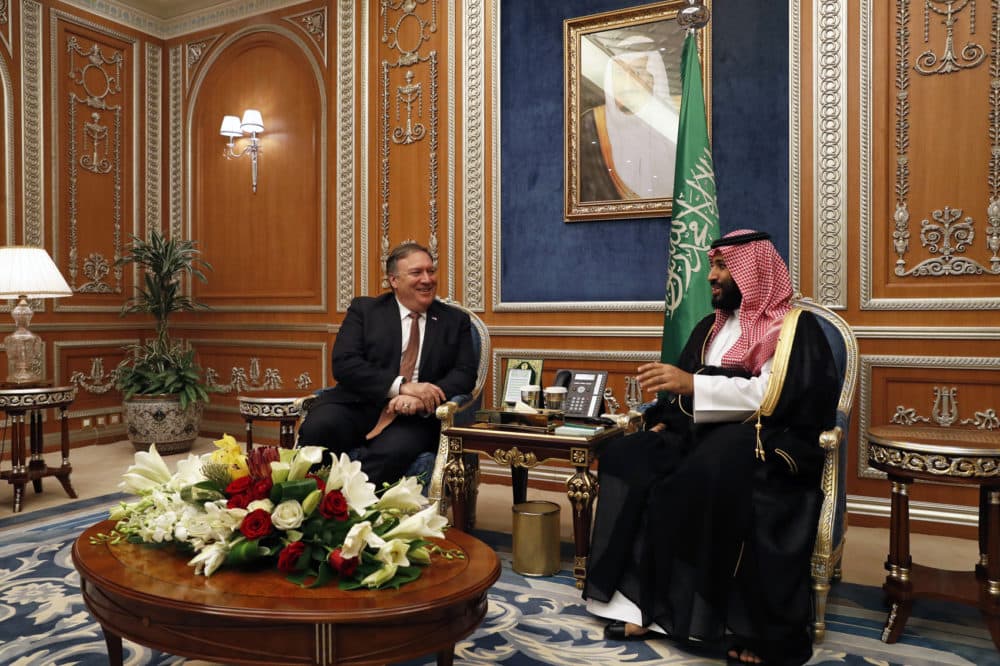 This article is more than 2 years old.
With David Folkenflik
Secrets, lies, truths and U.S.-Saudi relations. Gloves come off in midterm battles. Elizabeth Warren's DNA. The roundtable dives in.
Guests
Margaret Talev, senior White House correspondent for Bloomberg News. Board member and past president of the White House Correspondents Association and the Washington Press Club Foundation. Fellow at the Harvard Kennedy School's Institute of Politics. (@margarettalev)
Fernando Pizarro, Washington affiliates correspondent for Univision, where he covers Congress, the White House and federal government. (@FPizarro_DC)
Jack Beatty, On Point news analyst. (@JackBeattyNPR)
From The Reading List
Washington Post: "Trump says 'certainly looks' as if Khashoggi is dead as pressure mounts on Saudi Arabia" — "President Trump said Thursday it appears that Jamal Khashoggi is dead and warned that his administration could consider 'very severe' measures against Saudi Arabia, sharply raising pressures on the kingdom as it prepares its own accounting of the journalist's disappearance.
"Trump's remarks reflect apparent shifting strategies and views in the White House over its response and possible punishments toward one of its key Middle East allies."
New York Times: "Saudi Arabia Weighs Blaming Intelligence Official for Khashoggi Killing" — "The rulers of Saudi Arabia are considering blaming a top intelligence official close to Crown Prince Mohammed bin Salman for the killing of Jamal Khashoggi, three people with knowledge of the Saudi plans said Thursday.
"The plan to assign blame to Gen. Ahmed al-Assiri, a high-ranking adviser to the crown prince, would be an extraordinary recognition of the magnitude of international backlash to hit the kingdom since the death of Mr. Khashoggi, a prominent Saudi dissident. A resident of Virginia and contributor to The Washington Post, Mr. Khashoggi was last seen entering the Saudi Consulate in Istanbul 16 days ago."
Wall Street Journal: "Treasury Secretary Mnuchin Won't Go to Saudi Conference" — "U. S. Treasury Secretary Steven Mnuchin said Thursday he won't participate in a Saudi investment conference scheduled for next week amid mounting concern that Saudi Arabia could be complicit in the disappearance and suspected death of dissident journalist Jamal Khashoggi."
NPR: "Voter Turnout Could Hit 50-Year Record For Midterm Elections" — "The 2018 elections could see the highest turnout for a midterm since the mid-1960s, another time of cultural and social upheaval.
"'It's probably going to be a turnout rate that most people have never experienced in their lives for a midterm election,' Michael McDonald, a professor at the University of Florida who studies turnout and maintains a turnout database, told NPR.
"McDonald is predicting that 45 to 50 percent of eligible voters will cast a ballot. That would be a level not seen since 1970 when 47 percent of voters turned out or 1966 when a record 49 percent turned out in a midterm."
New York Times: "Why Many Native Americans Are Angry With Elizabeth Warren" — "If Senator Elizabeth Warren thought that releasing her DNA test results showing Native American ancestry would neutralize a Republican line of attack, she was wrong.
"The test — part of her strategic preparations for a likely presidential campaign — did not placate President Trump, who has mocked Ms. Warren as 'Pocahontas' and once promised $1 million to a charity of her choice if a DNA test substantiated her claims of Cherokee and Delaware heritage. And her announcement of the results angered many Native Americans, including the Cherokee Nation, the largest of the country's three federally recognized Cherokee tribes."
The President thinks Mohammad bin Salman is a prince of a guy. What happens if he ordered murder of a Washington Post columnist? The midterms elections are sprinting toward us. What's going to decide them? Sen. Elizabeth Warren, D-Mass., discloses her distant Native American ancestry. Why should we care? Deputy Attorney General Rod Rosenstein affirms Russian interference in the 2016 race. What's that mean for the Mueller investigation?

This hour, On Point: our weekly news roundtable dives in.

— David Folkenflik
This program aired on October 19, 2018.