11 Killed In Pittsburgh Synagogue Shooting
Play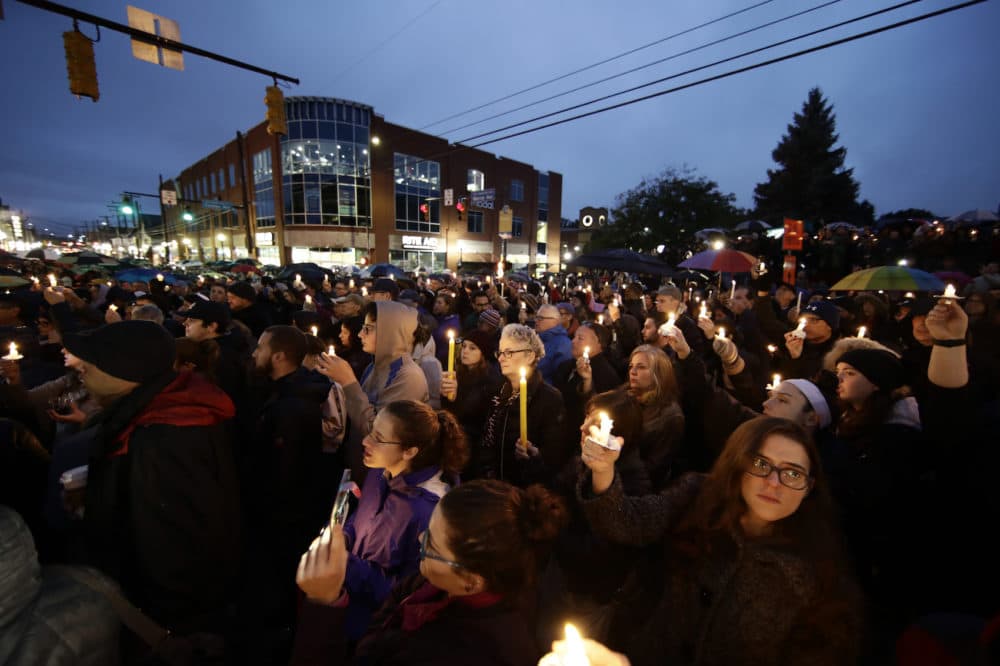 This article is more than 4 years old.
With Meghna Chakrabarti
Eleven people were killed in an attack on the Tree of Life synagogue in Pittsburgh, Pennsylvania. The gunman is in custody. We look at the shooting and rising anti-Semitism around the world.
Guests
David Shribman, executive editor of the Pittsburgh Post-Gazette. (@ShribmanPG)
Rabbi Danya Ruttenberg, rabbi-in-residence at Avodah. (@TheRaDR)
Howard Fineman, NBC News analyst and a journalism lecturer at the University of Pennsylvania. Former global editor at the Huffington Post. He grew up in Pittsburgh and was a member of the Tree of Life synagogue. (@howardfineman)
From The Reading List
Pittsburgh Post-Gazette: "Dispatch from Squirrel Hill: Dread in a peaceful place" — "We knew it could happen here — any here, anywhere — when we learned that nine people were killed three years ago in the historic Mother Emanuel AME Church in Charleston, S.C. We knew it could happen here – any here, anywhere — when we learned that six were killed in the Islamic Cultural Centre of Quebec City last year.
"Now we know it can happen here, as anywhere, because it has.
"Here, this weekend, is Squirrel Hill, home of a dozen synagogues and for more than a century and a half not only the spiritual center of Pittsburgh Judaism but also a vital landmark in the history of Jews in America, along with New York's Lower East Side and Boston's Blue Hill Avenue, one of the vital centers of Jewish identity since the beginning of the Industrial Revolution."
New York Times: "Opinion: Shaking My Faith in America" — "I grew up in Pittsburgh's Tree of Life synagogue. My parents taught Sunday school there. I learned to read Hebrew (sort of) there. I was a bar mitzvah there. My mother sewed a fancy velvet jumper for my little sister to wear there.
"On Saturday morning — the Jewish sabbath — Jews at prayer were slaughtered at Tree of Life because and only because of who they were. It was possibly the deadliest anti-Semitic attack in this country's history, according to the Anti-Defamation League.
"My response is grief, of course, and the immediate realization that this horror is part of a larger pattern of mayhem and hatred in America and around the world. Churches, minority communities, gay nightclubs, politicians and journalists are threatened. We live in an age of assault rifles, pipe bombs and bone saws.
"But I also have to admit — and am grieved to admit — that the mass murder at Tree of Life has shaken my perhaps naïve faith in this country, one that I began developing as a boy growing up in Pittsburgh."
Washington Post: "The victims of the Tree of Life synagogue massacre are martyrs" — "Eleven people woke up Saturday morning and got dressed, drank their coffee or chatted with their spouses or read another chapter of that novel, and then made the decision to spend Shabbat — the Jewish Sabbath, our holy day of rest and community and connection and service to the divine — in synagogue.
"Some were there to celebrate a brit milah — to welcome a new baby boy into the community. Perhaps some of them went primarily to be with friends, or to pour out their hearts in prayer. Maybe some were there for a combination of reasons. But they were all together in a sacred space, in holy time, when a gunman opened fire.
"President Trump referred to the killing of those 11 people as 'evil,' and he is correct. But it is not an evil devoid of context. We cannot understand this massacre when we try to treat it as an isolated incident. Like most tragedies, it has a lot of contexts."
CNN: "Hate crime charges filed in Pittsburgh synagogue shooting that left 11 dead" — "Federal prosecutors have filed hate crime charges against a Pennsylvania man they say stormed a Pittsburgh synagogue and opened fire, killing 11 people.
"Robert Bowers, 46, of suburban Baldwin, surrendered to authorities after Saturday morning's shooting at the Tree of Life synagogue. He made anti-Semitic statements during the shooting and targeted Jews on social media, according to a federal law enforcement official.
"Bowers faces 29 charges in a rampage that left the historic Jewish neighborhood of Squirrel Hill and the rest of the nation stunned. The attack is believed to be the deadliest on the Jewish community in US history, the Anti-Defamation League said in a statement."
This program aired on October 29, 2018.