Week In The News: Election Recounts, Trump Cabinet, CNN's Lawsuit, California Fires
46:43
Play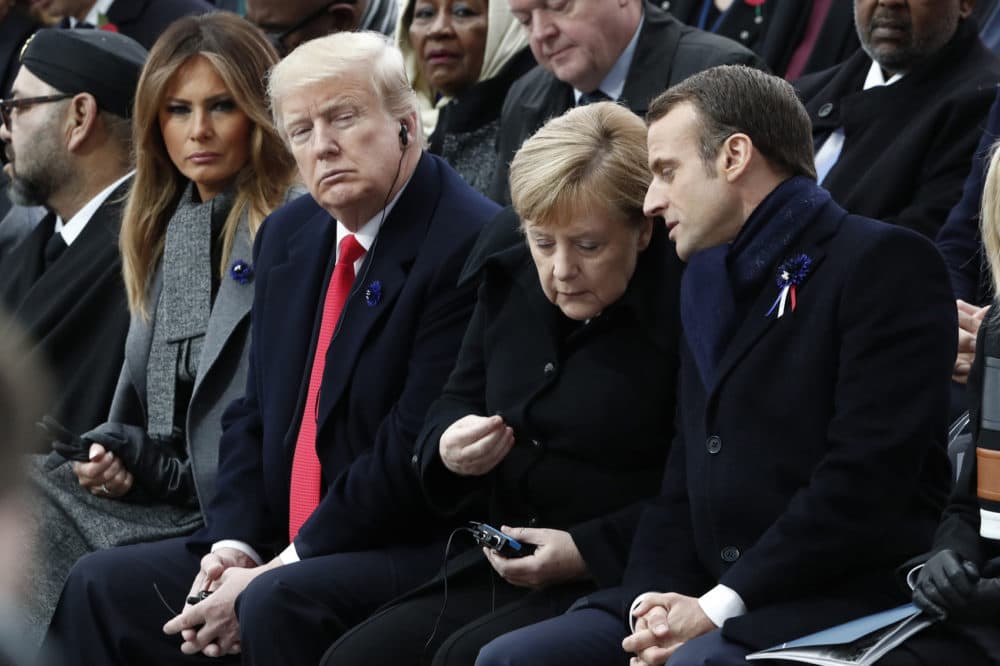 This article is more than 2 years old.
With David Folkenflik
Midterm recounts and results. CNN sues Trump. A Cabinet shake-up looms. Melania's fight in the White House. California on fire. The roundtable dives in.
Guests
Ed O'Keefe, political correspondent, CBS News. (@edokeefe)
Julie Mason, host of The Press Pool on SiriusXM's POTUS Channel. (@juliemason)
Jack Beatty, On Point news analyst. (@jackbeattynpr)
From The Reading List
Politico: "DOJ defends Trump's acting A.G. appointment in memo" — "A new Justice Department analysis released Wednesday backs up President Donald Trump's appointment last week of acting Attorney General Matthew Whitaker despite a growing political and legal backlash.
"The 20-page DOJ memo — addressed to top White House attorney Emmet Flood — leans heavily on historical precedent to argue that Trump was well within his constitutional and legal bounds to elevate Whitaker over other senior Justice officials as the temporary replacement for ousted Attorney General Jeff Sessions.
"Whitaker, a former federal prosecutor who was working as Sessions' chief of staff before getting the promotion to become the nation's top law enforcement official, has already drawn lawsuits and congressional scrutiny over his conflicts of interest and because he hasn't been confirmed for any current Justice position."
Washington Post: "A reader's guide: 12 targets as House Democrats prepare to investigate the Trump administration" — "Now that Democrats will control the House, they have free rein to launch as many investigations into President Trump and his administration as they would like. They plan to hold back on any impeachment proceedings — despite nearly two-thirds of voters in battleground states who supported Democratic candidates wanting them to start — until they see what is uncovered in Robert S. Mueller III's investigation of Russian interference in the 2016 election.
"But they still have plenty of other ways to keep themselves busy.
"Democrats understand that a significant message from voters last week was for them to provide a check on the Trump White House. Over the past week, incoming committee chairs have said they are planning to utilize their newfound power to this end but will do so strategically. Soon-to-be House Oversight and Government Reform Committee Chairman Elijah E. Cummings (D-Md.) said Sunday on ABC's This Week, 'I'm not going to be handing out subpoenas like somebody's handing out candy on Halloween.' "
Vox: "Florida's high-stakes recounts for governor and Senate, explained" — "Florida, America's most notorious swing state, is in a mad dash to recount ballots in the Senate and governor's races, with the first deadline at 3 pm Thursday. Republicans are narrowly leading and are fighting in court to end the process quickly.
"The races between Gov. Rick Scott and Sen. Bill Nelson for US Senate and between Ron DeSantis and Andrew Gillum for governor remained too close to call after the November 6 election. By the end of the first count, Scott only held a 0.14 percent margin of victory, and DeSantis had a slightly larger 0.41 percent lead. The race for the state's agricultural commissioner is also undergoing a recount.
"Under Florida state law, a machine recount is triggered if the margin of victory is equal to or less than 0.5 percent, while a manual recount is triggered if it's less than 0.25 percent."
The Hill: "Trump pushes back on reports of chaos in White House" — "In an interview with The Daily Caller Wednesday, Trump said that he is considering firing Homeland Security Secretary Kirstjen Nielsen. He reportedly believes she is not tough enough on immigration and is frustrated with soaring border numbers.
Nielsen's ousting could set off a chain of departures, including White House chief of staff John Kelly, a staunch ally of Nielsen, who served as his chief of staff while Kelly was secretary of Homeland Security.
Last week, Attorney General Jeff Sessions resigned at Trump's request.
Trump downplayed that the turnover in his White House was indicative of chaos, telling The Daily Caller that "always in an administration after the midterms we make changes."
NPR: "Camp Fire Missing-Persons List Grows To More Than 300 Names" — "Officials are still tallying losses and combating both growing and receding fires as several large blazes rage across California. Meanwhile, a list of missing persons in Butte County is now seven pages long, totaling some 300 names.
"The list of people who are unaccounted for has fluctuated, due in part to the confusion of a mass evacuation, the Butte County Coroner's Office tells NPR. On Wednesday, the missing-persons list had totaled 130 people. But the number has gone up, in part because friends and loved ones who had waited to report someone missing have now contacted authorities, the office says.
"At least 56 people have died in the Camp Fire — the deadliest wildfire in state history and among its most destructive. The fire has torn through the northern town of Paradise, laying waste to some 140,000 acres (nearly 220 square miles)."
Axios: "Inside Trump's embrace of sentencing reform" — "President Trump's backing of bipartisan criminal justice reform yesterday is a 180-degree twist from Campaign Trump, who ran on 1980s-style law and order.
"How it happened: Jared Kushner brought the president a long way to get his support. Criminal justice reform was not what Trump ran on — quite the opposite — and it's been a huge effort from Kushner and allies to get Trump to this point."
This program aired on November 16, 2018.