Week Ahead: National Climate Assessment, EU Summit And Brexit, Caravan At The Border
46:49
Play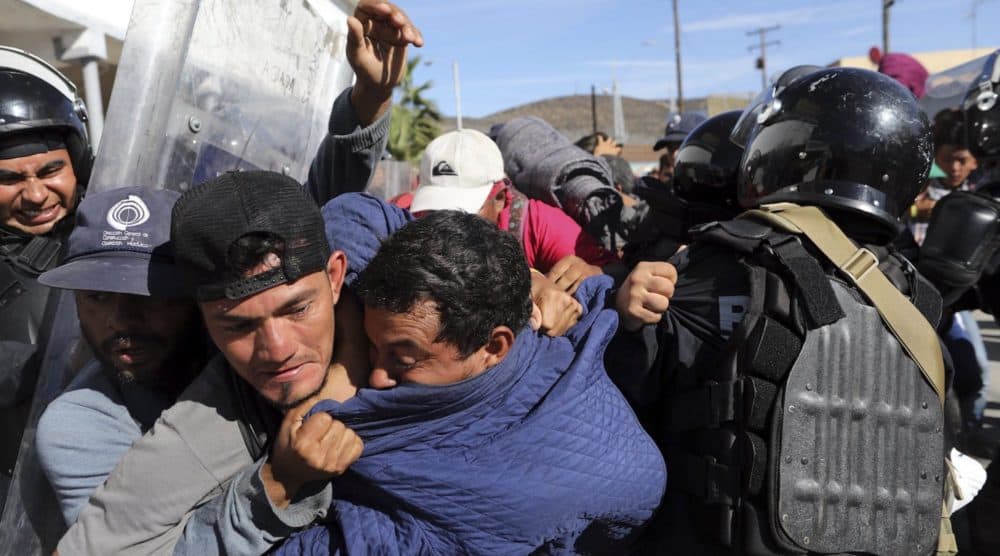 This article is more than 2 years old.
With David Folkenflik
Top-notch reporters crack open their notebooks to sketch out what's ahead in the coming week.
Guests
Paula Reid, CBS News correspondent covering the Justice Department, the White House and legal affairs. (@PaulaReidCBS)
Michael Crowley, White House and national security editor for Politico. (@michaelcrowley)
Yamiche Alcindor, PBS NewsHour White House correspondent. (@Yamiche)
From The Reading List
CBS News: "Mass deaths and mayhem: National Climate Assessment's most shocking warnings" — "Billions of hours in productivity will be lost. Hundreds of billions of dollars will be wiped from the economy. Tens of thousands of people will die each year.
"These are just some of the most grim predictions in the latest National Climate Assessment, a nearly 1,700-page report released Friday warns about a world heading into complete chaos by the end of the 21st century.
"The scientific report, which was produced by 13 federal agencies, describes an American future nothing short of apocalyptic due to rising threats from climate change. It suggests no facet of life — whether it's global trade, national security or personal health — will be safe. And it says every nightmare scenario will feed into another: The disasters from climate change will start to compound each other, as will the consequences."
Washington Post: "U.S. closes major crossing as caravan migrants mass at border in Mexico" — "U.S. authorities fired tear gas at members of the Central American migrant caravan who rushed the border fence and closed a major port of entry in the San Diego area on Sunday afternoon, sealing off vehicle and foot traffic at the busiest crossing along the U.S.-Mexico border.
"The escalating tension at the border came after hundreds of members of the caravan marched through the streets of Tijuana toward the San Ysidro border crossing, where many say they want to apply for asylum in the United States.
"As the group neared the crossing, Mexican police in riot gear blocked their path and used other barricades to close off access to a pedestrian footbridge. U.S. Customs and Border Protection (CBP) helicopters flew overhead. At one point, dozens of people approached the border fence, some threw rocks and bottles, and U.S. authorities used tear gas to repel them, a tactic rarely used by border officials."
BBC: "EU leaders agree UK's Brexit deal at Brussels summit" — "EU leaders have approved an agreement on the UK's withdrawal and future relations - insisting it is the 'best and only deal possible.'
"After 20 months of negotiations, the 27 leaders gave the deal their blessing after less than an hour's discussion.
"They said the deal - which needs to be approved by the UK Parliament - paved the way for an 'orderly withdrawal.'
"Theresa May said the deal 'delivered for the British people' and set the UK 'on course for a prosperous future.' "
This program aired on November 26, 2018.