The $8 Billion Question: President Trump's Border Wall And National Emergency
Play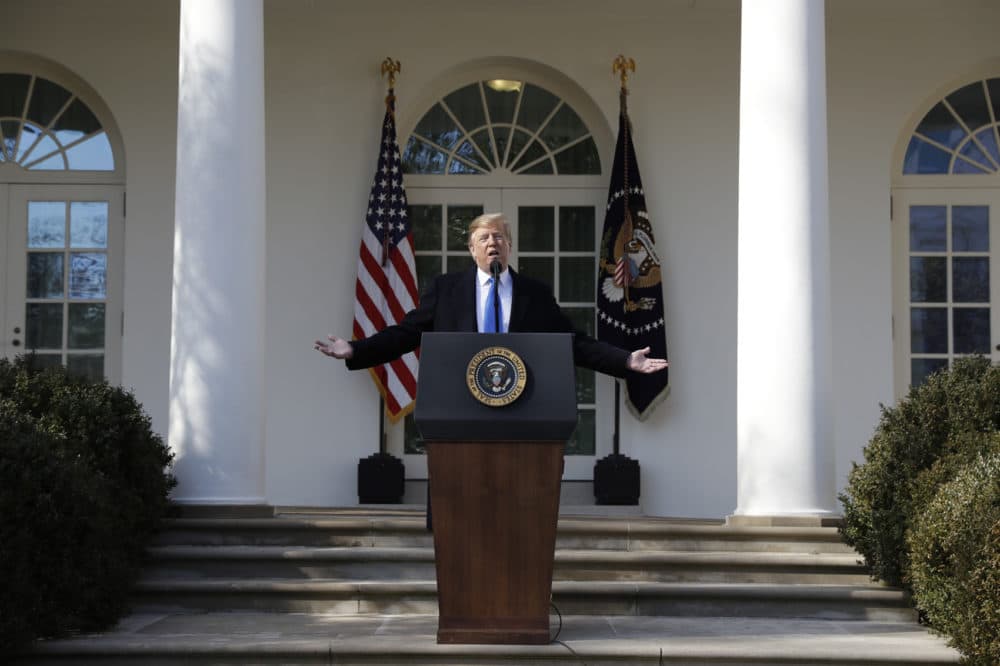 This article is more than 3 years old.
With Meghna Chakrabarti
President Trump declares a national emergency to fund that border wall. We'll unpack the politics and legal hurdles.
Plus, we'll touch on former FBI Deputy Director Andrew McCabe's comments about President Trump and his interactions with the FBI.
---
Want more from the show? You can get messages right from our hosts (and more opportunities to engage with the show) sent directly to your inbox with the On Point newsletter. Subscribe here.
---
Guests
Paula Reid, CBS News correspondent covering the Justice Department, the White House and legal affairs. (@PaulaReidCBS)
Claire Finkelstein, teaches law and philosophy at the University of Pennsylvania. Director of the Center for Ethics and the Rule of Law. (@COFinkelstein)
Stephen Vladeck, a constitutional lawyer, he is a professor at the University of Texas School of Law. (@steve_vladeck)
From The Reading List
Washington Post: "Trump's border emergency: Pelosi, Schumer call declaration 'unlawful'" — "Speaking in the Rose Garden, President Trump confirmed that he will declare a national emergency as a means to circumvent Congress and build additional border barriers. He is seeking to secure about $6.5 billion more in funding than Congress has approved.
"Trump also plans to sign spending legislation to avert a government shutdown, his chief of staff said.
"Many of Trump's Republican allies have called a national emergency ill-advised, and Democrats are promising immediate action aimed at blocking it. The declaration is expected to face an array of legal challenges, possibly including from congressional Democrats.
"Friday's announcement follows passage of a 1,169-page spending bill that provides $1.375 billion for 55 miles of new fences along the border in Texas, far short of the $5.7 billion Trump had sought for 234 miles of steel walls."
ABC News: "Here's a list of the 31 national emergencies that have been in effect for years" — "According to the Federal Register, 58 national emergencies have been declared since the National Emergency Act of 1976 was signed into law by President Gerald Ford.
"And 31 have been annually renewed and are currently still in effect, as listed in the Federal Register.
"Here's a list of the presidents who declared still ongoing national emergencies."
The Hill: "US Chamber: Trump emergency declaration 'erodes' system of government" — "The U.S. Chamber of Commerce issued sharp criticism of President Trump on Friday ahead of his announcement of a national emergency on the border, saying the move would "erode" the country's system of government.
"'We have long fought against attempts by the executive branch to usurp the powers of Congress and to create law, such as we have seen in recent decades with the rise of the regulatory administrative state,' Chamber President Thomas Donohue wrote in a statement. 'We have also fought against attempts by the Congress to usurp the power of the executive.
"'The declaration of national emergency in this instance will create a dangerous precedent that erodes the very system of government that has served us so well for over 200 years,' Donohue continued.
"'The U.S. Chamber urges the president not to attempt to declare a national emergency. Instead, we urge the president and members of Congress of both parties to negotiate and find common ground on immigration and border security.'"
National Review: "Opinion: Defenses of Trump's Emergency Declaration Defy the Plain Language and Clear Intent of the Law" — "There is a common strain of argument amongst those who would abuse and debase our constitutional system of government. They manufacture deceptive dreck in the knowledge that their loyal partisan friends will swallow anything to get what they want. Remember when Barack Obama repeatedly declared that he couldn't bypass Congress and implement unilateral immigration reforms — including suspending deportations — but then did it anyway?
"Oh, that's fine, said the partisans. It's just 'prosecutorial discretion.' No, it wasn't. He created entirely new programs — new government benefits — and not only did he do so without Congress, but he did so without even observing the formalities of the Administrative Procedure Act. His homeland-security secretaries simply wrote memos.
"Now it looks like it might be Donald Trump's turn, and once again partisans are tripping over themselves to disregard the law in service of their imperial president. He doesn't need Congress, they say. The law gives him the authority to declare an emergency and build his wall anyway. But if that's true, why is the government shut down? Why are we going through this ridiculous charade? Why didn't he declare an emergency and build the wall months ago? Why didn't he deal with this crisis the moment he walked into office?
"The answer is simple. If you look at the plain language and clear intent of the relevant statutes, they do not permit Trump to defy Congress and build his wall. He knows it. Congress knows it. His own lawyers know it."
Stefano Kotsonis produced this hour for broadcast.
This program aired on February 18, 2019.