'Putin's World' And We're Just Living In It? The Modern Influence Of Russia
Play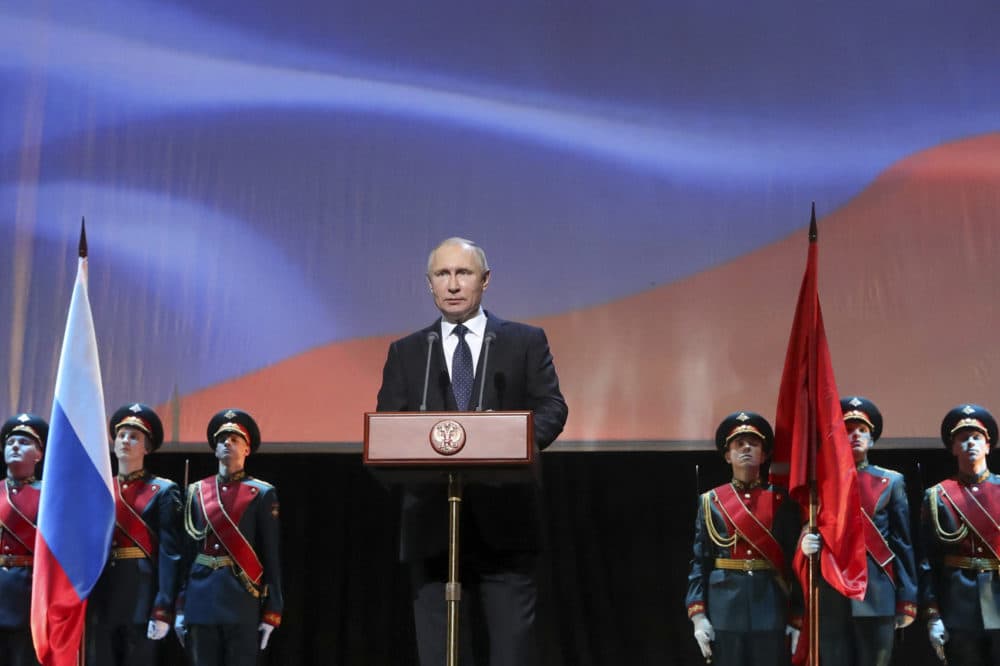 This article is more than 3 years old.
Find our buildout from this hour, featuring a partial transcription, here.
---
With Meghna Chakrabarti
Are we all in a paranoid and polarized world of Vladimir Putin's making? A longtime Russia analyst chronicles how Moscow has become the world's most disruptive superpower.
---
Want more from the show? You can get messages right from our hosts (and more opportunities to engage with the show) sent directly to your inbox with the On Point newsletter. Subscribe here.
---
Guests
Angela Stent, director of the Center for Eurasian, Russian and East European Studies and professor of government and foreign service and at Georgetown University. Author of "Putin's World: Russia Against the West and with the Rest." (@AngelaStent)
She served as national intelligence officer for Russia and Eurasia at the National Intelligence Council from 2004 to 2006.
Josh Gerstein, senior legal affairs correspondent for Politico. (@joshgerstein)
From The Reading List
Excerpt from "Putin's World" by Angela Stent
Introduction
In July 2018, Russia showed its best face to the world as it hosted the World Cup. The spirited opening ceremony featured bears, dragons, and picturesque onion domes. The Russian team—ranked at the bottom of all those competing—defeated Saudi Arabia in the first game and went on all the way to the quarterfinals, when Croatia defeated it. But even that loss did not diminish the pervasive—and unexpected—atmosphere of good feeling. For a month, Russia welcomed fans from around the world with enthusiasm and camaraderie. Russians and foreign fans partied all night in cities from Kaliningrad in the west to Ekaterinburg, 1,500 miles away in Siberia. Even the normally dour Russian policemen had only smiles for those celebrating. As Russian president Vladimir Putin put it, "People have seen that Russia is a hospitable country, a friendly one for those who come here." He added, "I'm sure that an overwhelming majority of people who came will leave with the best feelings and memories of our country and will come again many times."
The World Cup represented a major success for President Putin. Before the games opened, there were questions about whether Russia would be able to build the facilities in time for the games, about corruption involved in the bidding for the construction, and about how international visitors would be received. Moreover, the games were held in a politically charged atmosphere, when Russia's relations with the West were the worst they had been since p ost-communist Russia emerged in 1992. Russia's annexation of Crimea and launch of a war in Southeastern Ukraine, its cyber interference in the US and European elections, its support for Bashar al-Assad in the brutal Syrian Civil War, and its domestic crackdowns on opponents of the regime—and the US and EU responses—all this had intensified the already adversarial relationship between Putin's Russia and the West.
The World Cup left foreign fans with positive views of their hosts. Many had arrived in Russia with stereotypes about unfriendly Russians living in a backward country. But they reported being surprised by how "normal" Russia and its people seemed. The US sent the largest number of spectators, even though the American team did not qualify to compete. Western journalists emphasized that it was important to differentiate between the Russian government, which they criticized, and its people, who were hospitable. For their part, the Russians seemed surprised by how approachable the foreign fans were. Russians were used to seeing westerners constantly vilified in their state-run media, but a poll conducted after the games ended showed that Russians' view of Americans and Europeans had significantly improved. The games left an afterglow of positive feelings, even though the Russians realized that, once the foreigners departed, they would no longer be able to celebrate all night in the streets. The Russia team may have lost, but the World Cup was clearly a victory for Vladimir Putin.
The World Cup represented a culmination of Putin's project, which had been nearly two decades in the making: the return of Russia to the world stage as a great power to be respected, feared, and—as the World Cup showed—liked and even admired. Russia's reemergence as a major player capable of projecting power well beyond its immediate neighborhood was unexpected and quite remarkable, given its limited economic resources: a GDP smaller than Italy's, demographic decline, decaying infrastructure, and the negative impact of successive waves of Western sanctions in response to its actions. A few years before, President Obama had described Russia as a "regional power." But Putin proved otherwise. Russia's reach is now clearly global.
This is the new Russian reality that has developed since Putin entered the Kremlin in 2000. At that point Russia was emerging from a decade of political chaos and an economic meltdown. Some went as far as to opine, "Russia is finished." When an ailing Boris Yeltsin handed over the reins of power to a virtually unknown former KGB case officer, it was unclear how the fledgling post-communist Russia could move forward. In retrospect, it is clear that Putin was from the start determined not only to restore firm state control over the Russian polity but also to resurrect Russia as a great power. Remarkably, he has been able to accomplish both of these goals, despite Russia's economic and military constraints.
It is important to understand how and why Russia has returned to the world stage. It is now active in areas from which it withdrew after the USSR collapsed, and its reappearance has affected the ability of the United States and its allies to conduct their own foreign policy effectively. The new reality of Putin's world necessitates a rethinking of how to deal with Russia going forward.
Putin's world is one in which relations with the United States and much of Europe are adversarial. It is also a world in which Russia has a deepening partnership with China, an increasingly influential role in the Middle East, and has returned to areas of the world from which Russia was forced to withdraw after the Soviet collapse. Moreover, Russia's seat and veto on the United Nations Security Council have enabled Moscow to exercise influence well beyond what its current capabilities would suggest. Russia's ability to thwart Western interests has also enabled it to advance its own interests internationally. Western attempts to isolate Russia after the seizure of Crimea have failed. Moreover, the increasing disarray in the transatlantic alliance since Donald Trump came to power, plus Brexit (Britain's decision to leave the European Union) and a European Union beset by new challenges, all these have provided Putin with unanticipated opportunities to advance Russia's interests, which he has skillfully utilized.
It is customary to describe Russians as talented chess players with a grand strategy, but Putin's sport is judo—and that has given him a unique perspective on dealing with competitors and adversaries. Growing up poor in postwar Leningrad, martial arts transformed his life because it was a way of defending himself against larger, tougher boys who tried to beat him up. "It was a tool to assert myself in the pack." The Leningrad evening paper in May 1976 introduced the 24-year-old master "judoist" to the city as "not well known so far amongst specialists or fans" but predicted that that would soon change. In judo, a seemingly weaker practitioner can rely on inner strength and force of will to defeat a larger, more aggressive foe. Putting an opponent off-balance and taking advantage of their temporary disorientation to strike a winning blow is a basic technique. Putin has proven to be adept at seizing opportunities presented to him by the disarray in the West and the indecisiveness of some of its leaders.
How should the West respond to the new Russia—which in many ways still resembles the old Soviet Union? In 1961, George Kennan—the twentieth century's most gifted and knowledgeable American diplomat- scholar and Russia hand—published Russia and the West Under Lenin and Stalin. As he surveyed the troubled legacy of the interwar years, he criticized the West for failing to understand both what drove the Kremlin's foreign policy and the militant, universalist Soviet ideology that threatened Western security. He concluded that "the relationship we have with the Soviet Union has to be compared, if we are to determine its real value, not with some nonexistent state of total harmony of interests but with what we might call the normal level of recalcitrance, of sheer orneriness and unreasonableness, which we encounter in the behavior of states anywhere and which I am sure we often manifest in our own."
Excerpted from the book PUTIN'S WORLD by Angela Stent. Copyright © 2019 by Angela Stent. Reprinted with permission of Twelve Books/Hachette Book Group, New York, NY. All rights reserved.
---
Reuters: "Putin to U.S.: I'm ready for another Cuban Missile-style crisis if you want one" — "Russian President Vladimir Putin said Russia is militarily ready for a Cuban Missile-style crisis if the United States wanted one and threatened to place hypersonic nuclear missiles on ships or submarines near U.S. territorial waters.
"The Cuban Missile Crisis erupted in 1962 when Moscow responded to a U.S. missile deployment in Turkey by sending ballistic missiles to Cuba, sparking a standoff that brought the world to the brink of nuclear war.
"More than five decades on, tensions are rising again over Russian fears that the United States might deploy intermediate-range nuclear missiles in Europe, as a landmark Cold War-era arms-control treaty unravels."
Bloomberg: "Putin Is Saving Billions for His Next Showdown With the West" — "A look at Russia's books suggests Vladimir Putin is preparing for war, though not necessarily the kind involving the invincible hypersonic missiles and nuclear torpedoes he's been bragging about for a year.
"Putin's quietly built a financial fortress that government officials and Kremlin advisers say will safeguard the economy from the escalating salvos they see coming, all while keeping the U.S. and its allies guessing about Russia's military capabilities and intentions.
"It's a goal Putin's been pursuing since he rose to power at the turn of the millennium, one that's gained urgency with each new crisis with the West. During the global credit squeeze a decade ago, Russia's main stock index lost three-fourths of its value. Five years ago, the ruble halved against the dollar in the wake of collapsing oil prices and the imposition of sanctions over Ukraine, triggering the longest recession of his rule."
Anna Bauman produced this hour for broadcast.
This program aired on February 25, 2019.