'I Know What Mr. Trump Is': Unpacking Michael Cohen's Testimony Before Congress
Play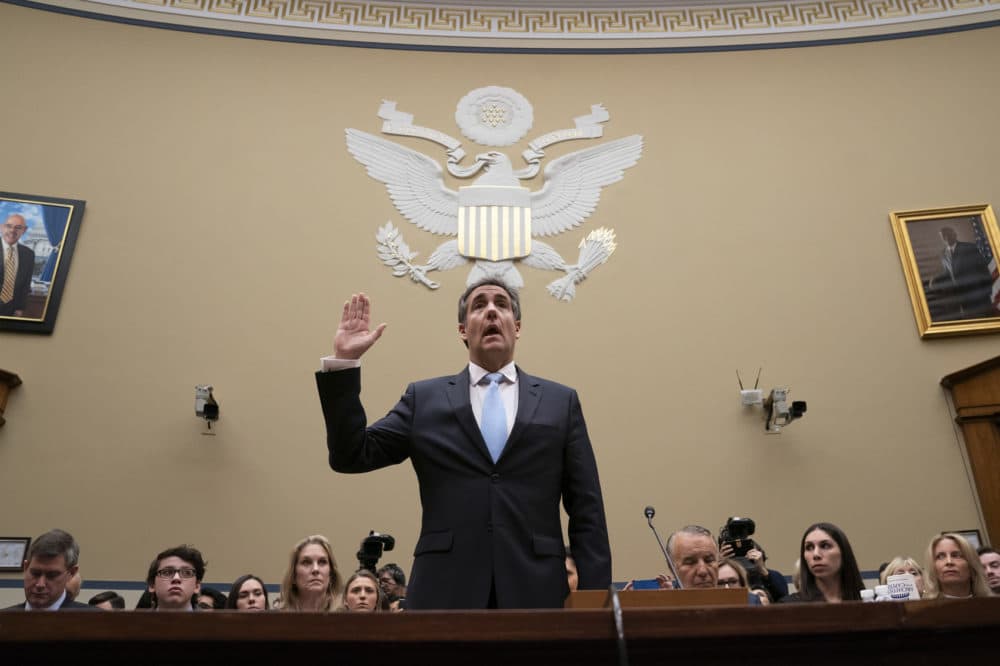 This article is more than 3 years old.
Find our buildout from this hour, featuring a partial transcription, here.
---
With Meghna Chakrabarti
Implications of Michael Cohen's congressional testimony. We examine his claims about President Trump's financial dealings with Russia against what we know.
"There was nothing that happened at the Trump Organization ... that did not go through Mr. Trump for his approval and sign off," Cohen said on Wednesday.
Guests
Rep. Jamie Raskin, Democratic congressman from Maryland. Member of the House Oversight Committee. (@RepRaskin)
David Fahrenthold, Washington Post reporter who covers the Trump family and its business dealings. (@Fahrenthold)
Preet Bharara, U.S. Attorney for the Southern District of New York, 2009-2017. Host of the podcast "Stay Tuned with Preet." Author of the forthcoming "Doing Justice: A Prosecutor's Thoughts on Crime, Punishment, and the Rule of Law." (@PreetBharara)
From The Reading List
New York Times: "Michael Cohen Accuses Trump of Expansive Pattern of Lies and Criminality" — "President Trump's longtime lawyer and fixer accused him on Wednesday of an expansive pattern of lies and criminality, offering a damning portrayal of life inside the president's orbit where he said advisers sacrificed integrity for proximity to power.
"Michael D. Cohen, who represented Mr. Trump for a decade, told Congress that the president lied to the American public about business interests in Russia during the 2016 campaign and lied to reporters about stolen Democratic emails. Mr. Trump also told Mr. Cohen to lie about illegal hush payments to cover up alleged sexual indiscretions, the lawyer charged.
"The allegations, aired at a daylong hearing before the House Oversight and Reform Committee, exposed a dark underside of Mr. Trump's business and political worlds in the voice of one of the ultimate insiders. Perhaps no close associate of a president has turned on him in front of Congress in such dramatic fashion since John Dean testified against President Richard M. Nixon during the Watergate scandal.
"'He is a racist. He is a con man. And he is a cheat,' Mr. Cohen said of the president. Mr. Cohen, who has pleaded guilty to lying under oath to Congress, among other crimes, said he did so to protect Mr. Trump. 'I am not protecting Mr. Trump anymore,' he said."
New York Magazine: "At the End of a Long, Tedious Cohen Hearing, AOC Was Sharp and Crisp" — "Until today, I had been skeptical about the hype over new congresswoman Alexandria Ocasio-Cortez. She is, after all, a backbencher from a safe Democratic district in a heavily Democratic state. She won an impressive upset primary victory last year, but is still south of 30 years old and belongs to the small if interesting tribe of self-identified democratic socialists (to which I do not happen to belong). Maybe I don't spend enough time on social media to understand her mastery of latter-day communications. But I figured she had become a self-perpetuating legend probably resented by her colleagues who spent years toiling for a tiny fraction of the attention she's attracted.
"But at the end of a long, tedious day in the House Oversight Committee marked by clumsy questioning of Michael Cohen by Democrats, and shrieking hostility to the witness from Trump-loving Republicans, AOC (as she is universally known in the political universe — you know, like FDR and JFK) put in perhaps the single most impressive appearance of the hearing.
"She was crisp, succinct, and very focused on raising some previously undiscussed potential criminal liability issues for Trump that Cohen's testimony suggested (e.g, insurance fraud), including several where the hot-button issue of Trump's missing tax returns might be germane. I wasn't the only viewer who was impressed; so was the fact-checker from the Washington Post, another person unlikely to be excessively biased toward AOC."
Reuters: "Cohen: Trump feared audit if he released tax returns" — "U.S. President Donald Trump's former personal lawyer Michael Cohen said on Wednesday that Trump has not released his tax returns because he feared that public scrutiny would lead to an audit and tax penalties.
"In congressional testimony that could aid efforts by House Democrats to obtain Trump's returns, Cohen also said he does not believe the president is under audit, despite repeated claims by Trump that he could not release his returns because they are being audited by the Internal Revenue Service.
"Members of the House of Representatives tax committee also pointed to other segments of Cohen's testimony as topics likely to draw further scrutiny, including claims that Trump deflated the value of his properties to lower his tax bill and called the government "stupid" for giving him a $10 million tax refund in 2008.
"As a presidential candidate in 2016, Trump broke with a decades old practice of making his tax returns public and continues to refuse to release them as president."
Brian Hardzinski produced this hour for broadcast.
This program aired on February 28, 2019.