Why Capitalism Is In Trouble — According To Billionaires
Play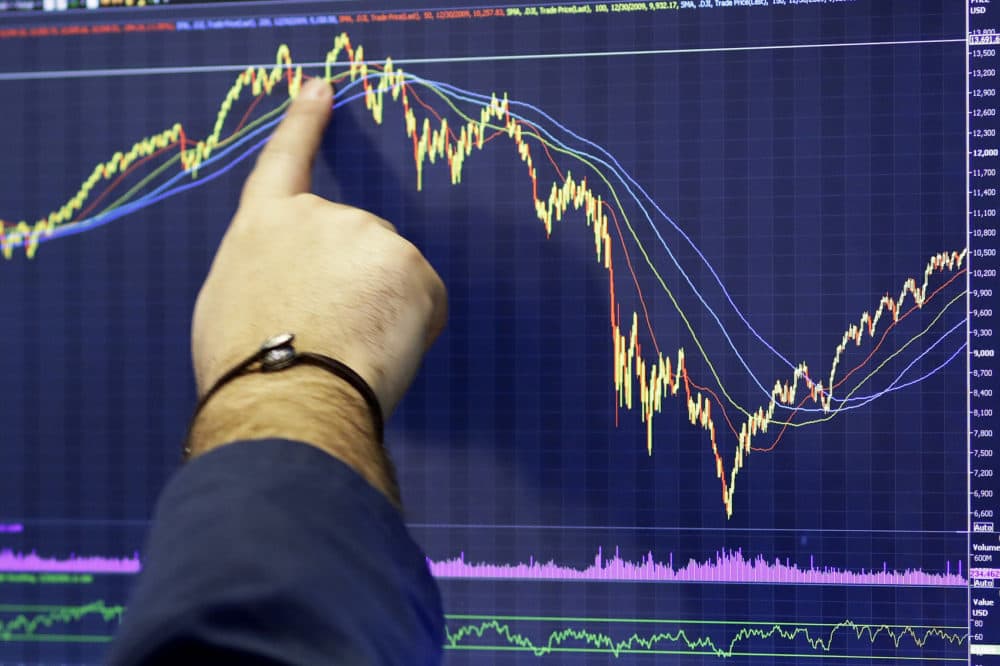 This article is more than 3 years old.
Find our buildout from this hour, featuring a partial transcription, here.
---
With Meghna Chakrabarti
Discontent with capitalism is on the rise. Can it be repaired? Some billionaires say it's time to share the wealth.
Guests
Ray Dalio, co-chief investment officer and co-chairman of Bridgewater Associates, LP, the world's biggest hedge fund firm. Author of "Principles." (@RayDalio)
Richard Reeves, editor of the Guardian's "Broken Capitalism" series. Author of "Dream Hoarders: How the American Upper Middle Class Is Leaving Everyone Else in the Dust, Why That Is a Problem, and What to Do About It." Senior fellow at the Brookings Institution. (@RichardvReeves)
From The Reading List
LinkedIn: "Why and How Capitalism Needs to Be Reformed (Parts 1 & 2)" — "I was fortunate enough to be raised in a middle-class family by parents who took good care of me, to go to good public schools, and to come into a job market that offered me equal opportunity. I was raised with the belief that having equal opportunity to have basic care, good education, and employment is what is fair and best for our collective well-being. To have these things and use them to build a great life is what was meant by living the American Dream.
"At age 12 one might say that I became a capitalist because that's when I took the money I earned doing various jobs, like delivering newspapers, mowing lawns, and caddying and put it in the stock market when the stock market was hot. That got me hooked on the economic investing game which I've played for most of the last 50 years. To succeed at this game I needed to gain a practical understanding of how economies and markets work. My exposure to most economic systems in most countries over many years taught me that the ability to make money, save it, and put it into capital (i.e., capitalism) is the most effective motivator of people and allocator of resources to raise people's living standards. Over these many years I have also seen capitalism evolve in a way that it is not working well for the majority of Americans because it's producing self-reinforcing spirals up for the haves and down for the have-nots. This is creating widening income/wealth/opportunity gaps that pose existential threats to the United States because these gaps are bringing about damaging domestic and international conflicts and weakening America's condition.
"I think that most capitalists don't know how to divide the economic pie well and most socialists don't know how to grow it well, yet we are now at a juncture in which either a) people of different ideological inclinations will work together to skillfully re-engineer the system so that the pie is both divided and grown well or b) we will have great conflict and some form of revolution that will hurt most everyone and will shrink the pie.
"I believe that all good things taken to an extreme can be self-destructive and that everything must evolve or die. This is now true for capitalism. In this report I show why I believe that capitalism is now not working for the majority of Americans, I diagnose why it is producing these inadequate results, and I offer some suggestions for what can be done to reform it. Because this report is rather long, I will present it in two parts: part one outlining the problem and part two offering my diagnosis of it and some suggestions for reform."
The Guardian: "Capitalism is failing. People want a job with a decent wage – why is that so hard?" — "Before capitalism, there was work. Before markets, before even money, there was work. Our remotest ancestors, hunting and gathering, almost certainly did not see work as a separate, compartmentalized part of life in the way we do today. But we have always had to work to live. Even in the 21st century, we strive through work for the means to live, hence the campaign for a 'living wage.'
"As a species, we like to define ourselves through our thoughts and wisdom, as Homo sapiens. But we could as easily do so through the way we consciously apply effort towards certain goals, by our work – as Homo laborans. It nonetheless took two revolutions, one agricultural, one industrial, to turn 'work' into its own category.
"Industrial capitalism sliced and diced human time into clearly demarcated chunks, of 'work' and 'leisure.' Work was then bundled and packaged into one of the most important inventions of the modern era: a job. From this point on, the workers' fight was for a job that delivered maximum benefits, especially in terms of wages, in return for minimum costs imposed on the worker, especially in terms of time."
LinkedIn: "Our Biggest Economic, Social, and Political Issue" — "To understand what's going on in 'the economy,' it is a serious mistake to look at average statistics. This is because the wealth and income skews are so great that average statistics no longer reflect the conditions of the average man. For example, as shown in the chart below, the wealth of the top one-tenth of 1% of the population is about equal to that of the bottom 90% of the population, which is the same sort of wealth gap that existed during the 1935-40 period.
"To give you a sense of what the picture below the averages looks like, we broke the economy into two economies—that of the top 40% and that of the bottom 60%.* We then observed how conditions of the majority of Americans (the bottom 60%) are different from the conditions of those of the top 40%, as well as different from the picture conveyed by the average statistics. We focused especially on the bottom 60% because that's where the majority of Americans are and because the picture of this economy is not apparent to most people in the top 40%."
Washington Post: "Capitalism in crisis: U.S. billionaires worry about the survival of the system that made them rich" — "A perfect California day. The sun was shining, a gentle breeze was blowing and, at a Silicon Valley coffee shop, Rep. Ro Khanna was sitting across from one of his many billionaire constituents discussing an uncomfortable subject: the growing unpopularity of billionaires and their giant tech companies.
"'There's some more humility out here,' Khanna (D-Calif.) said.
"The billionaire on the other side of the table let out a nervous laugh. Chris Larsen was on his third start-up and well on his way to being one of the wealthiest people in the valley, if not the world.
"'Realizing people hate your guts has some value,' he joked.
"For decades, Democrats and Republicans have hailed America's business elite, especially in Silicon Valley, as the country's salvation. The government might be gridlocked, the electorate angry and divided, but America's innovators seemed to promise a relatively pain-free way out of the mess. Their companies produced an endless series of products that kept the U.S. economy churning and its gross domestic product climbing. Their philanthropic efforts were aimed at fixing some of the country's most vexing problems. Government's role was to stay out of the way."
Grace Tatter produced this hour for broadcast.
This program aired on April 25, 2019.