Harvard Students Felt Unsafe Under Weinstein Lawyer's Watch. Now He's Lost His Dean Post
47:13
Play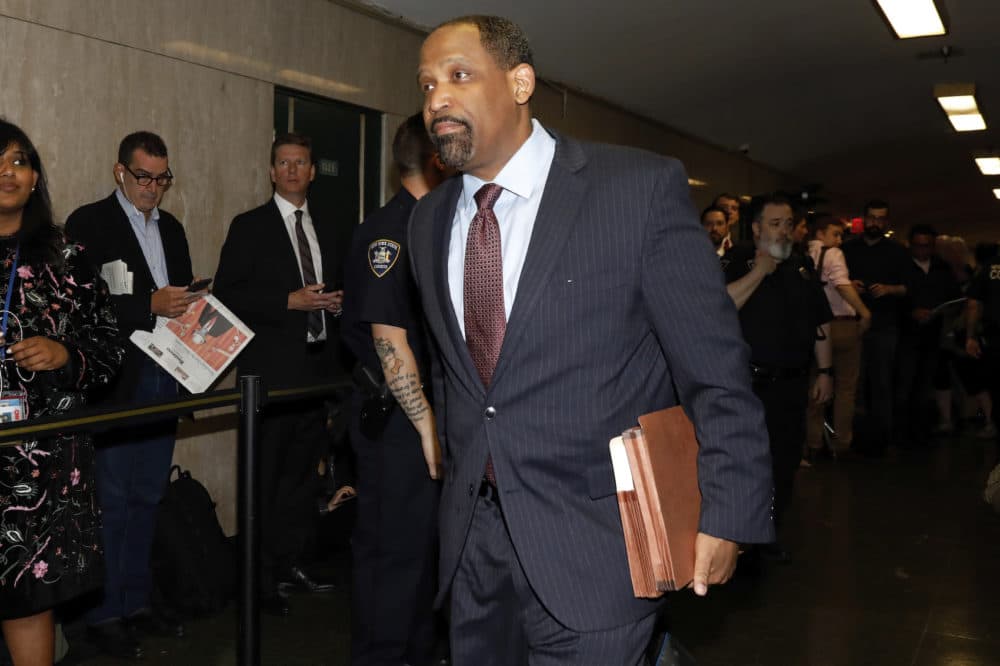 This article is more than 2 years old.
Find our buildout from this hour, featuring a partial transcription, here.
---
With Meghna Chakrabarti
A Harvard law professor who was part of Harvey Weinstein's defense team is out as an undergraduate faculty dean after student protests. We look at #MeToo justice and campus culture now.
Guests
Stephanie Ebbert, reporter for the Boston Globe. (@StephanieEbbert)
Randall Kennedy, professor at Harvard Law School. (@Harvard_Law)
Remedy Ryan, sophomore at Harvard University doing a concentration in social studies and women, gender and sexuality. (@remedyhr)
From The Reading List
'Our Harvard Can Do Better' Calls For Ronald Sullivan's Removal As Winthrop House Faculty Dean
Harvard Crimson: "Opinion: Harvard, Remove Dean Sullivan" — "On Jan. 25, The Crimson reported Winthrop House Faculty Dean Ronald S. Sullivan, Jr.'s decision to defend in court Harvey Weinstein, the man whose infamous sexual misconduct and assault of over a dozen women initiated the #MeToo movement in 2017. In the following week, Sullivan upheld his choice to represent Weinstein through an email addressing the Winthrop community. Subsequent reports revealed Sullivan has also come out in public support of Harvard professor Roland G. Fryer, Jr. against allegations of sexual harassment from female employees. In his comments about Fryer's case, Sullivan disparaged both the #MeToo movement and Harvard's Title IX procedures, calling the University's investigations 'deeply flawed and deeply unfair.'
"Sullivan's actions and statements are unfitting of a faculty dean. We condemn Sullivan's decision to represent Weinstein and defend Fryer while serving as a Winthrop faculty dean. We further condemn the Harvard administration's inaction in light of these actions.
"We believe deeply in every defendant's right to attorney. But there are many lawyers who could have defended Weinstein. While Sullivan's defense of Weinstein might be consistent with his precedent of defending the 'unpopular defendant,' it is not consistent with his responsibility to Harvard students. As a faculty dean, he has a responsibility to consider how his actions will affect the environment in which his students learn and live. Winthrop students have already experienced the detrimental effects of his decision to defend Weinstein."
New York Times: "Opinion: Harvard Betrays a Law Professor — and Itself" — "I have been a professor at Harvard University for 34 years. In that time, the school has made some mistakes. But it has never so thoroughly embarrassed itself as it did this past weekend. At the center of the controversy is Ronald Sullivan, a law professor who ran afoul of student activists enraged that he was willing to represent Harvey Weinstein.
"Mr. Sullivan is my friend and colleague. He is the director of the Criminal Justice Institute at Harvard Law School and the architect of a conviction-review program in Brooklyn that has freed a score of improperly convicted individuals. He is also a sought-after lawyer who has represented plaintiffs (including the family of Michael Brown, whose death at the hands of a police officer fueled the Black Lives Matter movement) as well as defendants (including Rose McGowan, the actress who faced drug charges and is, ironically, one of Mr. Weinstein's accusers).
"In addition to his work as a professor and a lawyer, Mr. Sullivan, with his wife, Stephanie Robinson, has served for a decade as the faculty dean of Winthrop House, an undergraduate dormitory where some 400 students live.
"As a faculty dean, Mr. Sullivan is responsible for creating a safe, fun, supportive environment in which students can pursue their collegiate ambitions. Winthrop House is meant to be a home away from home; faculty deans are in loco parentis. Mr. Sullivan and Ms. Robinson are expected to attend to the students as counselors, cheerleaders, impresarios and guardians."
New York Times: "Harvard's First Black Faculty Deans Let Go Amid Uproar Over Harvey Weinstein Defense" — "Harvard said on Saturday that a law professor who has represented Harvey Weinstein would not continue as faculty dean of an undergraduate house after his term ends on June 30, bowing to months of pressure from students.
"The professor, Ronald S. Sullivan Jr., and his wife, Stephanie Robinson, who is a lecturer at the law school, have been the faculty deans of Winthrop House, one of Harvard's residential houses for undergraduate students, since 2009. They were the first African-American faculty deans in Harvard's history.
"But when Mr. Sullivan joined the defense team of Mr. Weinstein, the Hollywood producer, in January, many students expressed dismay, saying that his decision to represent a person accused of abusing women disqualified Mr. Sullivan from serving in a role of support and mentorship to students. Mr. Weinstein is scheduled to go to trial in September in Manhattan on rape and related charges.
"As the protests continued, with graffiti aimed at Mr. Sullivan appearing on a university building, Harvard administrators said they would conduct what they called a climate review of Winthrop House. In recent weeks, tensions have escalated, with a student sit-in and a lawsuit sparked by a clash between one of the protest leaders and two Winthrop House staff members who were seen as supporting Mr. Sullivan."
Written Statement From Rachael Danes, Harvard Director of Media Relations 
Regarding the general role of Faculty Deans on campus, the role and term of Faculty Deans are explicitly clear to those who are appointed to the position. In Harvard's unique residential system, Faculty Deans serve in equally important academic and pastoral roles, supporting students' academic needs and personal well-being, setting the tone for the House in its social activities and in its function as a close-knit community.
Faculty Deans receive an intensive orientation during the summer before they begin their first year. This includes meetings over several days with all of the different departments that support a House, review of manuals and other materials, and discussions with College Deans and other Faculty Deans about the management of a House. Training continuing throughout their early years in a consultative way with the College and with experienced Faculty Deans.
Faculty Deans report to the Dean of the College. They meet with him monthly as a group during term time and consult with him on House issues throughout the year as necessary. There is an annual House Review meeting in the summer during which the Deans discuss House concerns in greater detail.
Faculty Deans are appointed from the FAS or other faculties of the University. An announcement is circulated to faculty to notify them of an opening in a House. Faculty Deans are appointed for an initial term of 5 years. During their 4th year, they are reviewed and if satisfactory, are re-appointed for a second term of 5 years.
With respect to the accusations some have made that this is a racially based decision, I'd like to share some information about the number of Faculty Dean's that Rakesh Khurana has had the ability to appoint in his 5 years as Dean of the College. Point of reference, Dean Sullivan and Dean Robinson were not appointed under Dean Khurana. They are a diverse group, underscoring the Dean's commitment to assembling a group of Faculty Deans that are representative of the undergraduate population. Here is the list:
Currier House
Latanya Sweeney and Sylvia Barrett
Dunster House
Leverett House
Brian Farrell and Irina Ferreras
Mather House
L. "Maha" Mahadevan and Amala Mahadevan
Lowell House
Stefano Kotsonis produced this hour for broadcast.
This program aired on May 20, 2019.