The 'American Taliban' Captured After 9/11 Is Being Released
17:08
Play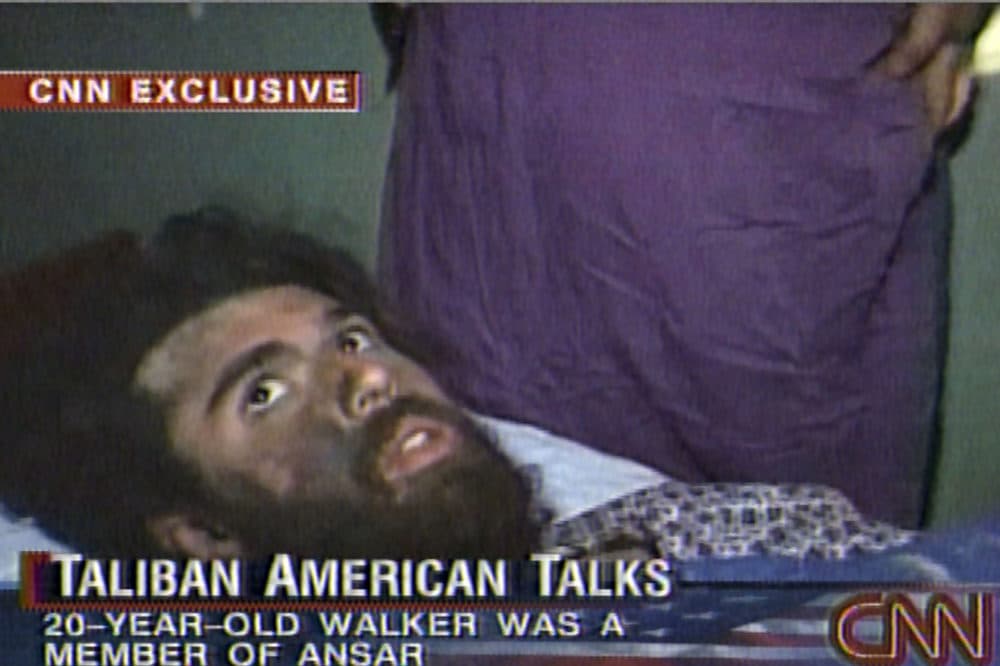 With Meghna Chakrabarti
He was called the "American Taliban." John Walker Lindh served 17 years in prison for aiding the Taliban after 9/11. Should he have been released?
Guests
Josh Meyer, investigative reporter and author who covers national security issues. He's written for the Los Angeles Times, NBC News, Politico and Time. (@JoshMeyerDC)
Bennett Clifford, research fellow at the Program on Extremism at The George Washington University. (@_bCliff)
From The Reading List
George Washington: "Radicalization in Custody" — "This policy paper explores radicalization and violent extremism in the United States federal correctional system. Federal correctional facilities currently host diverse populations of incarcerated extremists, and dozens of extremist inmates are scheduled for release within the next five years. While problems related to extremism in the U.S. correctional system may seem small, especially in comparison to other issues, the threat of in-custody radicalization and extremist recidivism are growing concerns
for U.S. counterterrorism authorities. Despite this increased attention, there is a lack of data regarding the scope and nature of radicalization in custody in the U.S., and a concomitant lack of terrorism prevention programming in American prisons and jails. These two interrelated features create a feedback loop—practitioners are loath to implement programs without data, and researchers and analysts cannot generate data without programs. To break this cycle, U.S. federal correctional
authorities should consider the implementation of a pilot intervention program for recently incarcerated extremists, the adoption of a risk and needs assessment model, and the initiation of a longterm study exploring recidivism outcomes of released extremist offenders. These programs should draw from a reconceptualization of how policymakers approach "prison radicalization" to account for the complexity of the U.S. correctional system and individual inmates' experiences with radicalization and extremism."
Washington Post: "The 'American Taliban' will be free after 17 years. Is the U.S. ready to welcome him back?" — "John Walker Lindh's eyes, dark and wild, were ubiquitous across magazine covers and cable news channels when he was captured with other militants in Afghanistan in November 2001. He was a long-haired guerrilla with a California address — a traitor to some, a misguided kid sucked into Islamic jihad to others, and to one family, partly to blame for the first U.S. death in the war.
"Dubbed the 'American Taliban,' Lindh was sentenced to 20 years in prison after pleading guilty to supporting militants who harbored al-Qaeda as it planned the attacks of Sept. 11, 2001.
"But in a move that has angered some, including the family of a slain CIA officer, Lindh will be released from prison Thursday, three years early, federal officials said.
"Lindh and other incarcerated American supporters of Islamist militants present a quandary with growing urgency: Is the United States prepared to try to rehabilitate extremists and foreign fighters and welcome them back into society?"
New York Times: "John Walker Lindh, Known as the 'American Taliban,' Is Set to Leave Federal Prison This Week" — "He was the 'American Taliban' captured during the invasion of Afghanistan in the fall of 2001. Pictures showed him as a gaunt, filthy 20-year-old held in the aftermath of a prison uprising that claimed the first United States casualty of the war, a 32-year-old C.I.A. officer named Johnny Micheal Spann.
"On Thursday, that captive, John Walker Lindh, is scheduled to leave a federal prison in Terre Haute, Ind., released on probation after serving 17 years of a 20-year sentence for providing support to the Taliban.
"The case of Mr. Lindh, who converted from Catholicism to Islam at 16 and first left his California home at 17 to study Arabic in Yemen more than three years before the Sept. 11, 2001, terrorist attacks, has stirred questions and controversy from the start. His journey took him to Pakistan in 2000 and later to Afghanistan, where he spent time at a Qaeda training camp as a Taliban volunteer."
CNN: "Father of slain CIA officer calls for investigation of comments by 'American Taliban' fighter ahead of release" — "The father of a former CIA officer killed in Afghanistan in 2001 has formally petitioned for an investigation of extremist comments allegedly made in prison by American Taliban fighter John Walker Lindh, who is scheduled to be released later this week.
"In a letter to a Virginia federal court, Johnny Spann said Lindh reportedly 'ignored' conditions placed on him in a plea agreement he reached in 2002.
"Mike Spann was killed in an uprising of Taliban prisoners in 2001 at a detention facility in Afghanistan where Lindh was being held. After charges that touched off a debate in the early days of the war on terror, Lindh, who was dubbed the 'American Taliban,' pleaded guilty in 2002 to aiding the Taliban."
Brian Hardzinski produced this segment for broadcast.
This segment aired on May 23, 2019.