Amid Impeachment Cries, Pelosi Speaks: President Trump 'Engaged In Cover-Up'
46:52
Play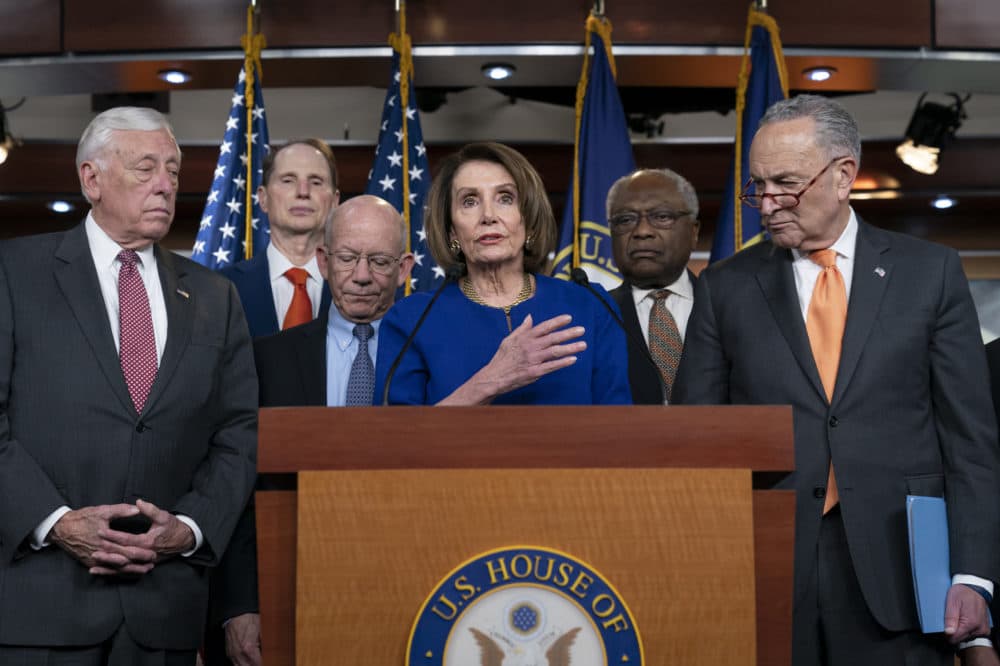 With Meghna Chakrabarti
House Speaker Nancy Pelosi says she believes the President engaged in a "cover-up" as the call for impeachment gets louder from some Democrats.
Guests
Siobhan Hughes, reporter who covers Congress for the Wall Street Journal. (@siobhanehughes)
Jill Wine-Banks, former Watergate special prosecutor. Former general counsel of the U.S. Army from 1977-1980. (@JillWineBanks)
From The Reading List
Wall Street Journal: "Trump Says He Won't Work With Democrats Until Probes Are Done" — "President Trump abruptly ended a planned infrastructure meeting with Democrats and said working with Congress wouldn't be possible while investigations of him continue, casting fresh doubt on a divided Washington's ability to complete big-ticket legislation in the next 18 months.
"Speaking at an impromptu news conference Wednesday in the Rose Garden—where a sign affixed to his podium read 'No collusion, no obstruction' and featured statistics about the cost and duration of special counsel Robert Mueller's Russia investigation—Mr. Trump said he had watched House Speaker Nancy Pelosi (D., Calif.) accuse him of a 'coverup' in remarks to reporters shortly before their scheduled infrastructure meeting at the White House.
"'I don't do coverups,' Mr. Trump said in the Rose Garden, calling himself the 'most transparent president' in history."
Just Security: "The Balance Has Shifted: The Data on Impeachment Favor Moving Ahead" — "Sidney Blumenthal's opinion piece in Just Security has rightly provoked a lively conversation about the impeachability of President Donald Trump. More importantly, it solves the political conundrum at the center of the debate about how to balance the potential political impact of impeachment on the 2020 election with the moral and constitutional obligations of Congress to hold this president accountable in the face of the corruption and wrongdoing reported in the Mueller Report and the nightly news.
"As one of the Assistant Watergate Special Prosecutors, I have first-hand knowledge of the evidence that proved President Richard Nixon's guilt of obstruction of justice as set forth in articles of impeachment. I helped draft the Road Map that the House Judiciary Committee used to build its impeachment case against Nixon. I also closely observed my mentor at the Department of Justice, Chuck Ruff, who served as White House Counsel during the Clinton impeachment. Now, as an MSNBC Legal Analyst, I have had a front row seat to the mounting case against President Trump. For these reasons, I want to share my thinking and conclusions on this critical topic.
"In my opinion, Blumenthal's piece changes the balance to favor Congress acting now. His data decimate the major impediment to holding Trump accountable – the fear that this president would be strengthened by a House vote for impeachment with no conviction by the Senate. Contrary to popular belief, Blumenthal lays out a clear case that President Clinton did not benefit from impeachment and that comparisons to Clinton are highly misplaced. Clinton was at 66% approval before and after impeachment. Impeachment neither improved nor diminished his standing. He was popular before impeachment and just as popular afterward, whereas Trump's approval ratings are at a stunningly low 39 percent and dropping. Indeed, Trump has never achieved even a 50% approval. This means that fears of holding Trump accountable via an impeachment inquiry are unfounded, leaving just the question of whether the evidence supports proceeding. The answer to that is a resounding, almost deafening, yes."
Washington Post: "Democrats who stood with Clinton through impeachment urge caution in pursuit of Trump" — "Soon after the House voted to impeach him in December 1998, President Clinton surrounded himself with dozens of Democrats on the White House's South Lawn.
"Directly behind the president stood Reps. Steny H. Hoyer and Elijah E. Cummings, the Marylanders who now serve as House majority leader and chairman of the House Oversight Committee. Next to them were Reps. James E. Clyburn (D-S.C.), the future majority whip, and Eliot L. Engel (N.Y.), now chairman of the Foreign Affairs Committee. A few feet away Rep. John Lewis (D-Ga.), a moral force then and now within the caucus, held a prominent post in the front row.
"House Democrats stood behind Clinton in defiant opposition to the nearly party-line use of impeachment when the outcome in the Senate — a hung jury — seemed all but certain."
Brian Hardzinski produced this hour for broadcast.
This program aired on May 23, 2019.