Save The Bees: EPA Bans 12 Pesticides Harmful To Honeybees
Play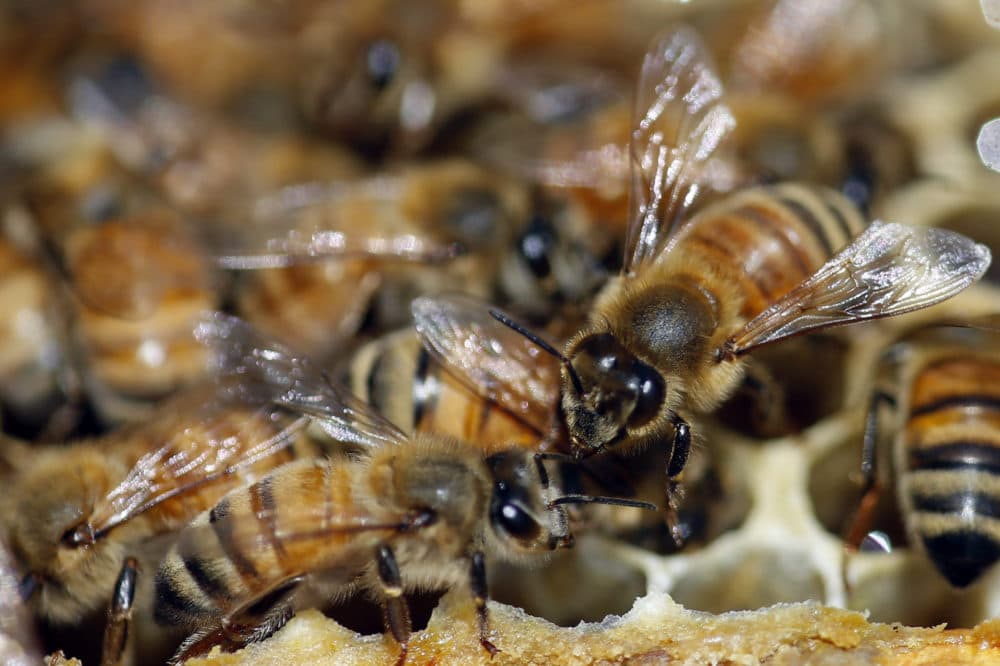 This article is more than 3 years old.
With Meghna Chakrabarti
The EPA is pulling a dozen products containing chemicals harmful to honeybees. It's the end of a long legal battle, but not the end of the threat to bees.
Guests
Adam Allington, chemicals and pesticides reporter for Bloomberg Environment. Host of Bloomberg Environment's "Business of Bees" podcast. (@aallington)
Aimee Code, pesticide program director at the the Xerces Society for Invertebrate Conservation. (@xercessociety)
Carson Klosterman, corn and soybean farmer who uses neonics. Former president of the North Dakota Corngrowers Association. (@NDStripTillCorn)
From The Reading List
Bloomberg Environment: "EPA Curbs Use of 12 Bee-Harming Pesticides" — "The Environmental Protection Agency has canceled registration of a dozen pesticides, from a class of chemicals known to harm bees.
"The cancellations are effective as of May 20 for 12 neonicotinoid-based products produced by Syngenta, Valent, and Bayer.
"The Federal Insecticide, Fungicide, and Rodenticide Act requires pesticides sold or distributed in the U.S. to be registered by the EPA.
"Under a December settlement agreement linked to an Endangered Species Act challenge by environmental groups, the companies voluntarily agreed to petition EPA to cancel 12 out of 59 products containing the active ingredients clothianidin and thiamethoxam.
"Developed as an alternative to organophosphate and carbamate pesticides, neonicotinoids are chemically related to nicotine, and attack the nervous system of insects."
Washington Post: "The Energy 202: EPA blocks a dozen products containing pesticides thought harmful to bees" — "The Environmental Protection Agency is pulling from the market a dozen products containing pesticides known to be toxic to a linchpin of the U.S. food system — the honeybee.
"The agency announced Monday it has canceled the registrations of 12 pest-killing products with compounds belonging to a class of chemicals known as neonicotinoids, as part of a legal settlement.
"For years, beekeepers and wildlife conversationalists alike have voiced concern that the widespread use of neonics, as the chemicals are commonly called, is imperiling wild and domesticated bees crucial to pollinating commercial fruit, nut and vegetable crops."
PBS NewsHour: "Neonicotinoid pesticides are slowly killing bees" — "Neonicotinoid pesticides commonly found in agricultural areas kill bees and hurt their ability to reproduce, two separate large-scale studies confirmed for the first time Thursday.
"The two studies — one that examined honeybees in Canada and the other that looked at three bee species in the United Kingdom, Germany and Hungary — were the first large-scale investigations to test the popular agrochemicals influence on bees in real world settings.
"The work also turns many preconceived notions about bees and pesticides on their heads."
Grace Tatter produced this hour for broadcast.
This program aired on May 28, 2019.