With Special Session, Virginia Is Set To Take Up Gun Control
Play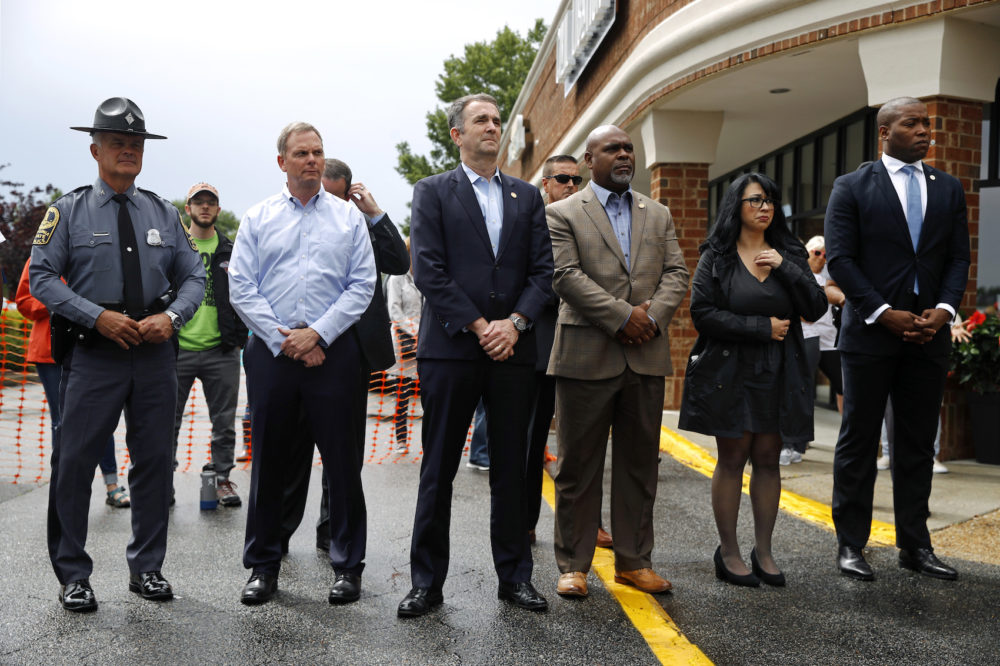 This article is more than 3 years old.
With Jane Clayson
In the wake of the mass shootings in Virginia Beach, the governor is calling lawmakers back for a special session on gun control. The nation is watching.
Guests
Ben Paviour, politics reporter for WCVE, Richmond's NPR station. (@BPaves)
Sen. John Edwards, Democratic state senator representing Virginia's 21st District. (@SenEdwardsVA)
Sen. Amanda Chase, Republican state senator representing Virginia's 11th District. (@AmandaChaseVA)
Gov. Ralph Northam, Democratic governor of Virginia. (@GovernorVA)
William Pelfrey, chair of the homeland security and emergency preparedness program at Virginia Commonwealth University's L. Douglas Wilder School of Government and Public Affairs. (@VCUnews)
From The Reading List
WCVE: "Committees Control Outcome of Virginia's Special Session" — "Democratic Gov. Ralph Northam is asking the GOP-controlled legislature to consider a package of gun control bills when they meet on July 9th.
"But his success hinges on a small group of GOP lawmakers who control key committees, and who have traditionally shown no appetite for passing Democratic bills on to the broader legislature.
"Northam and other Democrats argue that Republican leaders are sparing their caucus from taking votes on potentially controversial legislation by killing bills in committee. In some cases, Democrats believe they have the votes to pass bills with support of a few Republicans who represent swing districts.
"To get around the impasse, Northam has urged GOP leaders to allow votes by the full House and Senate chambers."
Washington Post: "Northam proposes gun-control bills for Tuesday's General Assembly session" — "Gov. Ralph Northam on Wednesday announced the gun-control policies he will work with legislators to propose in next week's special General Assembly session, including universal background checks; a ban on assault weapons, bump stocks and high-capacity magazines; and limiting handgun purchases to one per month.
"Northam (D) ordered the July 9 session after a gunman killed 12 people at a Virginia Beach municipal building on May 31. The governor said the massacre highlighted the need to restrict the availability and deadliness of guns in the state.
"Republicans who control both houses of the General Assembly have charged that Northam is playing politics with the tragedy, with an eye on elections this fall for all 140 seats in the legislature. The GOP has thin majorities in both houses, and Democrats hope to change the balance of power."
The Roanoke Times: "Northam releases final list of gun control proposals ahead of special session" — "Gov. Ralph Northam on Wednesday rolled out his final list of gun control measures he wants legislators to take up next week during a special session of the General Assembly.
"Northam, a Democrat, called the special session, beginning Tuesday, in the wake of the May 31 shooting at a Virginia Beach municipal building that left 12 dead. Many of the eight proposals on his list have come before the Republican-controlled General Assembly in the past, but have not made it far.
"'Now is the time to act — Virginians deserve votes and laws, not thoughts and prayers,' Northam said in a statement. 'I urge the members of the General Assembly to engage in a thorough, meaningful discussion about these proposed bills and to allow every member to cast their votes on the floor.' "
Grace Tatter produced this hour for broadcast.
This program aired on July 8, 2019.