Sen. Cory Booker's Path Forward As A Presidential Candidate
Play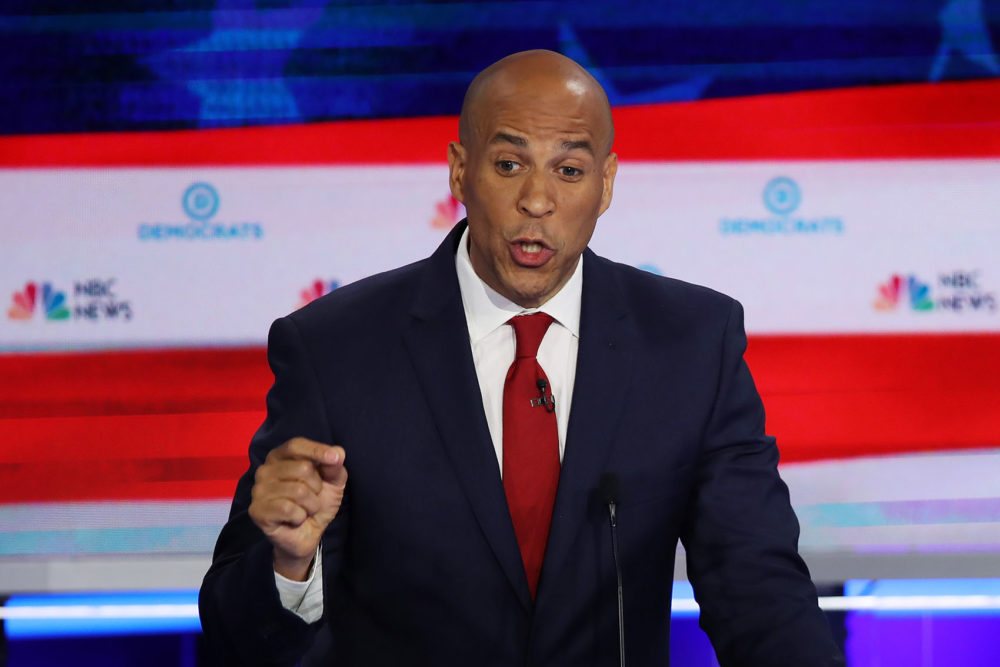 This article is more than 3 years old.
With Jane Clayson
Presidential candidate Sen. Cory Booker joins to discuss the first round of debates and why he should be the Democratic nominee.
Guest
Sen. Cory Booker, Democratic U.S. senator for New Jersey and 2020 Democratic presidential candidate. (@CoryBooker)
Interview Highlights
On why he wants to be president
"I'm running because I think we as a nation are falling into deeper and deeper tribalism where it's us versus them, zero-sum game, fear-based politics. Where we have more animus and anger directed at each other than we do at foreign adversaries who are actively trying to undermine our election. That we're failing to get the kind of things done that frankly many Americans agree on — from infrastructure investment to common sense gun safety to meeting the challenges of climate change — we need in this nation to form a new American majority. And that's not just Democrats, that means moderates and independents and Republicans. We've got to get back to a country that can get things done. And my whole career has been marching and charging at and running toward some of the most difficult problems in America and finding ways to create new coalitions to get things done. We need a president that can heal, that can bring people together, that can get us back. We have so much common pain in this country that can get us back to a sense of common purpose and common cause."
On how childhood experiences with housing segregation impacted his politics
"I'm a guy that grew up in the '80s with parents who literally had to fight a sort of a racist housing segregation. … So imagine me growing up in the '80s with parents who just told me, 'You're here not just because of the hardworking grit of your parents but you're here because of American patriots who understood that patriotism is love of country and you can't love your country without loving your fellow countrymen and women.' And love isn't a sentiment, isn't a feel-good thing. Love means that if your kids don't have access to great public schools and great housing then my kids are lesser off. Love says I need to sacrifice and stand with you, that we're all in this together. And so I just grew up in a household with two black civil rights activists who had this patriotic love of our country and a belief that their boys, my brother and I, should grow up not just to luxuriate in the blessings that were given to us by other generations but feel the sense of obligation that you couldn't pay it back, you had to pay it forward.
"As soon as I got out of law school, I went to inner city Newark, New Jersey, to become a housing rights lawyer, because people fought for my housing rights, I was going to pay it forward by fighting for others. And I fell in love with that community, I still live in this neighborhood now, and it was this neighborhood that first took a chance on me and said, 'There's a corrupt city hall and it doesn't serve the people and we're going to run you for city councilman.' So by the time I was in my 20s, I was running against the machine in an impossible race and we ended up upsetting the machine and I became the youngest person at that time ever elected in my city and began a life of purpose. I always say, 'Life is about purpose not position,' but the purpose really is … so many communities that are being left out of the American dream or looked down upon or cast aside, and I'm just proud to have sort of lived my life with that sense of purpose and it leads me to this presidential race today."
"We've got to get back to a country that can get things done. And my whole career has been marching and charging at and running toward some of the most difficult problems in America and finding ways to create new coalitions to get things done."

Sen. Cory Booker
On his "Baby Bonds" policy
"We think every kid as a birthright in America should have a thousand dollars [in] an interest-bearing account and depending on your family's income, you can have upwards of $2,000 deposited into that account. And so the lowest income kids, by the time they're 18, will have upwards of $50,000 to invest in education, college, or buy a home, or do the things that create wealth. Because we know in America paychecks usually help you get by. But wealth helps you get ahead."
On how he'd win the general election
"I have taken on bullies before and beat them. I've taken on impossible fights before and won and I've done it not by taking on the tactics and techniques of demagogues and bullies but by calling people to our higher angels, calling to the moral imagination of communities about what we can be and what we can achieve together. We can't beat the darkness with darkness … We're not going to beat him by using his tactics. We're not going to beat him by fighting him on his turf and his terms, that's exactly what he wants. I'm calling to my party and to my country not to define ourselves by what we're against but by what we're for. And this idea in the Democratic Party that all we want is somebody that can beat Donald Trump, that gives me chills because I want my country and my party to have bigger aspirations … beating Donald Trump is the floor. It's not the ceiling. Beating him gets us out of the valley. But it doesn't get us to the mountaintop. What will get us there is finding ways to rebuild a more beloved community to help us to come together, to stand together and to rise together. And that's the difficult work we have in our nation right now where we can't even get the things we agree on done. So I can beat Donald Trump. I hope you'll learn more about me. But we have to as a country find ways to repair the fabric of our communities and get back to the ideals of a more beloved community to solve our problems.
"I believe we are at a point in our nation where we should never have a ticket again that doesn't have diversity — gender diversity, racial diversity. So should I be the nominee I will have a woman on my ticket not because of some kind of window dressing, [but] because diverse teams are stronger teams that we need to bring the best of our party together in all of our tickets."
From The Reading List
New York Times: "Cory Booker's Brand of Advocacy: Show Up. Cameras Often Follow." — "Senator Cory Booker, tieless and in a blazer on the southwestern border in early July, approached a Customs and Border Protection officer, blue passport in hand. They greeted each other and the officer asked: 'Is there somebody with you?' Yes, Mr. Booker said, he had a group with him.
"Specifically, Mr. Booker said, he was traveling with a group that included five women, all survivors of domestic violence in their home countries, Cuba and Honduras, who were seeking asylum in the United States. They had been sent back to wait in Mexico once before.
"But now they had a high-profile senator and 2020 presidential candidate with them, and he had a slew of cameras and reporters waiting across the border for him.
"Those cameras were on hand to capture the women walking across the bridge from Mexico, and were around later to hear the senator announce that the women were allowed to continue into El Paso and take refuge in a shelter while their applications would be processed. He stayed on a street corner to answer questions from reporters for about 10 minutes."
El Paso Times: "Democratic presidential candidate Cory Booker escorts migrants in Juárez to El Paso" — "Democratic presidential candidate and U.S. Sen. Cory Booker walked five Cuban and Honduran asylum seekers over an international bridge Wednesday.
"The New Jersey senator was joined by attorneys from Las Americas and organizers with the group Families Belong Together in escorting the five women over the bridge, their faces obscured by manila folders.
"Las Americas attorney Linda Rivas said the women were victims of sexual assault and labor trafficking in Juárez and intended to claim fear of returning to the border city. Rivas said Booker 'is supporting our clients in his role as a senator, which is a pretty powerful support.'
"Booker spent more than three hours meeting with the migrants at a Chihuahua state-run migrant aid center near the foot of the Paso Del Norte Bridge in Juárez. He arrived at the migrant center just before 11 a.m. with a group of El Paso immigration attorneys."
New York Magazine: "Can I Get a Hug? Cory Booker's got a lot of love to give, and he's betting that's what it will take to win in 2020." — "Anyone who thinks it's nothing but teeth-grinding paranoia and rank misery in Washington these days hasn't been to the office of New Jersey senator Cory Booker. These people are happy. Indeed, his staff are some of the cheeriest, nicest people you could ever hope to meet. When I arrive on a hot, swampy morning just before Labor Day weekend, I am greeted with hugs and candy. An exuberant woman in a dashiki sits at reception. Kristin Lynch, the press secretary, greets me — okay, hugs me — and takes me to Booker's office, where we say hello to his chief of staff, Matt Klapper, who also hugs me. Booker has not hugged me yet, but give him time. A young staffer comes in and hands Booker a brown-paper bag and tells him she managed to 'score the last three' in the cafeteria. From the look of joy on his face, I imagine a bag of cheeseburgers, but, alas, it's just celery and carrot sticks in plastic deli containers. (Booker is a vegan.) He opens one up and munches on a carrot.
"Booker drags two red wingback chairs so they're facing each other and sits down with a weary sigh. 'You're catching me on a day when I'm physically depleted,' he says. 'My spirits are up, but I just campaigned for nearly every candidate in Nevada: secretary of State; guy for AG; guy running for governor; uh, Jacky Rosen, who will hopefully be my colleague; some assembly and legislative leaders. Then flew to Seattle, landed, headlined an event there, and then got right on a plane at 6 a.m. and came back.'
"But even a depleted Booker is a fervid and voluble Booker. He quickly catches me up on where his mind is in the way that extroverts do reflexively and politicians usually train themselves out of. He tells me he just bumped into Bernie Sanders in the hall, and he does a good imitation of his grumbly Brooklyn accent. 'He said, "How ya doin'?" I said, "Bernie, I'm tired." And he goes, "Why are we heeh? We're not doing any real work." And then he goes, "You know what this is about, don't ya? This is political!" ' By which he meant that Majority Leader Mitch McConnell is keeping the Senate in session so the Democratic senators who are defending their seats during the midterm elections have less time to go home and campaign."
Anna Bauman produced this hour for broadcast.
This article was originally published on July 09, 2019.
This program aired on July 9, 2019.