Domestic Terrorism In Wake Of The Weekend Mass Shootings
Play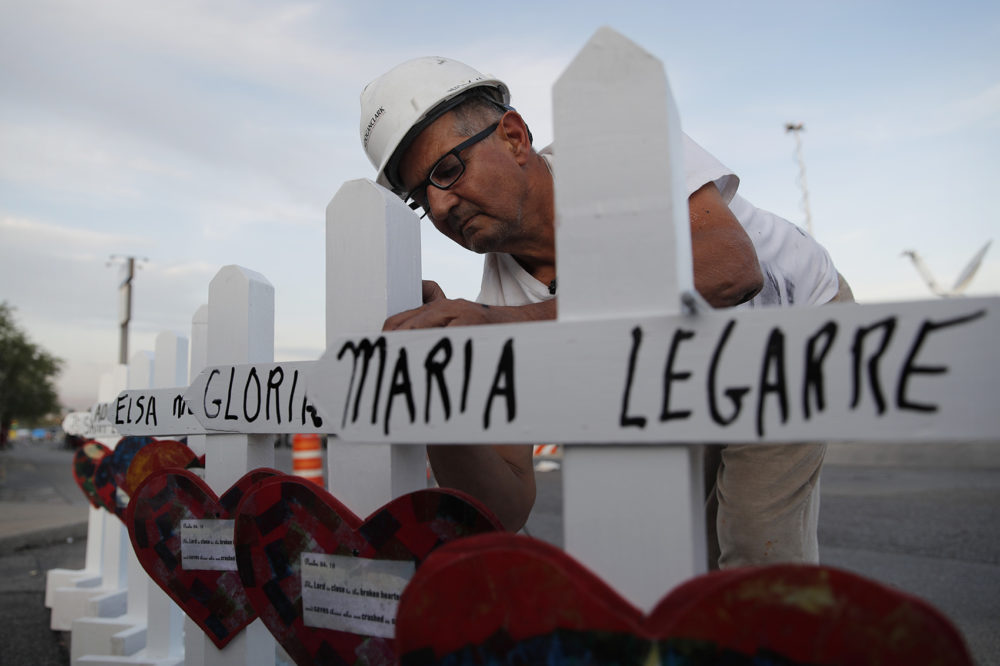 This article is more than 3 years old.
With David Folkenflik
A harder focus emerges on racism and white supremacy in the aftermath of the massacre in El Paso, Texas. The president condemns hatred — but his rhetoric is under scrutiny, too.
Guests
Frank Figliuzzi, FBI assistant director for counterintelligence from 2010 to 2012. He served as a special agent for 25 years. NBC national security contributor. (@FrankFigliuzzi1)
Monica Muñoz Martinez, professor of American studies at Brown University. Author of "The Injustice Never Leaves You: Anti-Mexican Violence in Texas." Founding member of the nonprofit organization Refusing to Forget that calls for a public reckoning with racial violence in Texas. (@MonicaMnzMtz)
From The Reading List
New York Times: "Opinion: Why Does Trump Fan the Flames of Race-Based Terrorism?" — "If I learned anything from 25 years in the F.B.I., including a stint as head of counterintelligence, it was to trust my gut when I see a threat unfolding. Those of us who were part of the post-Sept. 11 intelligence community had a duty to sound the alarm about an impending threat.
"Now, instinct and experience tell me we're headed for trouble in the form of white hate violence stoked by a racially divisive president. I hope I'm wrong.
"Since October, the F.B.I. has made 90 arrests in domestic terrorism cases. Domestic terrorism includes violence by Americans who belong to anti-government militias, white supremacist groups or individuals who ascribe to similar ideologies not connected to Islamic extremism. In fact, the F.B.I. says that of its 850 pending domestic terror investigations, about 40 percent involve racially motivated extremism. In 2017 and 2018, the F.B.I. made more arrests connected to domestic terror than to international terrorism, which includes groups like Al Qaeda and the Islamic State and their lone-wolf recruits.
"Last weekend, a young man with a rifle took the lives of three people and injured at least a dozen others at the annual Gilroy Garlic Festival in California. Preliminary reports indicated that among the gunman's social media postings was an exhortation to read the obscure 1890 novel 'Might Is Right,' which justifies racism and asserts that people of color are biologically inferior."
The Atlantic: "The Death Rattle of White Supremacy" — "Will America finally confront the violent death rattle of white supremacy? Or will it fail to inflict the coup de grâce, allowing the ideology of hate to revive itself into a global movement, with radicalized young men engaged in what they believe is a zero-sum war for survival?
"Last year, those opening lines might have been dismissed as alarmist rhetoric and hyperbole. We no longer have that luxury.
"In the past week alone, three American cities have experienced three mass shootings, with gunmen killing at least 32 people. Yesterday, police say that Patrick Crusius, 21, walked into a Walmart in El Paso, Texas, a border town with an 80 percent Hispanic population, opened fire, and killed 20 people. Several hours later, police say that Connor Betts, 24, shot and killed at least nine people in a busy downtown district of Dayton, Ohio. At the beloved annual Gilroy Garlic Festival, 19-year-old Santino William Legan allegedly opened fire on the crowd and killed three people.
"The motives remain unclear in each of these cases. But the information that's presently available is ominous."
Austin 360: "100 years later, anti-Mexican violence still casts a shadow on Texas" — "Monica Muñoz Martinez refuses to let the world forget.
"The scholar who grew up in Uvalde remembers hearing stories around the dinner table about Anglos and Mexicans, rangers and raiders, soldiers and ranchers whose histories intertwined in South Texas. Over barbecue at family gatherings and at home, she learned about the history of the civil rights movement in South Texas — protests over racial segregation, income inequality, labor exploitation and disenfranchisement.
"'The Texas Rangers were remembered for intimidating labor and civil rights organizers,' Martinez says. 'For example, coming to Uvalde during the 1970 school walkout. My parents were high school students who participated in that walkout. So Rangers were remembered as state agents being used to repress civil rights efforts.'
"She refuses to let the world forget.
"After studying at elite schools such as Brown University, where she took her first formal class in Mexican-American history, and Yale University, where she earned her Ph.D. in American Studies, she pursued post-doctoral work at the University of Texas and joined a research team of five historians that examined extrajudicial violence in South Texas, especially during the early 20th century.
"The group calls its efforts 'Refusing to Forget.' "
New York Times: "Opinion: The American Family Makes This Country Great, and It's in Danger" — "Few of the Trump administration's policies were as universally reviled by Americans across the country as the family separation policy at the border. Yet many Americans would be surprised to learn that the heartbreaking images of children being torn from their parents' arms are playing out, often invisibly, in communities in this country, posing a severe threat to millions of American children and their families.
"In the months leading up to the election, Donald Trump vowed to deport the 11 million undocumented immigrants in the United States. In 2017, the Trump administration unveiled an aggressive immigration agenda that made all immigrants a priority, regardless of whether they had a criminal conviction. As a result, apprehensions of immigrants with no criminal convictions skyrocketed during the first 14 months of his term.
"A new report by UnidosUS found that for the nearly six million American children under the age of 18 who live in a household with undocumented residents, mostly parents, the risk of being separated from one or both parents has risen exponentially under the Trump administration. The consequences for the children who remain could be devastating: causing permanent, irreparable harm that will play out for years to come."
Anna Bauman produced this hour for broadcast.
This program aired on August 6, 2019.