Behind The Smiling Faces At G-7, Tensions Simmer
Play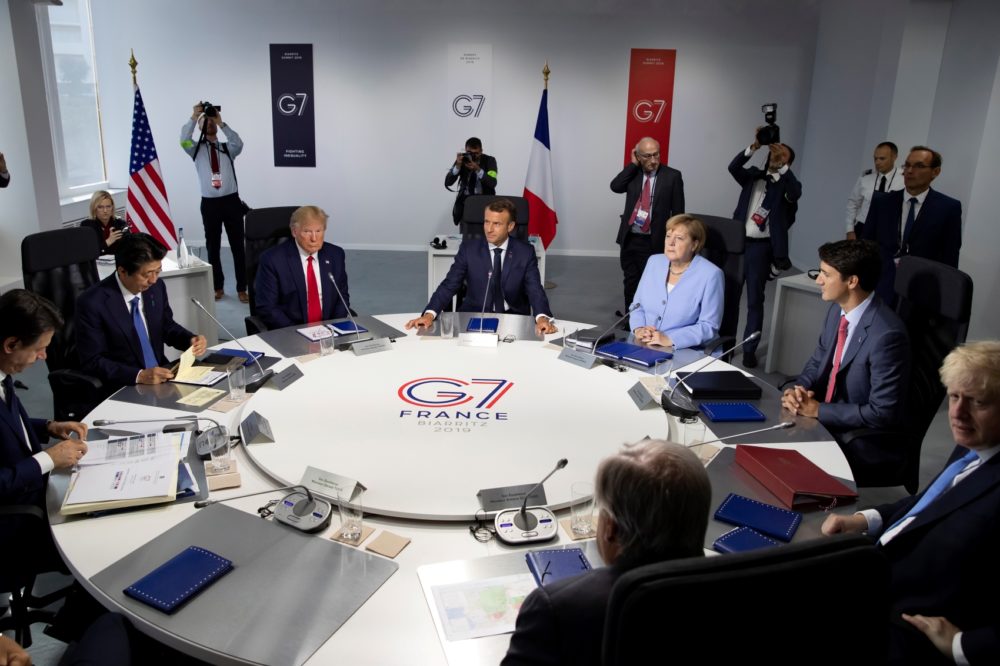 This article is more than 3 years old.
With Kimberly Atkins
Behind the photographs of smiling world leaders, there was plenty of tension at the G-7 summit in France on Monday. Trade, diplomacy with Iran, the impending Brexit and more issues exposed rifts among the world's richest democracies. We look at the global economy and geopolitics of the alliance.
Guests
Flavia Krause-Jackson, London-based European government editor for Bloomberg. (@flaviajackson)
Eswar Prasad, professor of trade policy at Cornell University. Senior fellow at the Brookings Institution. (@EswarSPrasad)
John Kornblum, senior counselor to the international law firm Noerr LLP and former U.S. diplomat with a focus on Russia and Europe, dating back to the Nixon administration. Former assistant secretary of state for European affairs, ambassador to Germany and NATO and U.S. minister and deputy commandant of forces in divided Berlin.
From The Reading List
NPR: "China's Vice Premier Calls For 'Calm' In U.S. Talks; Hawks Want A War Of Attrition" — "When the White House decided to levy tariffs on goods from China, U.S. leaders were divided on whether a prolonged trade dispute was a wise course of action.
"Now, so is Beijing.
"China's leadership is being confronted by government factions offering contradictory approaches to resolving the ongoing trade war with the U.S. Some argue for cutting a deal as quickly as possible to save China's economy; a vocal and growing group of hawks argues China should push back against the United States and avoid an agreement at all costs.
"As U.S. and Chinese negotiators head into their 13th round of trade talks in September, both sides have been given unclear signs about what they hope to achieve from a dispute that has outlasted all expectations."
New York Times: "Rule 1 at the G7 Meeting? Don't Get You-Know-Who Mad" — "BIARRITZ, France — For a day, at least, everyone was on their best behavior when the cameras were on, eager to present a show of bonhomie after so many previous meetings ended in discord.
"But behind the scenes at the annual gathering of some of the world's leading powers, President Trump still found himself at odds with his counterparts on Sunday over issues like trade, climate change, North Korea, Russia and Iran.
"Ever so gingerly, as if determined not to rouse the American's well-known temper, the other Group of 7 leaders sought to nudge him toward their views on the pressing issues of the day, or at least register their differences — while making sure to wrap them in a French crepe of flattery, as they know he prefers.
"It was far from clear the messages were received, or in any case at least welcome.
"Like other presidents, and perhaps even more so, Mr. Trump tends to hear what he wants to hear at settings like this, either tuning out contrary voices or disregarding them. Through hard experience, other leaders have concluded that direct confrontation can backfire, so they have taken to soft-pedaling disagreements."
Bloomberg: "G-7 Wonders Which Boris Johnson Will Show Up" — "With Boris Johnson you never know who you're going to get.
"He can be the joker whose gaffes and flippant asides can deceive someone into not taking him seriously. But he's also the man who, on becoming British prime minister, coldly dispatched enemies in the biggest cabinet purge in decades and who seems dead set on executing Brexit whatever the cost.
"The question of 'which Johnson' matters: He debuts at the Group of Seven summit this weekend in France, where, as Alex Morales reports, he could tip the geopolitical scales on key issues from keeping alive Iran's nuclear deal to containing China's influence. He also stops off in Berlin and Paris en route to Biarritz.
"U.S. President Donald Trump has cut an isolated figure at G-7s to date, but that could be about to change. Johnson is his kind of guy, and persuading the U.K. to break ranks with Germany and France (with the promise of a great free-trade deal after Brexit) on things like Iran seems part of the Trumpian plan."
POLITICO: "Trump claims to be an 'environmentalist' despite skipping G-7 session on climate change" — "President Donald Trump sought to defend his environmental record on Monday after skipping a meeting on climate change with world leaders at the G-7.
"Asked in a news conference at the close of the annual gathering whether he still harbors skepticism toward science that shows global temperatures rising at a dangerous pace, Trump insisted that he was an 'environmentalist,' even as he talked up his administration's support for fossil fuels.
" 'I feel that the United States has tremendous wealth. The wealth is under its feet. I've made that wealth come alive,' he said, pointing to the United States' rise to a global leader in oil exports and his efforts to open up the Arctic National Wildlife Refuge in Alaska for oil drilling, an initiative that has hit a number of roadblocks.
"But he again dismissed sources of renewable energy like wind power, referring to power generating wind turbines as 'windmills' and telling reporters he didn't want to waste America's 'tremendous' energy wealth on 'dreams.'
"Trump caused a commotion Monday when he skipped a session at the G-7 devoted to climate change, biodiversity and oceans, unlike every other leader from the group of leading industrialized nations. "
Stefano Kotsonis and Liz Neisloss produced this hour for broadcast.
This program aired on August 27, 2019.