The Latest On Hurricane Dorian: Florida, East Coast Bracing For Storm
12:29
Play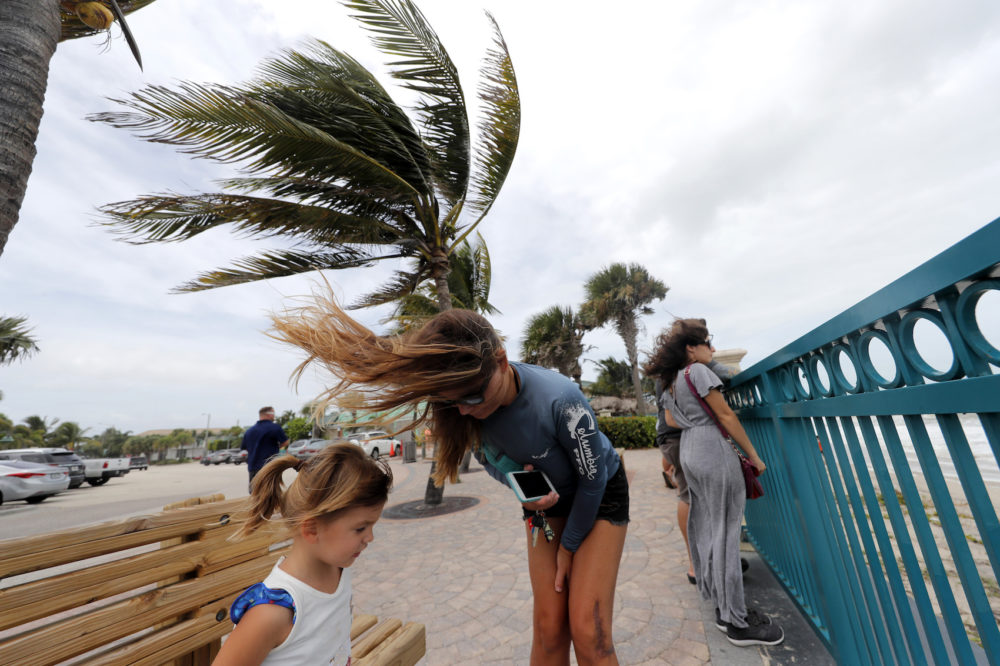 This article is more than 2 years old.
With Meghna Chakrabarti
Hurricane Dorian slams the Bahamas and threatens the southeast United States. A hurricane warning and a storm surge warning have been issued for a part of Florida's east coast. We check in.
Guest
Brian McNoldy, senior research associate at University of Miami's Rosenstiel School of Marine and Atmospheric Science. (@BMcNoldy)
From The Reading List
New York Times: "Hurricane Dorian Updates: 5 Dead in Bahamas as Lashing Continues" — "The United States Coast Guard is conducting rescue missions on Abaco Island in the Bahamas. The nation's prime minister said five people had died in a 'historic tragedy.'
"Hurricane Dorian continued its unrelenting assault on the Grand Bahama and Abaco Islands on Monday, causing 'extreme destruction' as storm surges rose 12 to 18 feet above normal tide levels and at least five people were confirmed dead.
"Prime Minister Hubert Minnis of the Bahamas said the Royal Bahamas police force confirmed the deaths late Monday. Details about how the people died were not immediately available.
"'We are in the midst of a historic tragedy,' Mr. Minnis said at an evening news conference. He added: 'Our focus is search, rescue and recovery. I ask for your prayers for those in affected areas and for our first responders.' "
"Mr. Minnis said the videos of vast destruction in the country were heartbreaking.
"'Many homes, businesses and other buildings have been completed or partially destroyed,' he said."
The Weather Channel: "Hurricane Dorian Stalls, Still Pummeling Northwestern Bahamas; Hurricane Winds Arrive Along Florida Coast [Monday] Night" — "Hurricane Dorian has stalled, continuing its siege on the northwestern Bahamas, but will track dangerously close to a large portion of the East Coast from Florida to Georgia, South Carolina, North Carolina and southeastern Virginia this week.
"Dorian's intensity has backed off ever so slightly from Sunday's peak and is now a strong Category 4, as it has finally undergone an eyewall replacement, common to all intense tropical cyclones during which their intensity diminishes as a new outer eyewall forms, chokes off the former inner eyewall and contracts inward. Despite that, it is still a formidable hurricane and will remain so over the next several days.
"Dorian's forward speed has slowed to a virtual stall near Grand Bahama Island.
"Unfortunately, that means the northwestern Bahamas – particularly Grand Bahama Island – are taking an extended pummeling from destructive winds and catastrophic storm-surge flooding."
USA Today: "Bahamas officials focus on 'rescue, recovery and prayer' as Hurricane Dorian slams islands" — "Hurricane Dorian continued its devastating assault on the Bahamas on Monday after making landfall on three islands along the north end of the battered archipelago.
"The historic storm hovered over the islands after grinding to a virtual halt, blasting the islands with record winds, rain totals that could exceed two feet and inundating storm surge.
"Emergency responders were overwhelmed. The Salvation Army, which has scores of volunteers across the Bahamas, estimated that at least 13,000 homes were destroyed on one group of islands alone.
"Capt. Mike Michels with the Salvation Army in Kingston, Jamaica, said the reports coming in were bleak."
Stefano Kotsonis produced this segment for broadcast. 
This segment aired on September 3, 2019.