An Update On The Bahamas, Two Weeks After Dorian
47:10
Play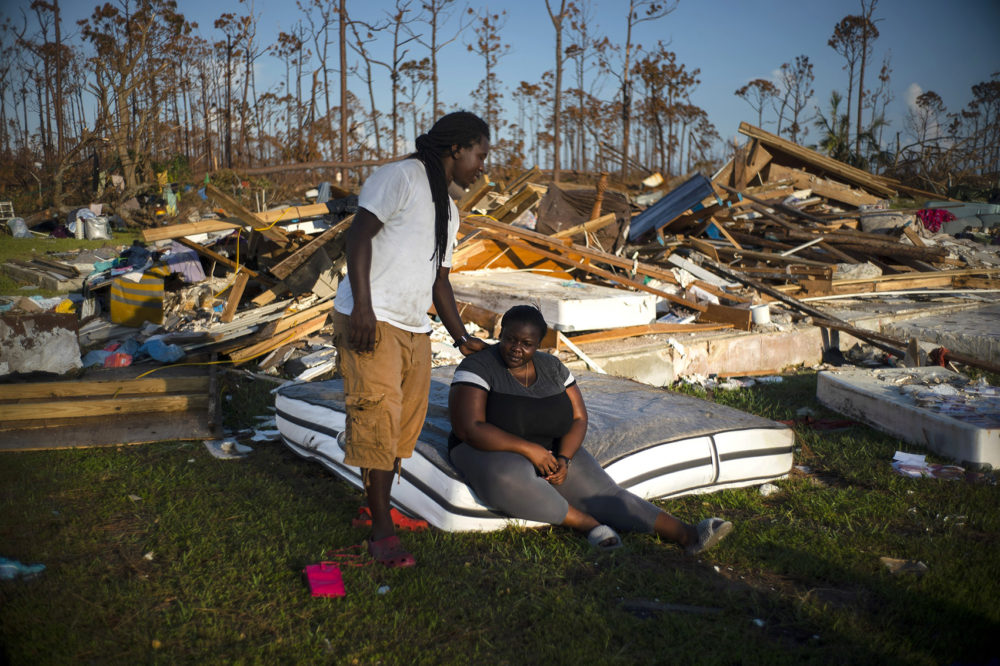 With Meghna Chakrabarti
Nearly two weeks after Hurricane Dorian, the death toll in the Bahamas rises and so does the desperation. We talk with first responders and eyewitnesses.
Guests
Christy Delafield, director of communications for Mercy Corps, a global aid group providing relief on the ground in the Bahamas. (@cydelafield)
Nikki Battiste, CBS News reporter who spent a week covering the devastation from Hurricane Dorian in the Bahamas. (@NikkiBattiste)
To help with the relief efforts in the Bahama, check out these resources:
From The Reading List
NPR: "Getting Aid To Bahamas Is A Logistical Nightmare As Support Systems 'Do Not Exist'" — "In the Bahamas, the damage Hurricane Dorian wreaked on roads, airports, communication grids and other infrastructure is presenting a logistical nightmare for emergency responders and aid workers trying to get basic supplies to the neediest storm victims.
"'Anywhere we could put a warehouse has been destroyed by floodwaters and may not be safe for storing supplies. Communications are down; electricity is down,' says Christy Delafield with the aid group Mercy Corps, which has a team on Grand Bahama Island. 'Any of the things you would normally do in a response are going to be 10 times harder because the systems that support them do not exist anymore.'
"It's been a week since Dorian unleashed ferocious rain and wind gusts on the Bahamas, and the challenges of bringing in supplies, transporting them around the islands and spreading word are undiminished."
Reuters: "Dorian's death toll in Bahamas rises to 50: official" — "Hurricane Dorian's rampage through the Bahamas last week killed at least 50 people, largely on the hard-hit Great Abaco Island, an official said on Tuesday.
"That is up from the last-reported figure of 45, Carl Smith, a spokesman for the islands' National Emergency Management Agency, told reporters. Evacuees, rescue workers and officials widely expect the number to climb higher as more bodies are pulled from the rubble of a demolished neighborhood in Marsh Harbour in Abaco.
"Dorian pummeled the Bahamas with 200-mile-per-hour (320-km-per-hour) winds. It was one of the strongest Caribbean hurricanes on record and stands as the worst disaster in Bahamian history.
"As relief efforts got underway slowly, stirring frustration among locals, several Bahamians said they might attempt to emigrate to the United States rather than face an uncertain rebuilding at home."
Washington Post: "Pentagon's involvement in Hurricane Dorian relief effort in the Bahamas expected to remain small" — "A week after Hurricane Dorian slammed into the Bahamas with Category 5 strength, the Pentagon's involvement in the relief effort is expected to remain relatively small, with no senior commander deployed on the ground and Navy ships barely involved.
"The Pentagon's response included designating 20 Army and Navy helicopters to fly equipment and people from Homestead Air Reserve Base in southern Florida and reopening airfields. Active-duty military helicopters had made 36 flights as of Monday morning, rescuing eight people, said Navy Capt. Pamela Kunze, a military spokeswoman.
"About 1,050 active-duty service members were involved in Bahamas relief as of Monday, with an additional 150 notified that they could be called to help, Kunze said.
"Jonathan Rath Hoffman, the chief Pentagon spokesman, said Monday that four Marine Corps MV-22 Ospreys from the USS Bataan had flown Air Force members to the Bahamas to assess whether airports are capable of receiving C-130 and C-17 aircraft. Grand Bahama International Airport already is, he said. No other Navy combatant ship has been involved in the operation."
Dorey Scheimer produced this show for broadcast.
This program aired on September 12, 2019.