Round 3: Previewing The Democratic Debate
17:08
Play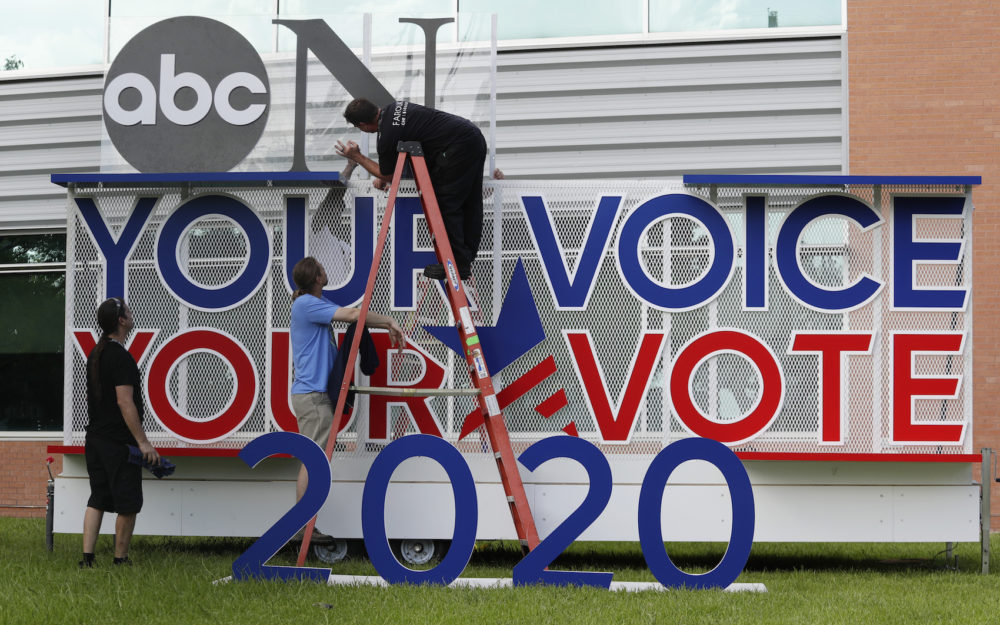 With Meghna Chakrabarti
Ten candidates are set to take the stage in Houston for the third Democratic debate. We look ahead.
Guest
Jenna Johnson, political correspondent for the Washington Post who writes about the 2020 presidential election with a heavy focus on voters and political movements. (@wpjenna)
From The Reading List
Vox: "What to expect at the September Democratic debate" — "The third Democratic debate — and the first to feature all the major candidates onstage together — will be a three-hour extravaganza taking place this Thursday, September 12, from 8 pm to 11 pm ET in Houston, Texas, and broadcast on ABC.
"Because the DNC set stricter standards for qualification this time around, this debate will feature just 10 candidates on one night. Joe Biden, Elizabeth Warren, Bernie Sanders, Kamala Harris, Pete Buttigieg, Andrew Yang, Cory Booker, Beto O'Rourke, Amy Klobuchar, and Julián Castro will be onstage.
"The stage will still be as crowded as it was on any individual night of the previous two debates. The difference is that all the top-polling candidates have chances to interact — some for the first time.
"It's particularly noteworthy that this is the first time Joe Biden and Elizabeth Warren will be onstage together. Due to the vagaries of random drawings, they were assigned to different nights for both of the first two debates. In addition to being one of Biden's top challengers in polls, Warren has also had longstanding policy disagreements with Biden, dating back to a 2005 bill that made it more difficult for people to file for bankruptcy. So this is the first time their dueling visions for the Democratic Party's future will be contrasted onstage."
PBS NewsHour: "What to watch in the next Democratic debate" — "The Democratic debate Thursday will feature all the top polling candidates on the same stage for the first time, with frontrunners former Vice President Joe Biden and Senators Bernie Sanders of Vermont and Elizabeth Warren of Massachusetts taking center stage and vying to be the center of attention.
"Higher thresholds for polling and fundraising cut the list of candidates who made the stage Thursday in half, a departure from the previous two rounds of debates, which featured 20 candidates spread over two nights. This debate will offer a first glimpse at a narrowed-down primary field , with a clear top-tier and several other candidates still hoping for a breakthrough moment."
The Guardian: "Democratic debate: Biden and Warren to face off as 2020 race intensifies" — "Ten candidates. Three hours. One stage. A Texas showdown. This Thursday, Democratic White House 2020 hopefuls meet for round three of the party's presidential debates as the contest for the party's nomination enters a new, more urgent stage.
"The Houston hothouse will be the first time the party's top contenders appear together on a single night.
"Among the most highly anticipated face-to-faces of the evening will be between former vice-president Joe Biden and the Massachusetts senator Elizabeth Warren, who have yet to share a stage in this race.
"Warren is jostling with the Vermont senator Bernie Sanders to be the leading progressive alternative to Biden, who has maintained a comfortable lead over his rivals despite a summer of gaffes and miscues."
Dorey Scheimer produced this segment for broadcast.
This segment aired on September 12, 2019.