Opinion: You've Still Got Mail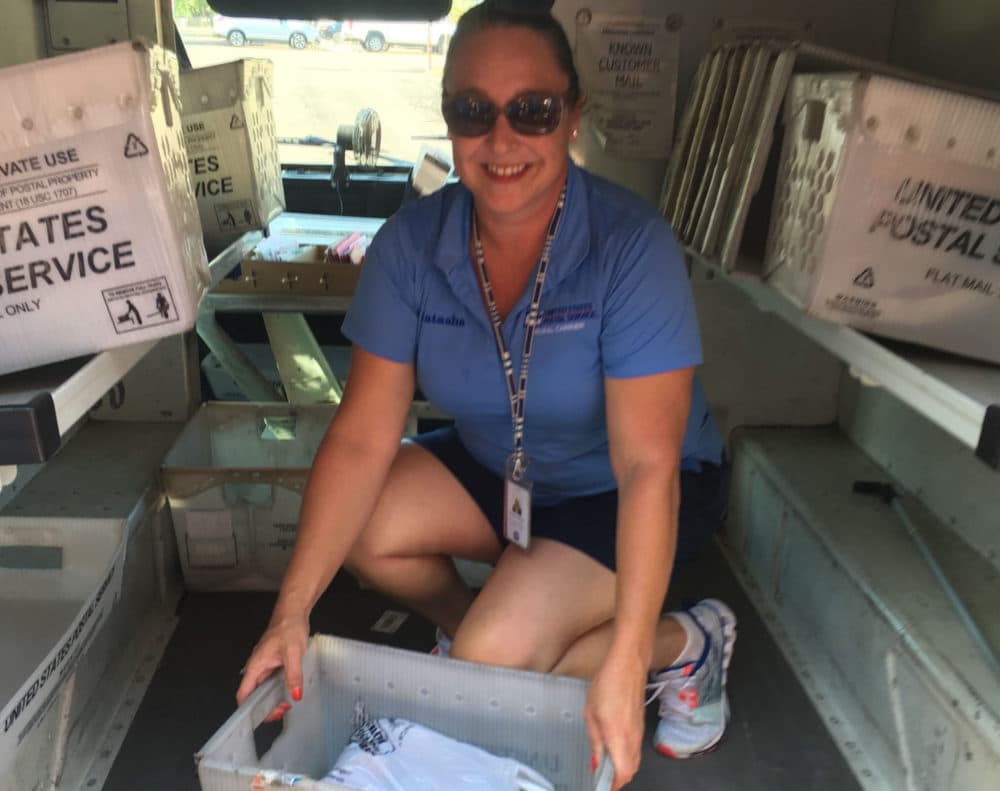 This opinion piece is a follow-up to our hour on the USPS. Listen here.
---
For 83-year-old "Ms. Carmen" in Largo, Florida, the right shoes are hard to come by even in normal times. She relies on a particular pair of black memory foam shoes that are sensitive to her feet and help her move around. This year, they were discontinued causing considerable worry and stress.
In January, she shared the news with me, her rural letter carrier. Being an internet sleuth, I quickly found her two pairs of the black slides online and hand-delivered them to her home. "I THANK YOU!" Ms. Carmen wrote me in a hand-written note. "I wore them all day as I had many errands to run."
---
There's an emergency facing families in rural towns across America, where access to health care services can be limited and reliance on mail is essential.
Here in Florida, senior citizens, people with underlying health conditions and young people check their mailboxes for prescriptions and other medication, as well as supplies. In more remote parts of the state where broadband isn't available, the mailbox is like an inbox.
Letter carriers deliver necessities to homes, six and sometimes seven days a week. It's a daily ritual, despite the pandemic. I'm sure you've heard the stories.
It's less likely you've read about the human connections occurring along the routes, where postal workers deliver more than packages in their communities. We have plenty of these stories to share in Florida.
---
On June 1, hurricane season will formally begin in the U.S. With it brings extremely warm weather, humidity and frequent thunderstorms in the Sunshine State. Delivering mail in these conditions can be tough and unpredictable. Delivering mail to a community hit by a hurricane? Another level.
Two years ago, in October 2018, Hurricane Michael, a Category 5 hurricane, decimated the Florida panhandle. Buildings and homes were completely wiped out, down to the foundation and driveways. You may remember reading about Mexico Beach.
About an hour inland, in the rural town of Fountain, Florida, Hurricane Michael also tore apart critical infrastructure. The town, with a population of less than 4,000, went without drinking water for days, and then weeks.
Hearing word of this, a network of rural letter carriers throughout the country banded together and contributed personal funds to buy 43,008 bottles of water for the community. Carriers from as far as California pitched in to help the residents of Fountain. It was a special feat.
---
You've seen the commercials—neither hail, nor snow, nor sleet can deter the U.S. Postal Service. Nor can hurricanes. And nor can COVID-19.
You've still got mail.
The men and women of the Florida Rural Letter Carriers' Association are ordinary people. We are parents, grandparents, great-grandparents. We are veterans. We are young workers and we're middle-aged. We are the faces of America, delivering mail in unprecedented times. And we are extraordinarily proud and grateful to do that.
As this pandemic moves forward, you are going to read a lot of headlines about the financial burden of this public health crisis and the funding needed for the USPS to keep delivering mail.
I encourage you to use these stories as a way to think about your own relationship with the mail. Write your Congressperson and tell them how much the post office in town means to you. Think of the carrier you know by first name. The rural areas that need medicine. "Ms. Carmen" and her shoes.
"Very seldom do you meet a kind person who just reaches out and gives so kindly. You are one of those," she wrote me. "I don't get many treats unexpectedly like you gave. I always loved your smile and personality and with that, I THANK YOU!"
---
---
Ms. Patterson is president of the Florida Rural Letter Carriers' Association and represents 10,000 men and women who serve as rural letter carriers in the U.S. Postal Service.