WBUR's On Point brings you a 'Week of wonder': A curation of shows from the past year reveling in the wonder of the world we live in. Over the course of the week, we explore what captivates our mind, illuminates our humanity and both delights and confounds us.
Episode breakdown
Episode 1. In defense of darkness
Earth needs darkness just as much as it needs light. Learn how human light pollution is pushing back the dark and changing the natural world. Hear it on August 21.
Episode 2. How animals perceive the world
What if you could taste the world's electrical fields? Hear vibrations in a leaf? See magnetic currents guiding you home? Science writer Ed Yong helps us perceive the world the way animals do – through eyes, ears, antennae and more. Hear it on August 22.
Episode 3. Awe: Science's answer to your search for happiness
How do you find deep happiness? Researcher Dacher Keltner says the answer is to seek and experience more awe. Hear it on August 23.
Episode 4. The case for preserving parasites
Parasites are the cause of numerous debilitating diseases, so it's easy to think of them as doing no good. But losing parasites could have devastating consequences for our ecosystem. Hear it on August 24.
Episode 5. The healing power of music
Many of us turn to music to feel better. But music can also help us physically heal. Studies show music can affect our blood pressure and our heart rate – and even help us manage pain. Hear it on August 25.
---
How to listen
Radio
Podcast
Every afternoon, you'll find the series in On Point's podcast feed, or wherever you listen to podcasts.
About the host
Meghna Chakrabarti is the award-winning host and editor of On Point. Based in Boston, she is on the air Monday through Friday.
The Alliance for Women in Media has honored On Point with three Gracie Awards. In 2023 'An invisible epidemic,' a program about survivors of domestic violence, won in the Investigative Feature category, while 'Behind the decades-long fight to close the boyfriend loophole' won in the Public Affairs category.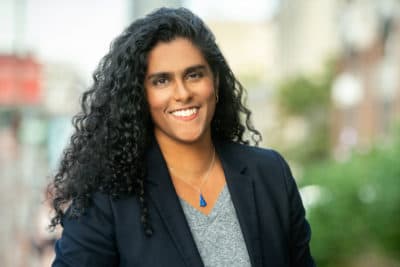 In 2022, On Point's episode "A Look Back at 1992 Los Angeles And America Since Rodney King" won a national Gracie Award for Best News Documentary. The Alliance for Women in Media also gave Meghna an honorable mention for best nationally syndicated non-commercial correspondent/host.
On Point's episode on Los Angeles since Rodney King also won a 2022 regional Edward R. Murrow award for best news documentary. In 2021, On Point won a National Edward R. Murrow award for best news documentary for "What the President Knew." The show examined presidential decision-making before 9/11 and the COVID pandemic. In 2023, On Point's series Smarter health was given a first-place award by the Association of Health Care Journalists.
Chakrabarti is the former host of Radio Boston, WBUR's acclaimed weekday local show. She's the former host of Modern Love: The Podcast, a collaboration of WBUR and The New York Times (2016-2020) and was the primary fill-in host for Here & Now, NPR and WBUR's midday show. She reported on New England transportation and energy issues for WBUR's news department.