Commentary: It's Rubio's Time To Step Up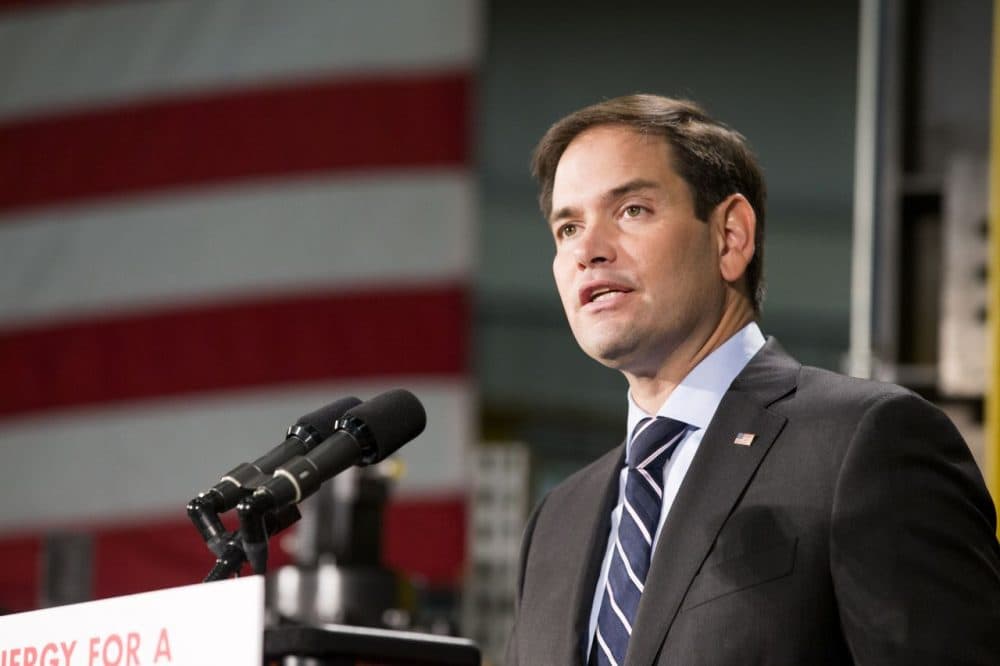 This article is more than 3 years old.
Ross Douthat, The New York Times' conservative columnist, wrote that he expects (perhaps hopes) that Marco Rubio will wind up as the Republican nominee for president. He reasons that poll front-runners Donald Trump and Ben Carson are too out of character to claim the big prize and he eliminated all but Rubio.
Trump and Carson are beginning to attack each other, assuring that one or both will be snuffed out by wise primary voters. Trump pointed out (for the benefit of Iowa evangelicals) that Carson is a Seventh Day Adventist and a "super low energy guy." Carson admitted that he once tried to stab someone when he was 14 growing up in the mean streets of Detroit.
Carly Fiorina had her moment in the last debate, but her record as CEO of Hewlett Packard was so poor it dragged her down into the second tier. Jeb! Bush is so inept as a campaigner that Trump keeps tying him up in knots and Bush keeps saying stupid things -- the latest came when he was asked which comic book superhero he would like to be. Not Superman or Batman; no, he said, Supergirl. Yikes! He's now cutting staff and spending, putting him on the exit ramp to Outsville.
Rand Paul, who once worried Democrats for his civil libertarian and anti-interventionist stances, is doing so poorly that he's being pressured by Senate Majority Leader Mitch McConnell to head back to Kentucky and hold his U.S. Senate seat.
New Jersey Gov. Chris "Shut up and sit down" Christie doesn't know how to behave in public. Talking loudly recently on his phone in the Amtrak commuter rail's quiet car, he yelled at his Secret Service detail and then the conductor who tried to get him to sit in another car. Slurping on a McDonald's strawberry smoothie, his diet and temper tantrum were witnessed by awestruck riders.
John Kasich looks good on paper but has failed to emerge in debates or on the stump, so the Ohio governor is relying on sizable TV ad buys, but he's gained no traction. He's so out of it Trump has ignored him. He's not quite in Christie's league, but he's known for a temper as quick as a flash of lightning.
Sen. Ted Cruz of Texas is raising tons of money and has a silver tongue, but led the government shutdown in the U.S. Senate and has made many enemies inside and outside the Senate. "Far too many leading party actors hate him," columnist Douthat dispatched.
That leaves a bunch of guys named George who have minuscule name recognition or even smaller chances of success.
Rubio worries many Democrats I know. At 46, he can make a generational claim against Democrats Hillary Clinton, who turned 68 on Monday, and Bernie Sanders, who's 74. As the son of Cuban parents (who did not escape Fidel Castro, as he likes to imply), he helps with the party's Hispanic problem. El Donald is viewed unfavorably by 72 percent of Hispanics, with 6 in 10 having a very unfavorable opinion of him. In August, Carson set up a "Hispanic Outreach Event" in South Carolina. About 25 people showed up and the only Hispanics were the owner of the place where the event took place and his brother.
At Wednesday night's debate on CNBC -- not a powerhouse cable network -- Rubio has to assert himself and establish his credentials as knowledgeable on foreign policy. He's missed one-third of recorded votes in the U.S. Senate this year, the worst voting record of any senator.  Notably he missed the defense authorization bill, but he's regarded as a student of military policy. On immigration reform, he was a member of the bipartisan but now maligned "gang of eight" and he wrote comprehensive legislation only to oppose it when he encountered resistance within his own party.
In a transparent attempt to distance himself from Washington, he has announced he's not going back to the Senate when his term ends. Smart money won't expect him to honor that claim, but The New York Times has uncovered his deep personal debt and shaky personal finances; that may prompt him to leave the Senate for a pinstriped lobbying job.
In the first two Republican debates, Rubio got good marks for being solid and calm, refusing to join in on the sharp contrasts, preferring to answer questions thoughtfully and without inflammatory rhetoric. He has not tangled with Trump, but did offer that Trump is "sensitive" to criticism, too sensitive and in the final analysis, "insecure." Trump was booed by a conservative audience at the Values Voter Summit when he called Rubio "a clown."
Rubio's favorable/unfavorable rating in Iowa is 70/20, second only to the affable Carson, who's at 84/12. The Iowa poll for the Des Moines Register and Bloomberg News showed Carson surging ahead of Trump 28-19; third place was held by Cruz at 10 percent with Rubio at 9 points.  (Jeb! is at 5!).
The next GOP debate after this week's will be on Nov. 10. That may be too late for Rubio to show his maturity, energy and toughness. The time for that is Wednesday night.
Dan Payne is a Democratic political analyst for WBUR and a regular contributor to The Boston Globe.