Talk Of Trump Distracts From Jeb Bush's Visit To N.H.
06:57
Play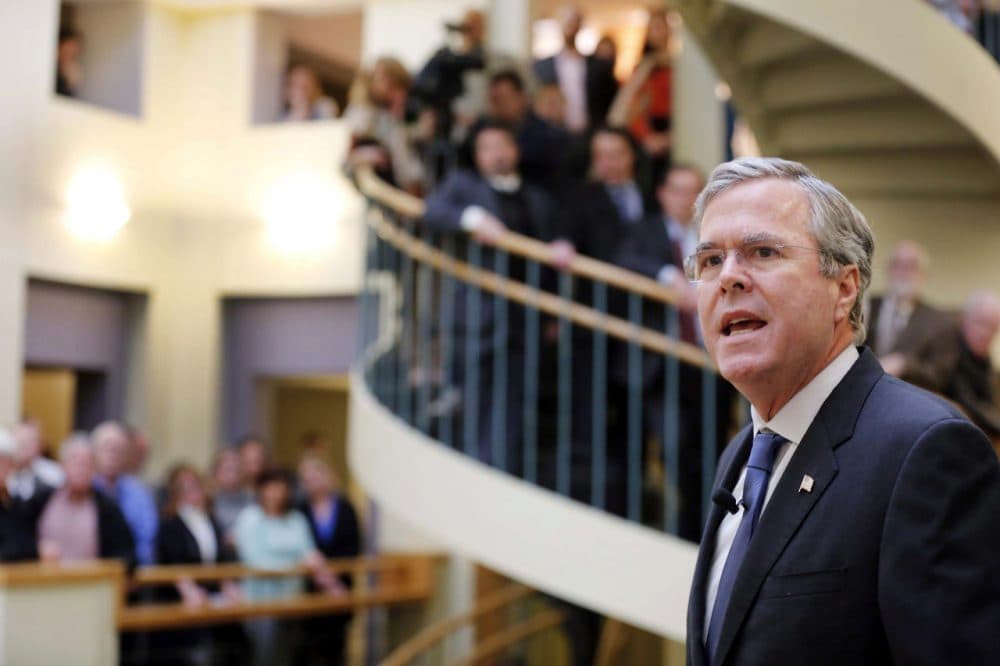 This article is more than 4 years old.
Donald Trump's call to temporarily bar Muslims from entering the U.S. is having an impact for all the Republican candidates running for president.
In New Hampshire, many in the GOP, including prominent party leaders, are now distancing themselves from Trump. Tuesday night, the issue became a major distraction for another candidate — former Florida Gov. Jeb Bush.
At the American Legion Hall Tuesday night in Hooksett, New Hampshire, Brad Butler, from Allenstown, New Hampshire, was candidate shopping. As he and about 100 other people waited for Bush to arrive, he said was wavering between New Jersey Gov. Chris Christie and Bush.
Butler says national security and terrorism are now his top concerns. And he says he's definitely not supporting Trump, and his calls to keep Muslims out of the country.
"I don't agree with his comments and the way that he presents it," he said. "I think our borders have to be protected from terrorists, not from Muslims. Muslims — that's a religion, same as a Christian, a Jewish person, anyone — that's a religion. Muslims are not terrorists. I wouldn't discriminate against any person."
"Thank you all very much," Bush said to the crowd in Hooksett. "For those veterans in the crowd, we appreciate your service to our country. We've had difficult times in our country in the past, haven't we?"
Jeb Bush stood in front of a big sign that said, "Jeb Can Fix It," and he criticized President Obama for doing too little to confront radical Islam and ISIS.
"This president has focused on containment being the policy to deal with ISIS. Really? Containment means the creation of a caliphate the size of Indiana."
Bush calls for a muscular response to ISIS. Along with a big increase in military spending, Bush would arm the Kurds, reengage with Sunni forces, establish a no-fly zone in Syria and have U.S. troops lead an international force on the ground.
He sounds like a candidate running to be a wartime president.
"If this is a war, then we should declare it as such," Bush said. "And the president of the United States should declare it as such as well — that this is Islamic radical terrorism. That's what it is. And if you can't even say it out loud like Hillary Clinton and Barack Obama, how can you create a strategy to deal with it?"
Despite Bush's strong rhetoric, the biggest presence Tuesday night seemed to be the guy who wasn't there: Trump. Bush didn't mention him in his remarks, but when the town hall meeting opened up to the audience, the very first questioner did.
"I'm gonna say two words that are probably the last words you wanna hear right now, last words I wanna hear too: Donald Trump."
Bush responded: "What about him?"
Tim Chrysostom of Canterbury, New Hampshire, wanted to know this: Given Trump's proposal to bar Muslims from the U.S., would Bush renounce the pledge that Republican candidates took to support the eventual nominee if Trump were to win?
"That's a hypothetical I reject out of hand that he is going to be the nominee," Bush said to laughter and applause.
So Bush dodged the question and passed up the chance to go after Trump, choosing instead to promote his own policies.
But others in New Hampshire — including some leading Republicans — are more willing to take on Trump aggressively.
"I'm certainly one of those mainstream Republicans who's deeply concerned about Donald Trump," said Fergus Cullen, a former chairman of the New Hampshire Republican Party. "I believe he is a dangerous demagogue, and I think people can't overlook his dictatorial tendencies.
"Some of our worst dictators in the last century seized power through democratic means and then converted it into a dictatorship," Cullen said. "And I don't think it's going to get to that point. But I do think as a student of history we can't ignore that that's exactly how it happened in other situations when people were saying the same thing: 'Oh, that could never happen here.' And then it did."
Cullen is also a loyal Republican partisan, who says if Trump were to win the party's nomination, he'd probably lose in the general election and drag down GOP candidates across the country. It's a fear shared by an increasing number of Republicans. And so, Cullen says, the party's presidential candidates need to call him out.
"Some of them are intimidated by Donald Trump," he said. "And I would just suggest that anyone who is running for president who doesn't have the leadership skills and ability to take on Donald Trump and the wherewithal and fortitude to condemn him doesn't deserve to be president of the United States anyway."
One reason why some hesitate to take on Trump is because of his popularity, which is proving to be durable. A new WMUR-CNN poll just outs in of likely primary voters New Hampshire finds that Trump's lead in the crowded Republican field continues to grow. In the poll, 32 percent say they now support him.
Andy Smith of The University of New Hampshire Survey Center, which conducted the survey, says 59 percent of Granite State Republicans now believe Trump will win the primary.
"Forty-two percent say he's the candidate best able to manage government spending," Smith said. "Forty-five percent says he's best candidate who could best handle illegal immigration. Thirty-six percent say he's the best on taxation, and 33 percent say he's the best to handle ISIS. No one else is even close to him on any of those other issues."
But Smith says, Trump does have a challenge: to build a real coalition and move beyond his narrow base of mostly angry white men.
Back in Hooksett Tuesday night, at the end of Bush's town hall meeting, Chrysostom — that voter who tried to get Bush to distance himself from Trump — confronted him again.
"You still seem to be unwilling to say, 'I will not support this man who I think is the moral equivalent of George Wallace who does not belong in any respectable political party.' "
Bush responded, "I'm going to call him out when he's wrong and that's with great regularity I call him out. ... I've been forthright about my belief that his language is uncalled for in this country and that we need serious plans. He's not a serious candidate, he's not going to be elected and he's dividing."
In fact, even if he had to be pushed Tuesday, Bush has criticized Trump, at one point calling him "unhinged." And many of the other GOP candidates spoke out against Trump's proposed Muslim policy Tuesday as well.
For his part, Trump says his opponents are using the issue to boost their own campaigns.
But the Republican leadership is also critical: House Speaker Paul Ryan said Trump's proposal "is not what the party stands for." Maybe so. But at least for now, Trump remains the party's presidential front-runner.
This segment aired on December 9, 2015.