Commentary: Bill Clinton Is Still Riding His Own Coattails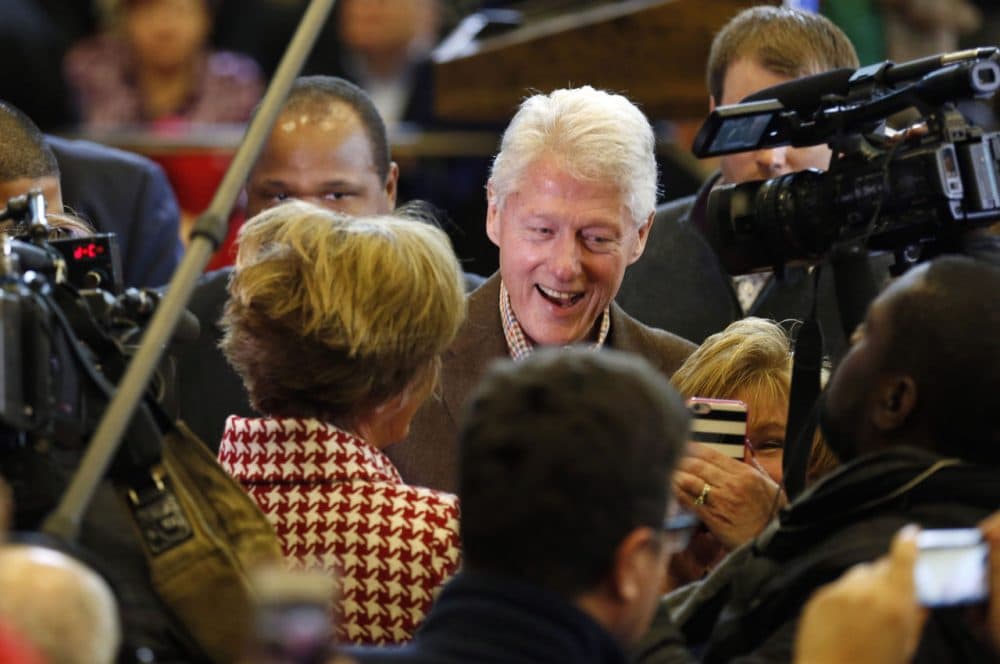 This article is more than 5 years old.
If you're running for president, what do you do with a public figure who's more popular than you are? You get him or her on the campaign trail as often as you can. That's what Hillary Clinton is doing with her husband.
According to the most recent national poll done for Bloomberg News in November, Bill Clinton was regarded favorably by 60 percent of respondents, while 34 percent had an unfavorable opinion. For comparison sake, the same poll found Donald Trump at 34-61 favorable-unfavorable, and Hillary Clinton 42-53.
Although the data weren't published, we can assume Bill Clinton's ratings among Democrats would be sky high, which matters in Democratic primaries. In 2012, Gallup found 90 percent of Democrats were favorable toward the former president with a tiny 8 percent unfavorable.
Not bad for a man who was impeached in 1998. So naturally Hillary Clinton has sent her husband to campaign for her, first in Iowa, then in New Hampshire, despite some people wondering if it's risky.
Let's start with this: What's she going to do, divorce him? For their own (mysterious) reasons, they remain married. He remains her most famous and powerful supporter and draws crowds wherever he goes. New Hampshire, we're told endlessly, wants its presidential politics up close for handshakes and selfies. Bill Clinton is still regarded as without peer as a retail campaigner. For his powerful speech on behalf of President Obama at the 2012 Democratic National Convention, Obama lauded him as "the explainer-in-chief."
The former president staged a famous comeback in New Hampshire in the 1992 primary, and Hillary won the state herself in the 2008 primary after a disappointing third place finish in Iowa where she was edged out by .02 percent by John Edwards. Moreover, we should assume the experienced Hillary Clinton campaign operatives tested Bill Clinton's ratings in their own polls.
Despite Bill Clinton's popularity in New Hampshire, in 2000 Al Gore wouldn't use him and lost the state by 7,200 votes or 1 point. To this day, there are people who say that Gore would have been president if he had swallowed his pride and asked Clinton to campaign for him there.
Most Americans have decided what they think about Bill Clinton's sexual misadventures. Not Donald Trump. Desperate for attention, Trump suddenly has begun to attack the Clintons and come to the defense of women, after attacking Megyn Kelly of Fox News ("blood") and Carly Fiorina ("that face"). Kelly had pressed Trump on his past references to females as "fat pigs, dogs, slobs and disgusting animals."
Trump's gender gap is huuuge in a Fox News poll that showed him leading among men at 46 percent but 30 percent among Republican women. Apparently women don't find his bragging, intolerance and crude language ("Hillary got 'schlonged' in the last presidential primary by Barack Obama") very attractive. This off-color metaphor seems to mean to Trump that she was beaten badly.
It's been said of politics that you can't always pick your friends, but you certainly can choose your enemies. Choosing to make an enemy of Bill Clinton, one of the most resilient, resourceful public figures in our lifetime reveals the naiveté of political newcomer Donald Trump and may give the Clintons much ammunition. Clinton-bashing may help Trump among Republicans in early primaries, but it's independents and disgruntled anti-Trump Republicans whom he needs in the general election.
Just weeks before Trump jumped into the campaign feet in his mouth first, he had a private phone conversation with Bill Clinton. Rumor has it the former president urged The Donald to run. Bill Clinton picked his enemy.
Dan Payne is a Democratic political analyst and a regular contributor to WBUR Politicker.