Commentary: Who Could Trump Pick As A Running Mate?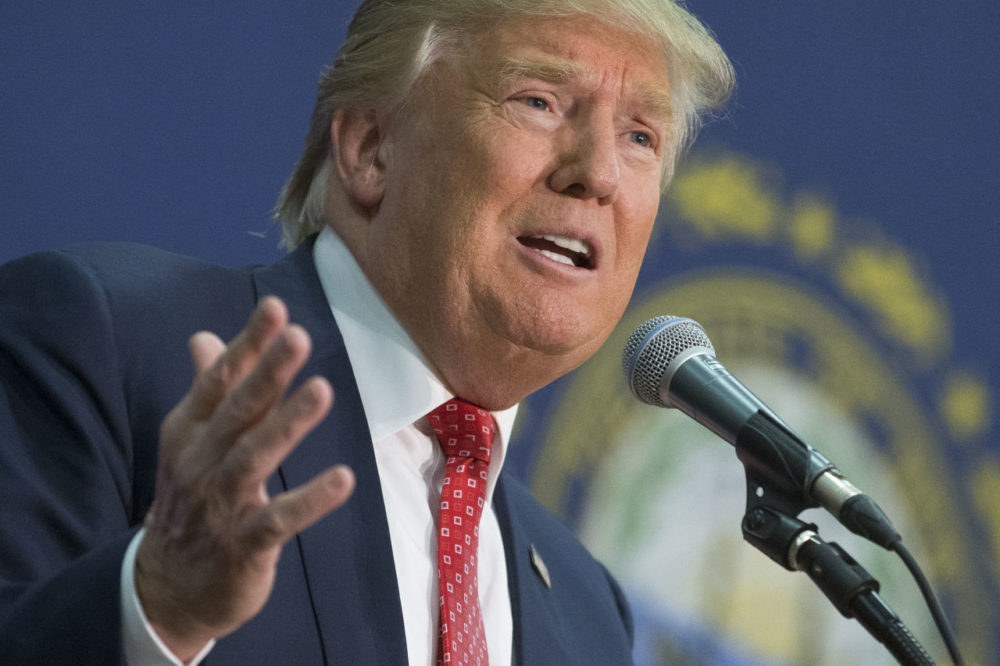 This article is more than 5 years old.
Donald Trump has insulted his Republican rivals viciously (to use one of his favorite words). And most of them have been just as critical of him. This raises an obvious question: If nominated for president, could The Donald select any of them to be his running mate without it backfiring?
Wouldn't it give ammunition to the Democrats and media critics if Trump picked someone who had called him a "narcissist" and an "egomaniac"? How would Trump explain away such words?
Let's review some of what Trump and his opponents have said about each other, to see if there's a plausible choice for vice president in the field if the bombastic billionaire won the nomination.
TED CRUZ: After Thursday's debate, Trump told CNN's Dana Bash, "I guess the bromance is over." The two had a truce going, but when Cruz rose in Iowa polls, Trump felt it was time to give him a beat-down. In last week's debate, Trump again questioned whether Cruz was eligible to run for president as a "natural-born citizen" since he was born in Canada. Asked whether he might consider Cruz for a running mate, Trump said he'd fear a Democratic lawsuit if he did. And the feud has escalated. Now Trump calls Cruz "the ultimate hypocrite."
Cruz wasn't publicly critical of Trump earlier in the campaign, but it was revealed that in a private fundraiser the Texan senator had questioned whether Trump had the judgment to be commander-in-chief. And he's been even more critical of Trump and his alleged "New York values." Cruz probably wouldn't be the logical choice for running mate, anyway. Trump would have the support of Cruz supporters without the polarizing senator on the ticket.
MARCO RUBIO: Trump has knocked the Florida senator for being "overly ambitious, too young," and having "the worst record" for attendance in the Senate. He even referred to Rubio as a "clown" and "a baby."
After Trump was unable to answer a debate question about the nation's aging nuclear triad, Rubio questioned whether Trump had the knowledge necessary to be commander-in-chief. "You most certainly need to have a basic understanding of the military apparatus of this country."
Trump could explain away his criticism of Rubio being too young, since standards are lower for vice president. And Rubio hasn't been too explicit in saying Trump is ill-suited to be president. But would picking a Cuban-American who Trump has accused of supporting "amnesty" for immigrants here illegally then undermine Trump on his signature issue? And how could Rubio credibly, and in good conscience, argue for Trump's proposal to deport 11 million people?
BEN CARSON: Carson has avoided criticizing Trump. But when he rose in the Iowa polls, Trump viciously attacked Carson at a rally. Referring to Carson stating in his autobiography that he had a "pathological temper" as a young man that caused him to attack others, Trump said Carson had a "pathological disease," and compared it to child molesting. "A child molester, there's no cure for that. If you're a child molester, there's no cure. They can't stop you. Pathological? There's no cure." He scoffed at Carson's claim that a religious awakening changed him in temperament and outlook.
There's video of Trump stepping away from the podium to demonstrate how a belt buckle could not have deflected an attempted stabbing, as Carson had claimed. The audience was appalled by Trump's nastiness; indeed, the candidate seemed unhinged. Surely Democrats would use it in a TV ad to suggest Trump is unstable. Maybe they'll use it even if Carson is not the VP candidate.
CHRIS CHRISTIE: The New Jersey governor has avoided clashing with the frontrunner, but when Christie questioned Trump's proposal to ban all Muslims from entering the U.S., Trump was swift in counterattacking. Trump said Christie "totally knew about" his aides' involvement in the so-called "Bridgegate" scandal (closing the George Washington Bridge as an act of revenge against a mayor who wouldn't endorse Christie for re-election). While there was no evidence that Christie had knowledge or involvement, Trump charged the former prosecutor with complicity.
Trump also condemned Christie for his state's nine credit downgrades — "it's a disaster" — and for high taxes. How could Trump then turn around and say Christie would be a great vice president? Of course, it's not likely that Christie would be picked anyway; New Jersey wouldn't provide any geographic balance to the ticket since Trump is from neighboring New York.
JEB BUSH: Trump tweeted that Bush is "a total embarrassment to both himself and his family." He's called Bush a "low energy stiff" and in debate mocked his claim to be tough enough to be president.
Bush, in turn, has called Trump a "bully" and a "jerk." Bush called Trump "the chaos candidate" and said he'd be "a chaos president." The Democratic opponent will probably quote that if Trump is the GOP nominee.
JOHN KASICH: The Ohio governor is likely to be considered as a running mate, because he's popular in a crucial swing state. (No Republican has been elected president without carrying Ohio.) But Trump's past attacks on Kasich would make it harder for him to claim that the governor was an exciting, hopeful selection. Trump tweeted, "Once John Kasich announced he was running for president, and opened his mouth, people realized he was a complete & total dud!" And he tweeted: "John Kasich was managing director of Lehman Brothers when it crashed, bringing down the world and ruining people's lives. A total failure!"
Kasich was blunt in criticizing Trump's deportation plan: "We got one guy who says we ought to take 10 or 11 million people and pick them up. … We're gonna go into their homes, their apartments. We're gonna pick them up, and we're gonna take them to the border and scream at them to get out of our country. Well, that's just crazy."
CARLY FIORINA: Trump insulted the only female GOP candidate when he was quoted saying, "Look at that face." He said unconvincingly that he was actually talking about her personality. But he was quite clear in attacking her business record: "Her business career was a disaster, and nobody wants to say it."
Fiorina has been very critical of Trump. Last week she approvingly repeated the comment of a 10-year old girl, "Donald Trump's a moron. Out of the mouths of babes." It would be hard for Fiorina to later put a positive spin on that comment.
OTHER "LOSERS": Given Trump's nasty exchanges with other GOP opponents — Rick Perry, Scott Walker, Lindsey Graham, Rand Paul, Bobby Jindal — it's hard to imagine him picking any of them for Veep.
Mike Huckabee looks like he's heading for the exit soon, but some wonder whether he is now auditioning to be picked by Trump for vice president. As a "loser," Huckabee probably wouldn't be selected by Trump. And it's not as if Huckabee would bring geographic, ideological or any other kind of balance to the ticket. But Huckabee does have one virtue that Trump would find appealing: he has not called Trump a narcissist, egomaniac, moron, crazy, bully… But wait, Huckabee did say that Trump's criticism of John McCain as a P.O.W. was "disrespectful not just to POWs; it's disrespectful to every veteran."
Oh well, there are non-politicians who Trump could pick for his running mate.
If Trump wants to appeal to women ("I respect women more than I respect men") and blacks ("I have a great relationship with the blacks"), Trump might pick former "Apprentice" star, Omarosa.
If Trump wants to appeal to Hispanics ("I will win the Latino vote") and media ("they're scum"), he might ask "Apprentice" runner-up and Fox News commentator, Geraldo Rivera.
Or if Trump just wants to reinforce his base, appealing to the anger so many people feel, he might pick former "Apprentice" star Gary Busey, who has already endorsed The Donald.
More likely, if Trump wins the presidential nomination he won't pick a former opponent or a former Apprentice. Some may speculate that he'd ask House Speaker Paul Ryan, but Ryan (who ran for vice president with Mitt Romney) would not give up his more powerful position to play apprentice to Trump. Some will hope that Romney would take the second banana spot, but that's equally unlikely. Romney would not risk his reputation and dignity to take a wild ride with the unpredictable Trump.
Chances are good that Trump would select as running mate a governor or senator – not a House member or general — who did not enter the 2016 GOP demolition derby, and who has not been too critical of him.
Of course, it would have to be someone who could plausibly and persuasively support Trump's positions on issues – which isn't easy, since Trump has been on both sides of many of the major issues, and it would probably require the running mate to renounce positions that he or she has already taken on those issues. It would also have to be someone who could not only defend Trump's tendency to insult people — including individual journalists, not just pols — but probably play the attack dog and echo Trump's future insults.
Bush told Trump in debate: "You're not going to be able to insult your way to the White House." But if Trump is the nominee, he'll likely pick a running mate who will nod in agreement if the reality TV star says, "I'm going to insult my way to the White House. It's worked so far."
Todd Domke is a Republican political analyst and a regular contributor to WBUR Politicker. He tweets @ToddDomke.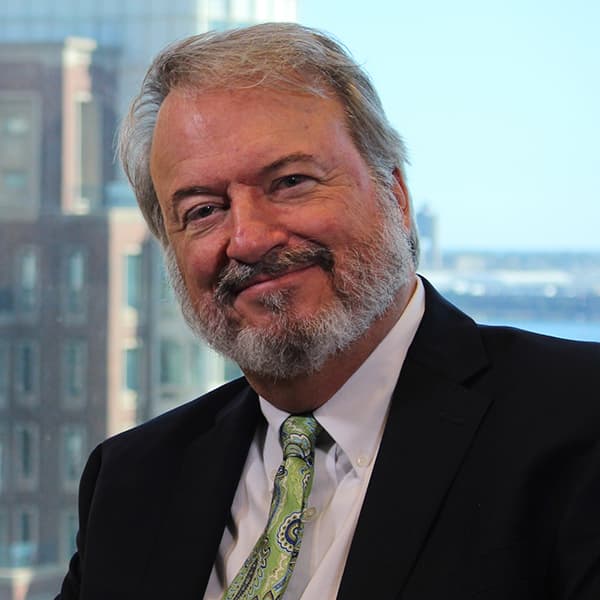 Todd Domke Republican Political Analyst
Todd Domke is a Republican political analyst for WBUR.