Commentary: Why Romney's Attack On Trump Bombed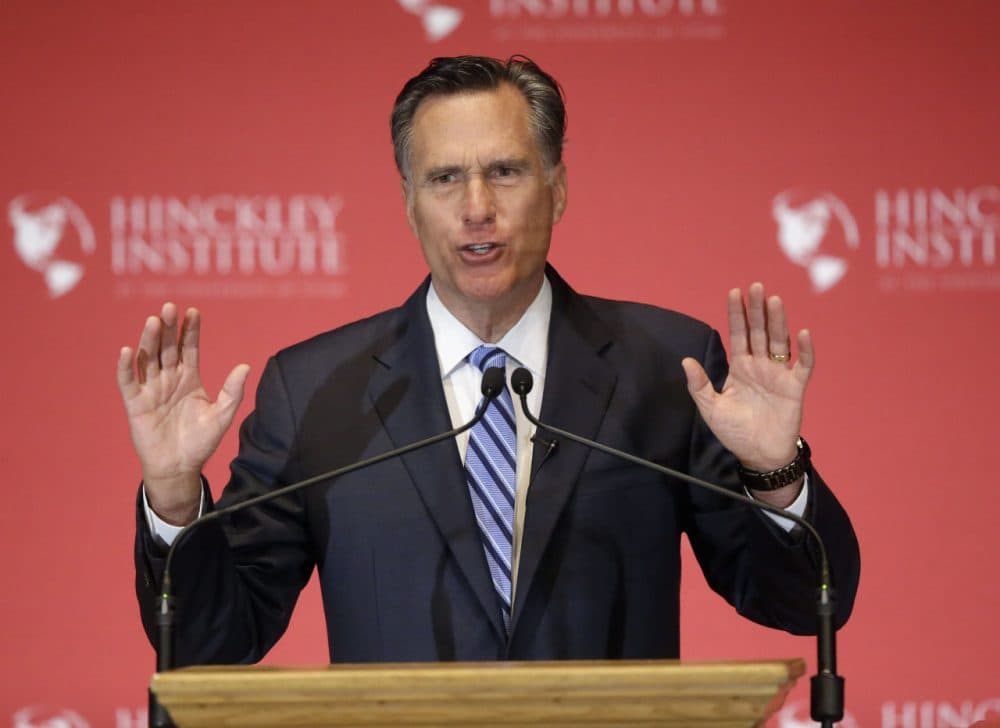 This article is more than 5 years old.
Maybe Mitt Romney should've tried it out in Boston first, like producers used to do for shaky Broadway-bound plays.
Because this one bombed.
His 45-minute nationally televised harangue against Donald Trump may have convinced people that Romney isn't dead. But it seemed to have had little impact on the political life of his target.
Of the four states that immediately followed Romney's tirade, Trump triumphed in Michigan, Mississippi and Hawaii. (Texas U.S. Sen. Ted Cruz won the fourth, Idaho.)
Romney's speech landed somewhere between counterproductive and irrelevant, according to a poll of 2,000 registered Republican voters. Morning Consult found 31 percent of respondents said it made them more likely to vote for Trump, 20 percent said it made them less likely, and 43 percent said it made no difference.
Romney took himself out of contention four years ago when he was recorded giving a speech in which he said 47 percent of the voters would never vote for him. Actually, the number was 51 percent, which is what President Obama got against him.
It also didn't help when Romney's top handler, Eric Fehrnstrom, said Romney would be changing positions "like an Etch-A-Sketch" gadget.
Romney's position on immigration was almost as damaging with Hispanics as Trump's is. Romney scoffed at Trump's plan to round up 11 million undocumented immigrants. In his own campaign for president, Romney had plans that would cause undocumented immigrants to "self deport."
In other words, they'd leave out of fear. No wonder Romney lost Latinos to Obama 71 percent to 27 percent, according to the Pew Hispanic Center.
In his speech earlier this month, Romney anticipated a counter-attack but may have forgotten how he looked as he gushed over Trump in the 2012 campaign in seeking his endorsement.
Trump said recently that Romney "begged him" for his support.
As The Donald likes to say, if you hit him, he'll hit you back twice as hard.
Looking back on Romney's campaign, Trump said on MSNBC's "Morning Joe" program, "Romney choked, OK? He choked like a dog."
When they met in 2012, however, Trump said, "It's my honor, a real honor and privilege to endorse Romney. He's tough, smart, sharp. Governor Romney, go out and get 'em! You can do it."
From one shameless chameleon to another, Romney fawned over Trump, leading with how Trump "has an extraordinary ability to understand how the economy works and how to create jobs."
This is far different from Romney's attack speech, in which he ticked off Trump's failed businesses, from Trump Airlines, to Trump University, to Trump Mortgage, to Trump Vodka, arguing that Trump treats the public like "suckers." He concluded, "dishonesty is Donald Trump's hallmark."
In retaliation, Trump further degraded Romney by claiming the former governor didn't run this time because of Trump's pending candidacy.
"Mitt chickened out … the real reason he chickened out was me," Trump said. Now he thinks Romney's hoping for "something at the convention."
Presumably Trump believes Romney will offer himself at the GOP convention to stop Trump from becoming the party's nominee. That option is looking less and less likely.
One reason is that Romney's own favorability has crashed. Just before the 2012 election, his approval among Republicans stood at 86 percent. Last week, it had fallen to 46 percent, compared to 57 percent for Trump. Sixty-two percent of Republicans say Trump would have a better chance than Romney of winning this year's general election. Just 21 percent see Romney as having a better shot.
Regardless of whether Romney had the right message, he's the wrong messenger. He is the perfect foil, the quintessential symbol of what Trump is running against, The Establishment.
p.s., Despite his lack of popularity, Romney appeared on Monday in Ohio with John Kasich. Curiously, Romney said he would not endorse the Ohio governor.
Dan Payne is a Democratic political analyst and regular contributor to WBUR Politicker.