Commentary: What Democrats Must Do To Win The Senate (Part 1)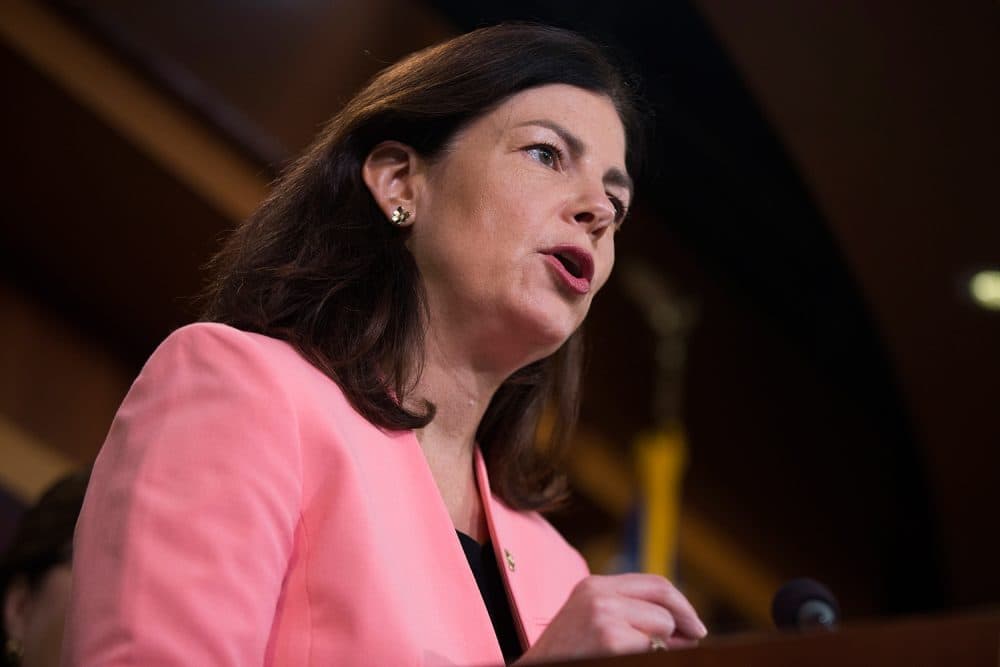 This article is more than 4 years old.
The U.S. Senate could become a majority-Democratic body after the November elections, ending the stalemate over the vacant Supreme Court seat and many other stalled appointments; ratifying or rejecting treaties; and casting votes on many measures from guns to health care to immigration. With Republicans in disarray and at odds with their presidential nominee, Democrats are increasingly confident they can take back the Senate, which is currently a 54-to-46 seat GOP majority.
Democrats must defend 10 seats this fall, while Republicans must protect 24. There are five Republicans sitting in blue or purple states who should be worried. They are, alphabetically: Kelly Ayotte of New Hampshire, Ron Johnson of Wisconsin, Mark Kirk of Illinois, Rob Portman of Ohio and Pat Toomey of Pennsylvania. In another closely watched Senate race in Florida, on-again, off-again Sen. Marco Rubio is tied with the leading Democrat, Patrick Murphy.
Donald Trump is a drag on Republicans everywhere, especially since Senate election results increasingly follow the presidential vote in each state, according to Nate Silver's 538 website.
Let's take a close look at three of those races. (Next time, we'll examine Portman, Rubio and Toomey, plus vulnerable Democratic seats.)
Kelly Ayotte. A WBUR poll conducted in New Hampshire in mid-May showed Democrat Gov. Maggie Hassan with a small (2-point) lead over incumbent Sen. Ayotte. Both campaigns, through their super PACs and other backers, have begun advertising on TV. Hassan criticizes Ayotte for supporting Senate Leader Mitch McConnell in refusing to meet with Appeals Court Judge Merrick Garland, nominated to the U.S. Supreme Court by President Obama. A recent poll showed 68 percent of voters want hearings on Garland, while only 22 percent want him rejected without a hearing. Ayotte's stance was seen by 44 percent of voters as a reason to vote against her. For her part, Ayotte charged that Hassan has traveled out of state at taxpayers' expense and bloated the state budget and underfunded opioid abuse.
Democrat Hillary Clinton leads Trump 43 percent to 39 percent in the most recent poll.
In 2008 Obama beat Arizona Sen. John McCain in New Hampshire by 10 points. Democratic activists in Massachusetts, where federal races are not competitive, may, as they often do, travel to New Hampshire to help Hassan as well as Clinton.
Mark Kirk of Illinois, running for re-election in a state that Illinois-native Obama carried by 17 points in 2012, is viewed by many groups as the most vulnerable Republican. Outside interests are spending heavily to boost GOP candidates elsewhere in the country. But not in Illinois. The Hill says this shows that Kirk is considered beyond salvation. After Trump attacked a federal judge in the Trump University case, claiming his Mexican heritage made it impossible for him to be fair, Kirk publicly dropped his support for the GOP nominee. He became the first GOP senator to meet with Judge Garland.
Kirk is opposed by U.S. Rep. Tammy Duckworth, a military veteran and moderate Democrat who lost both legs and an arm in a helicopter attack in Iraq. In a poll that Kirk's own campaign released, Kirk trailed Duckworth by 3 points, a possible sign that potential donors thought he was in even worse shape. In the Illinois primary on March 15, Clinton won 1.01 million votes; Trump got 557,000; Duckworth got 1.2 million; Kirk 922,000. Duckworth recently joined members of Congress who staged a sit-in on the House floor to protest lack of congressional votes on gun control measures. A poll done in March -- ancient history in polling -- had Clinton beating Trump by 25 points in the state.
Ron Johnson. Wisconsin is holding a rematch between Tea Party favorite Johnson, who beat maverick Democrat Sen. Russ Feingold by 5 points in 2010. A recent poll showed Feingold leading Johnson 50 percent to 37 percent. In that same poll, 57 percent said they do not trust Trump to choose a new Supreme Court justice, compared to 34 percent who do; Johnson has refused to meet with Judge Garland. Wisconsin hasn't voted for a Republican for president in 32 years. The recent poll showed Clinton leads Trump 47 percent to 39 percent in the state. Trump lost the Wisconsin primary by 13 points to Texas Sen. Ted Cruz -- his last defeat of the primary season.
Their issue differences are significant. Johnson wants to repeal Obamacare, cut taxes, and reduce government spending and regulations. Feingold supports Obamacare, same sex marriage and abortion rights, which Johnson opposes. They both favor the Second Amendment, although Feingold backs limits such as the Brady bill and background checks. In a state that once boasted tens of thousands of manufacturing jobs, Feingold rails against "lousy trade deals."
Correction: An earlier version of this commentary misstated that Tammy Duckworth was severely injured in the Vietnam War. It was the war in Iraq. We regret the error. 
This article was originally published on June 30, 2016.