Amid Sanders' Mass. Delegates, Some 'Tough Feelings' But Most Falling In Line For Clinton
03:18
Play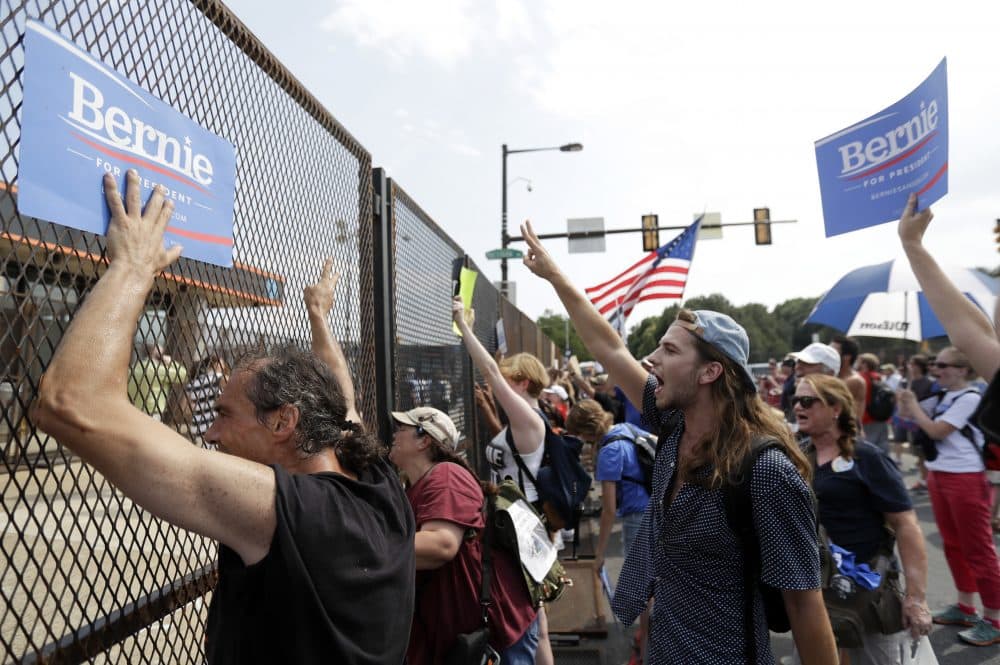 This article is more than 4 years old.
At the Democratic National Convention in Philadelphia, Bernie Sanders is trying to convince his supporters to rally behind the presumptive presidential nominee, Hillary Clinton.
He's expected to make his case for Clinton during an address to the convention Monday night.
But Sanders' argument was not well received when he addressed his delegates Monday afternoon, with many booing the mention of Clinton's name.
Some are not willing to give up on his candidacy yet. But among the Massachusetts delegation, many are falling in line behind Clinton, though not all enthusiastically.
Linda Pinti, a Sanders delegate from Cambridge, is still holding out hope that the superdelegates, the elected and party officials who mostly support Clinton, will, she says, do the right thing.
"I pray that they will shock the world and nominate Bernie Sanders," Pinti said, "because if we do that, we'll win by a landslide -- and I don't know what will happen if we don't."
Delegates begin their convention amid reports that several national polls now have Donald Trump leading Clinton.
"I want to hear Bernie talk about how we can all come together, unify to go against Donald Trump, because [Trump's] a maniac," said Tristan Whitehouse, a Sanders delegate from Manchester-by-the-Sea.
But instead of focusing on Trump and November, the attention on the first day of the convention was instead on problems within the party. Sanders delegates arrived in Philadelphia to the continuing fallout of email revelations that Debbie Wasserman Schultz, the chairwoman of the Democratic National Committee, and some of her staff were trying to undermine Sanders' campaign.
Ed Collins, of Springfield, was not surprised.
"We didn't realize that it was quite as deep and as nasty as it was, but it's been pretty apparent going back to the number of debates, the nights they scheduled them, that the thumb was on the scale," Collins said. "Now it turns out that maybe the thumb and both elbows were on the scale for Hillary, and that's absolutely wrong."
Still, Collins, like most Massachusetts delegates for Sanders, recognizes Clinton is the nominee and is ready to work to get her elected.
Harwich state Sen. Dan Wolf wants a vote on the floor to show his support for Sanders, but after that, he's ready to rally behind Clinton.
"There has to be party unity around making sure that the Democratic candidate gets elected and that Donald Trump doesn't get elected," Wolf said.
Another Sanders delegate, Acton state Sen. Jamie Eldridge, agrees.
"I am supportive of Hillary Clinton as the presumptive Democratic nominee," he said. "That being said, I would acknowledge that there's some tough feelings because of the DNC emails, because of the placement of Congresswoman Wasserman Schultz right onto the Clinton campaign."
That may sound like a tepid endorsement, but for now, that's all Clinton is going to get from some Sanders delegates.
This segment aired on July 25, 2016.