This App Veers Away From The Polls To Get Millennials Engaged In The Political Process
05:37
Play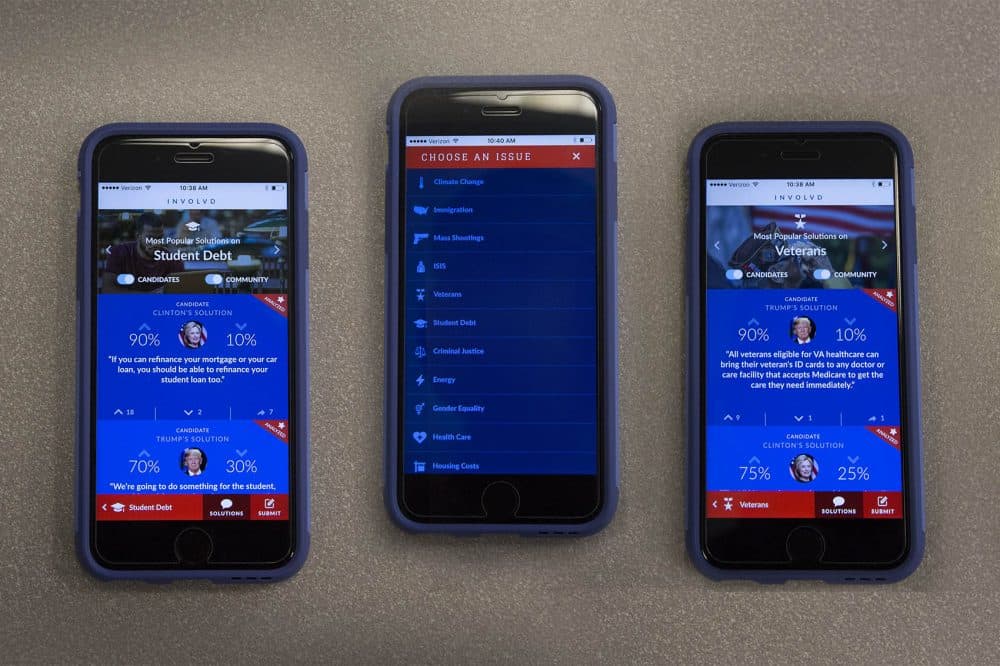 This article is more than 4 years old.
Research bears out the challenge: The younger you are, the less interested in political news you are.
Consider these figures from the Pew Research Center: 45 percent of Baby Boomers say politics is among the three issues they care about most. Only a third of Gen Xers feel that way. And even fewer millennials do.
From a list of nine topics, just a quarter of millennials put politics and government among their top three issues. And given the state of the current political debate, who can blame them?
This election is marked by attacks and counterattacks, an obsession with polls and process -- all of which discourage younger voters from engaging.
"We're watching an election cycle where we're literally judging who's the best entertainer," Tom Cosgrove, a longtime Boston-based political consultant and organizer, said. "And we've forgotten that at the end of the day someone has to govern, and if we have to govern, we have to know how we're going to solve problems."
Cosgrove is the developer of a new smartphone app called INVOLVD, which has the motto "Democracy is not a spectator sport."
"This is an intersection of civics and journalism — to get people to be involved, to take a look and to play a role in it," he said.
The app offers sober and unbiased reports, delivered by veteran Boston newsman R.D. Sahl, on a variety of issues from guns to ISIS to global warming to student debt. There are also longer write-ups and expert interviews on the various campaign issues.
Boston University's College of Communication produces the material and curates the app.
"It's a site where anyone can go," said Tom Fiedler, the dean of BU's College of Communication. "We really hope it will be attractive to young people in particular — and find rigorously gathered and conveniently presented position information about the presidential campaign."
True to its name and mission, INVOLVD also encourages users to get involved by voting on various policy proposals and submitting their own — directly to the candidates through social media.
"This is particularly important to this generation of young people," Fiedler said. "They don't want to be on just the receiving side of information that comes to them on high. They want to be able to engage with information and share it. This is what they have grown up with."
"Oh, I think it's actually a great idea," Sanaz Tahernia, a BU journalism grad student. "Because me, personally, I'm not actually a huge politics person."
Tahernia is one of the student reporters with INVOLVD, which she says is a great way to engage people like her — millennials who might be turned off by politics.
"It kind of brings it down to a more understandable lay person's level of political understanding," she said. "The interactive element really draws people in and I think will peak the interest within a lot of people — especially millennials."
Reaching millennials this way makes sense because not surprisingly, a plurality of them get their news from their smart phones. So do lots of other people.
In fact Johanna Dunaway, an associate professor of communication at Texas A&M University, says in the near future more than 70 percent of all online activity will take place on mobile devices — like smartphones and tablets — and this concerns her.
Dunaway says research suggests that smaller screens and slower wireless connection speeds mean people spend less time engaged with material than they do on a laptop, for example. In other words, smart phones may be a good route to reach millennials, but it might not be encouraging them to go as deeply into the subject matter as they could.
"In an already low political knowledge and low civically engaged society such as here in the U.S., what does it mean if people might be even less likely to seek out and pay attention to news content carefully because we're all on these mobile devices," Dunaway said.
That concern may be valid. But Sahl, the veteran Boston newsman who teaches journalism at BU, says INVOLVD is an effort to reach younger voters where they live.
"They don't watch traditional television newscasts," he said. "They don't listen to traditional radio newscasts. They live on their handheld devices, and this is an app that enables them to do that."
INVOVLD has just been launched, so there's no way to measure its popularity or effectiveness yet. But its designers hope that it will provide a new way to engage young voters in substance and solutions — rather than soundbites.
This segment aired on September 8, 2016.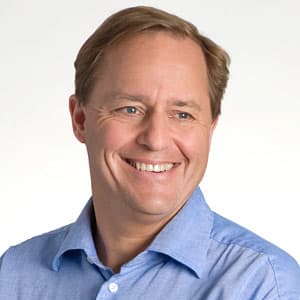 Anthony Brooks Senior Political Reporter
Anthony Brooks is WBUR's senior political reporter.