Brazilian Immigrant Wins Social Justice Award
09:10
Play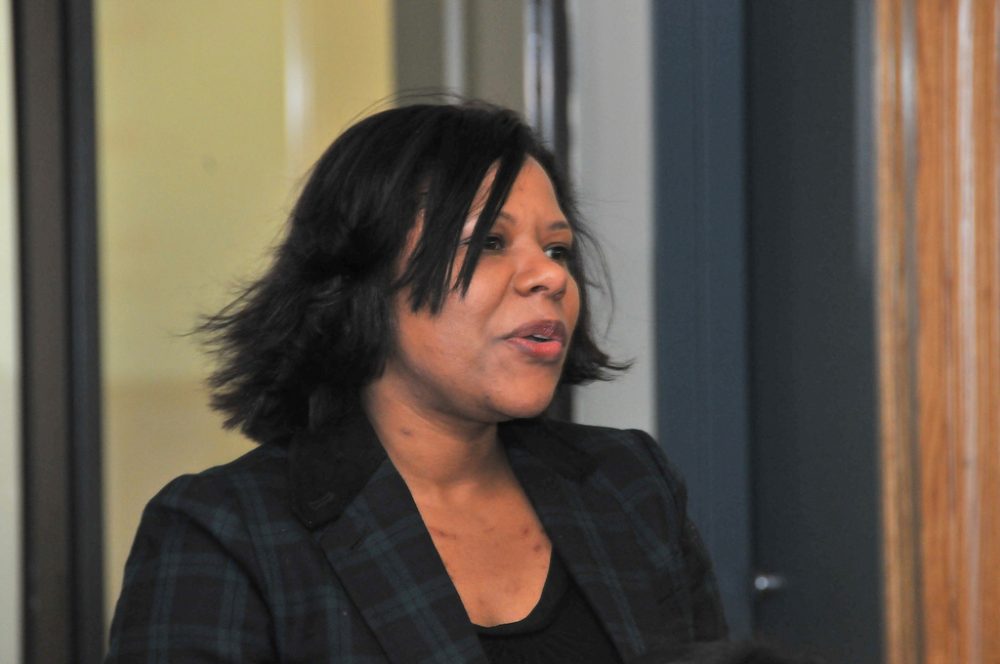 This article is more than 8 years old.
Natalicia Tracy's day job is at the Brazilian Immigrant Center in Allston. She's its executive director, and she and her staff help newcomers to this country with all the struggles that come with being an immigrant, especially in terms of workplace rights.
But these days she has a new title: social justice crusader. She received that honor from the Petra Foundation, which got its start in Boston and recognizes people whose life mission is to build a more fair and just society. And that certainly describes the mission of 42-year-old Natalicia Tracy.
Tracy — a graduate of UMass-Boston, where she lectures, and a PhD candidate at Boston University — has lived the immigrant experience in a very personal way. She came to the United States from Brazil when she was a teenager to work for a well-to-do Brazilian family as a nanny. She had high hopes for her new life but, as Tracy describes to WBUR's Sacha Pfeiffer, it didn't take long for that optimism to start to unravel.
Still, she says: "If you tell me I can't do something, then you get the opposite."
Guest
Natalicia Tracy, executive director of the Brazilian Immigrant Center in Allston
Interview Excerpts
How Tracy's nanny job began to go awry, and what she did about it:
A few months into the job the family felt that the house was too small so they put me in a three-season porch. That became my bedroom. I put cardboard on the concrete floor and had a futon on the floor and a space heater. That's what my room was. I was shocked by that. And the next thing, I was responsible for everything and I was working seven nights a week. Some nights on the weekend I would be babysitting until 2 a.m. because they wanted to go out with their friends. They wouldn't let me receive mail because they wouldn't let me put my name on the mailbox. I was being paid $25 a week for working 90 hours a week and I couldn't go home because they said it was too expensive. I was alone. I didn't speak any English. I had an eighth-grade education. I was in a new country. What do I know, right?
I felt very angry at times because that's not what they had promised me; they had promised me the opportunity to go to school, learn about new culture and basically be part of their family. But I found myself in a situation where I felt very trapped [so] I started to teach myself English with a little dictionary that I brought from home and the radio clock they had given to me. I was supposed to be up by 6 a.m. every day but it played music, so I listened to music and tried to learn the words. Then I started looking at the newspapers that they left at the house. That's basically how I learned enough English to get out there and say, "I want to learn more and this is not okay to be in this situation."
The types of complaints lodged with the Brazilian Immigrant Center, and Tracy's mission there:
The most common one is wage theft. They worked, they didn't get paid. And then when you talk to them it's not that they just didn't get paid but they were working overtime, they were forced to work without a break, if they got hurt they still had to finish the day of work. Those are the common issues that are brought to us every day...You feel coerced, you feel powerless, you feel vulnerable.
I'm so determined to not just work to educate the community but to change the laws, because it's a systemic problem. It's embedded in the structure, where the people who are most vulnerable are not treated with respect. They're invisible, their work is not recognized, and they're really important — especially in this society, because most of us women, we want to go out and get a career but we also want to have a family. But, in addition to having children and having our homes to care for, we have our elderly parents, and someone needs to take care of them.
The center now, we want to be able to do more political work. We don't just want to put a Band Aid on the wound; we want to fix it. And the way we want to fix it is through passing legislation, by working on campaigns. You start by changing the social structure, by putting laws into place that you can point to and say, "Look, you're violating a law,' and then educating the community to say, "Hey, I have rights."
How she plans to use her $7,500 Petra Fellowship stipend:
I used some of my stipend right away. I had someone calling me over the weekend just as I had hear that I got the victim. A female victim of domestic violence. she became homeless in the middle of the night and I couldn't get her shelter. So I used some of the money to put her in a hotel. I was glad that I had the money because otherwise I would have had to use my credit card, right! I can't help it. So that's how I used some of the money already. I used it to do that. I can't help it. I feel like it's my moral obligation.
How she hopes her fellowship will help the Brazilian Immigrant Center:
I already have so many grassroots members of the community that are working with me, but we really struggle with resources to move forward our bill, our mission. So it's about creating visibility and making people understand that you can do things. But also it starts by showing people that you can do with so little that if you truly have resources, not even the sky is the limit.
This segment aired on January 7, 2014.