Cambridge Tech Co. Live-Streams Olympics
05:36
Play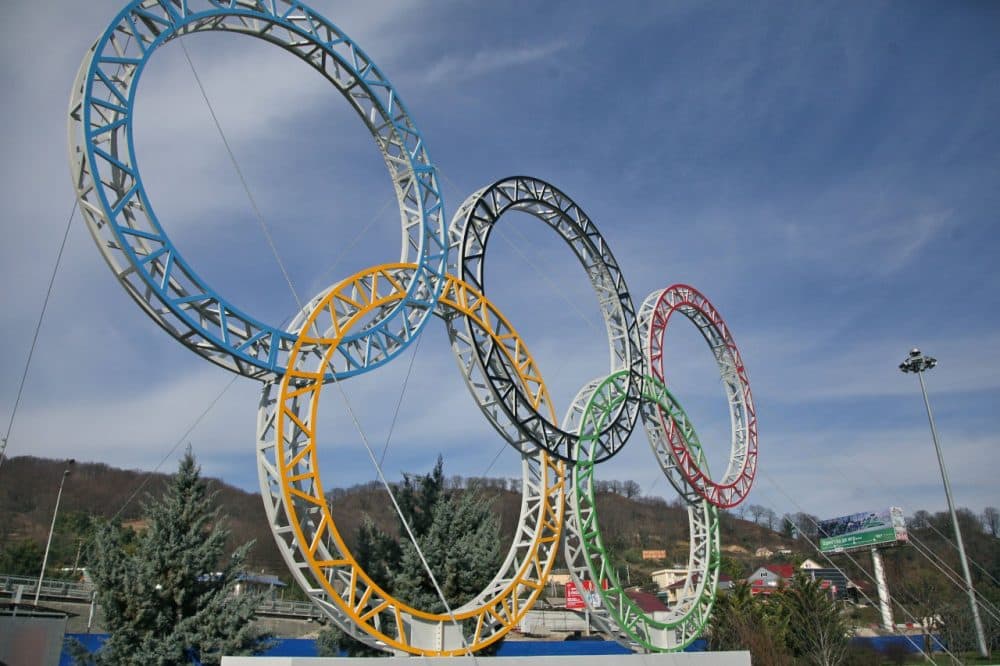 This article is more than 7 years old.
Opening ceremonies for the 2014 Sochi Winter Olympic games kick off in just two days. In years past, given the time difference between Boston and Sochi, you would have had to wait more than nine hours to watch the opening spectacle. But we are living in an on-demand world. So this year for the first time in Olympic history, thanks to a Cambridge tech company, you won't have to wait at all.
"Pretty much wherever you are in the world you'll be able to watch every single event and you'll be able to see it in very high quality and in a very timely fashion," said Tom Leighton, co-founder and CEO of Akamai Technologies.
Akamai is one of those Massachusetts companies that, even if you have never heard of it, you have almost certainly used their services. It's one of the world's leading internet media and content delivery companies.
"We carry a lot of the traffic for the world's top 30 media sites. We also carry the applications and traffic for 97 of the top 100 commerce sites. So if you go buy something online, there's a pretty good chance you're using Akamai to speed that transaction," Leighton said.
And this year, Akamai is providing the tech infrastructure for NBC Olympics so that every one of the 98 events at Sochi will be available for live streaming or on demand anytime on any device.
Men's snowboarding at 3:45 Saturday morning? Sure. How about a more reasonable time, say 8 a.m. on your smartphone? Absolutely.
Or say you are a fan of curling and you want to watch every match for 12 straight days.
"Well, I don't know if I'd do curling all the time," Leighton chuckled. "Skiing and skating and hockey and you can watch some of the events that you don't get to watch on normal TV. Cause they sort of pick for you what you watch on the TV, whereas on the internet, you get to pick what you want to see and when you want to see it."
And making all those sports available at the tap of a finger, given the multitude of digital devices and platforms available today is quite a Herculean task.
But rather like a skiier peering down the mountain from the start house, Leighton seems calm.
"That's what we do. We get the content, including the video, there quickly on any device anywhere. And we also secure it," he said. "The Olympics attract some of the negative elements out there as well. People coming to try to bring the site down or to corrupt it of put their message on the site. And so we do a lot of work to defend the website so you get the content you were expecting to get."
Some context here: 190 million Americans watched the 2010 Vancouver games on television. NBC offered some highlight clips online, but only after the events. That was in the world before iPads and other tablets. Today, putting such time restrictions on the Games seems unthinkable. Now, more and more media is consumed on mobile devices, and the Twitter alerts you to results as they happen.
"And you've got lots of sources with all the different venues, all the different cameras and camera angles and then, potentially, the hundreds of millions to billions of people who will watch it. And that's what our platform is built to do," he said.
"Around the globe right now, there's browsers and players out there asking for 30 million things from us every second on behalf of thousands and thousands of websites. That's bigger than the Olympics will be. We have built a platform that collectively handles a lot more traffic than we'll see for the Olympics. Now, the Olympics as a single entity will be bigger than the other single entities we've done before, just as it is every two years."
Leighton would not disclose how much NBC Olympics is paying Akamai for the streaming service. Nevertheless, he said the ability for viewers to watch every event online could be a game-changer.
"Every time we do an event like this, it gets more and more advanced and people come to expect that's how their entertainment experience should be," Leighton said. 'And you move one step further in terms of expectation that it's not just like old TV anymore, it's got to have all this functionality and capability and personalization and options available for individuals and you can only do that over the internet."
And to that, we can only say: Let the Games Begin.
This segment aired on February 5, 2014.