Tom Menino On Cancer, Leadership, Life Outside City Hall
07:54
Play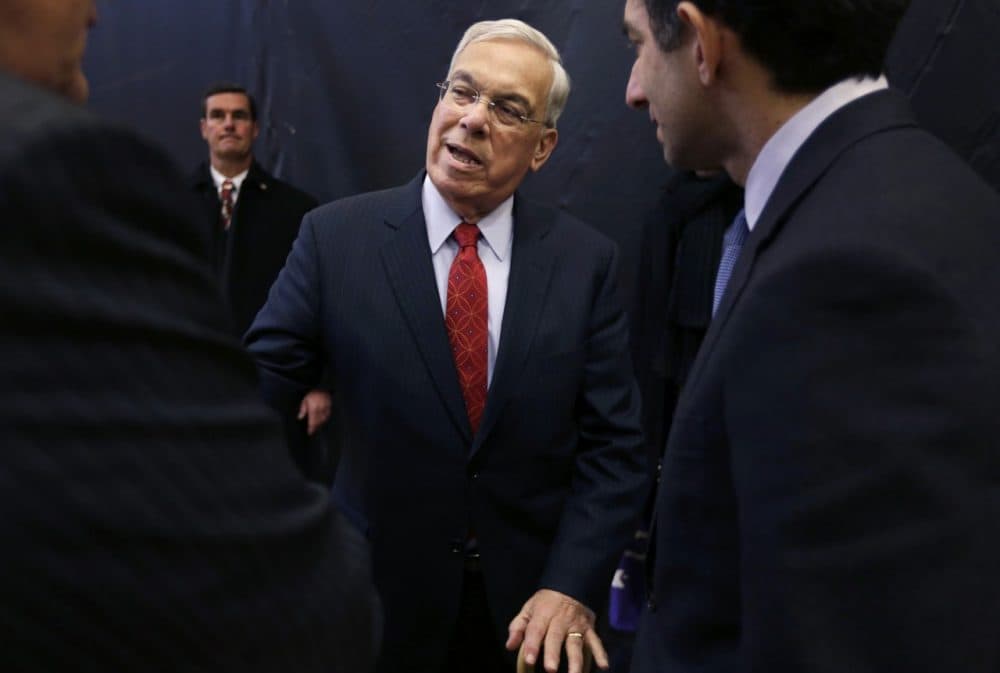 This article is more than 7 years old.
Over the weekend, we learned that former Boston mayor Tom Menino has been diagnosed with an advanced form of cancer that has spread to his liver and lymph nodes. The former mayor will undergo three months of chemotherapy, but he is not letting this serious diagnosis slow him down or darken his mood.
"You can't get down; I've got too many things I want to do," Menino said Monday. "There are too many things that I haven't accomplished in my lifetime. I want to do something over here on this Initiative on Cities. I'm writing a book that will be out in September. I got a lot of things I'm interested in."
Menino showed up for work Monday at Boston University, where he's setting up the Initiative on Cities, a kind of urban think tank. He sat behind a wide wooden desk, within reach of his cane, which is a modified Louisville Slugger baseball bat. Menino told us he's been receiving a steady stream of emails and phone calls wishing him well — many of them offering suggestions for how to beat cancer. But the former Mayor, who stepped down a little more than two months ago after leading the city for 20 years, said he's feeling well and optimistic.
Guests
Tom Menino, former mayor of Boston and co-director of the Boston University Initiative on Cities. He tweets at @mayortommenino.
Highlights
On his cancer diagnosis:
Tom Menino: I'm feeling great. I've got a lot of energy. I'm excited about being over here at BU with this new initiative. I feel really good. I mean, you know, if I didn't have the diagnosis I wouldn't think there's anything wrong with me... My doctor ordered an MRI in the back of my leg because my legs were so weak. There was some problem back there, there was a pinched nerve or something. And he didn't find anything. And so he says, 'Let's do a PAT scan.' That's OK, whatever you want to do. And that's how we found it. Just by accident. It was some time early February, I had my first treatment two weeks ago and I'll have another treatment this Thursday.
On whether he feels unlucky in health:
TM: No, it challenges me. It challenges me to get better and beat the odds. I've done it several times and I'll continue it. One thing I'm overwhelmed by is the support I'm getting. The phone calls, the prayers, the emails, everything. The tweets and the... all that stuff. People I would never expect to be calling me, calling me. I just do my job, nothing special.
On his confidence in getting better:
TM: I'm so confident, I really am. I think I have everything on my side. I'm worrying about today, I'm worrying about tomorrow and what I can do to help the people of Boston. Not as mayor but as a citizen and some of the initiatives I'm working on — on education issues, on the city's issues, all of those issues that are important... Let me tell you, you can't sit at home and pout about it. I got to deal with it, you've got the best medical staff in the country, best doctors, got Dana-Farber, what else do you want? I'm getting the best and today is Monday and this afternoon I'm going to to Wellesley College to talk to the young democrats out there and trying to convince them to get active and tell them why they should. I've got all kinds of appointments in my books.
More
WBUR: Menino Plans To Keep Busy While Receiving Cancer Treatment
"Former Boston Mayor Thomas Menino said he plans to be at work at Boston University Monday and keep up an active schedule while he continues cancer treatment."
The Boston Globe: Menino Vows To 'Beat Back' Cancer
"Former Boston mayor Thomas M. Menino, who has been diagnosed with cancer, said he was a 'fighter' and would beat his disease, at an appearance today at an indoor farmers' market in Dorchester's Codman Square."
This segment aired on March 17, 2014.