Race Director Gears Up For The Boston Marathon
08:53
Play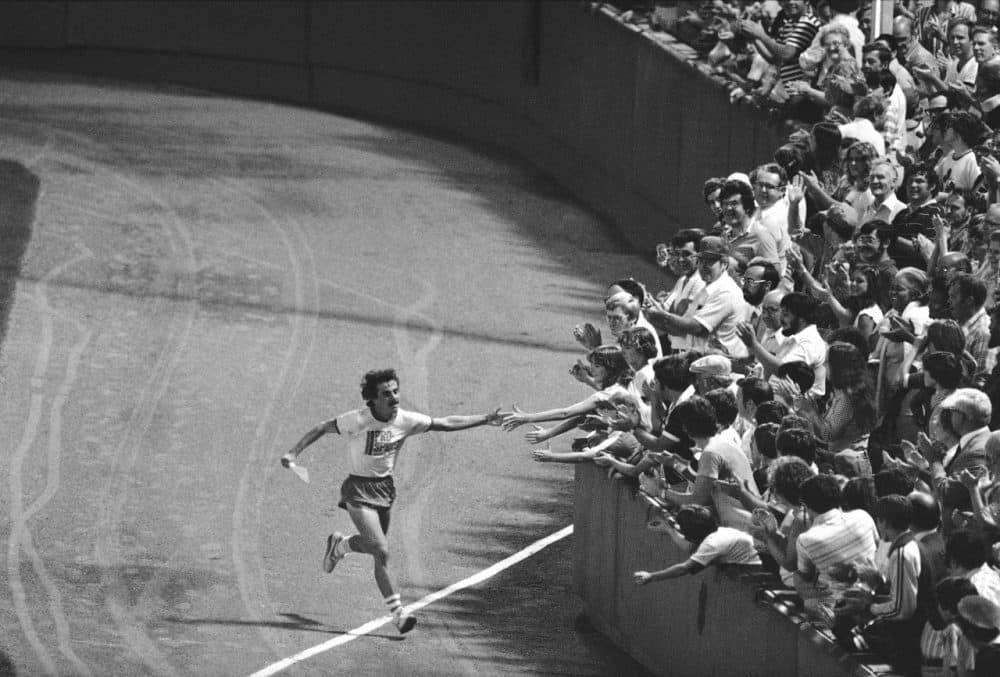 This article is more than 5 years old.
How's this for dedication to long distance running? In 1978, Dave McGillivray ran coast to coast — more than 3,400 miles, averaging 43 miles a day — for 80 days. He did it to raise money for the Jimmy Fund. So, McGillivray is passionate about running. He's also passionate about the Boston Marathon, because he's director of the race.
He's overseen 26 of them for the Boston Athletic Association, but he's never had to plan for anything quite like this year's race. A year after the deadly bombing, he's expecting 36,000 runners, 10,000 volunteers, more than 3,500 police officers and up to a million spectators.
Dave is participating in a live interactive video chat on Friday April 4 at 12 p.m. 100 percent of the proceeds will go to the Martin W. Richard Charitable Foundation.
Guest
Dave McGillivray, Boston Athletic Association race director. He tweets at @DMSE.
Highlights
On how he describes the big challenge he's overseeing:
Dave McGillivray: "There's a couple of dynamics in play here. First of all, right after last year's race, we had to go through this in stages. The first stage was more recovery and taking care of our own and taking care of those who were profoundly impacted and those who were victimized. That took two or three months' worth of focus. And then we had to go into the next stage, which was conceptualization. What is the 2014 race going to be? What's it all about? What's the field size? We were getting inundated by people from all over the world with ideas and suggestions and recommendations as to what they thought it should be. And so we have to put that all on the table and piece it all together. And eventually we did that. Finally, we're in for the last stage, and that is the execution of the plan. And all three stages have been incredibly challenging, if not daunting to say the least, and we're only a few days out from the race and we're looking forward to having a safe, family fun friendly day on April 21."
On what keeps him coming back to the Boston Marathon year after year:
DM: "I always feel there are defining moments. When I was 17, I ran the race and I didn't finish — I didn't train that much. And then I realized, hey. Maybe you need to train to do this thing. So the next year I did and I finished the race and I said to myself on that day in 1973 that I wanted to run this race every year for the rest of my life, and I've done just that. But in 1988 when I was technical director for the marathon, I had a very difficult decision to make — do I run in it or run it? What do I do? My other motto is, 'It's my game, so it's my rules.' So I said, 'Well, I'll direct it during the day,' which I did, and then I decided, 'Hey, why can't I run it, too?' And so I got driven out to the start late at night by a state police trooper and at 8:00 p.m. I ran back into Boston. It's sort of the calm after the storm. I finished up at about 11:00 p.m., and that's what I've been doing for the last 26 years."
On running the Boston Marathon for the Martin W. Richard Charitable Foundation:
DM: I've helped raise a lot of money with my team, with all the races that I've managed over the years — over 1,000 events all over the world. But I've never really run this marathon and done it for any charity, it's always been a very competitive thing for me. Well, this year is different. My 8-year-old son was sitting in the bleachers last year when the bombs went off and he saw everything and he was impacted by what happened and he still is. I just thought — I can't imagine what it must be like to lose a child, especially in that way. I did speak to the Richard family and asked them if it was OK with them if I did this and they welcomed me, so that's my intent. And it will certainly be a very emotional 26.2 miles for me, too, as I begin my journey at about 7:00 p.m.
More
Runner's World: Dave McGillivray Will Run Boston for Charity
"When his work is complete and the last runner has crossed the finish line at this year's Boston Marathon, race director Dave McGillivray will once again run the course himself on April 21."
Wall Street Journal: Why Runners Can't Eat Whatever They Want
"As a 10-mile-a-day runner, Dave McGillivray thought he could eat whatever he wanted without worrying about his heart. "I figured if the furnace was hot enough, it would burn everything," said McGillivray, who is 59."
This segment aired on April 3, 2014.