Marathon Bombing Survivor Caps Year On High Note
11:18
Play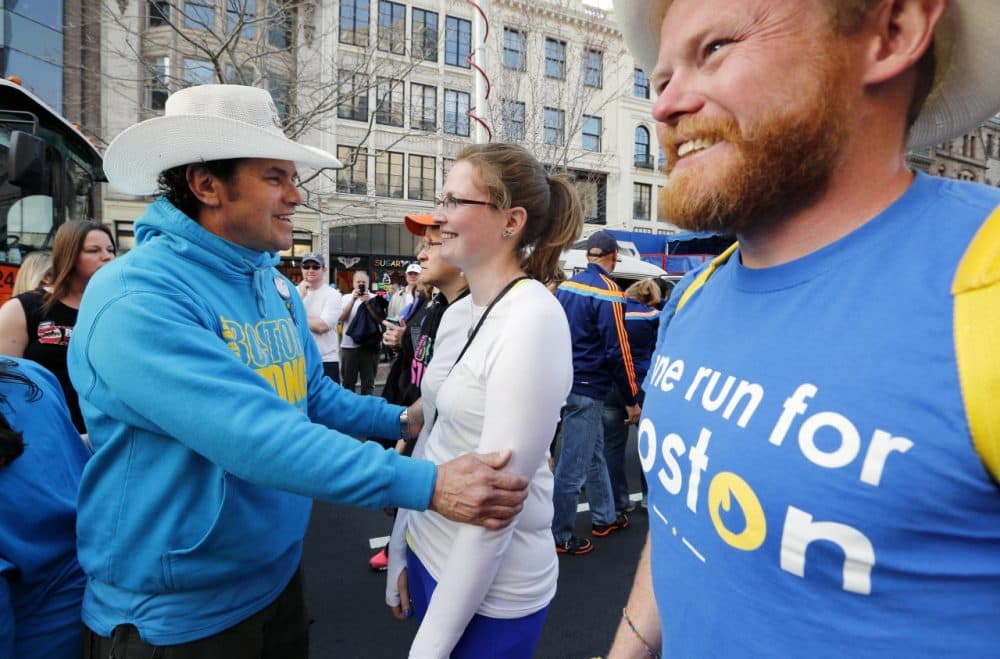 This article is more than 5 years old.
Last night, about two dozen survivors of last year's Marathon bombing arrived at the finish line on Boylston St. in a trolley. This was the final leg of the One Run for Boston — a cross-country relay race that started in Santa Monica, Calif. one month ago to raise money for the victims.
About 2 dozen came to walk the final stretch down Boylston St. with the runners. Among them, Brittany Loring, who was seriously injured a year ago. She is able to walk on her own now, but she cannot run yet. So her sister Alyssa and two of the people who helped treat her last year — Hafsa Labreche and EMT Benjamin Foley — ran the last 6.5 miles for her.
As Loring waited for her sister to turn down Boylston, she was overcome with emotion. Carlos Arredondo, the man in the cowboy hat who helped save Jeff Bauman, pulled Brittany into his arms until she regained her composure.
"He was just saying, 'You're parents are here with you, your families are here with you. Look around.'" Loring recalled.
After crossing the finish line, Loring said it was the perfect way to commemorate last year's bombings.
"It was pretty amazing. I'm so glad I came here and pushed myself to do that because, honestly, when I first looked down the finish line and saw (the banner), I thought I was going to throw up."
Brittany Loring has set up a fund through the Community Foundation of North Central Massachusetts to benefit other survivors of the Boston marathon bombing and other traumatic events.
Guest
Brittany Loring, Boston marathon bombing survivor.
This segment aired on April 14, 2014.