Gerry Adams Arrest Raises Questions About Oral History Projects
21:26
Play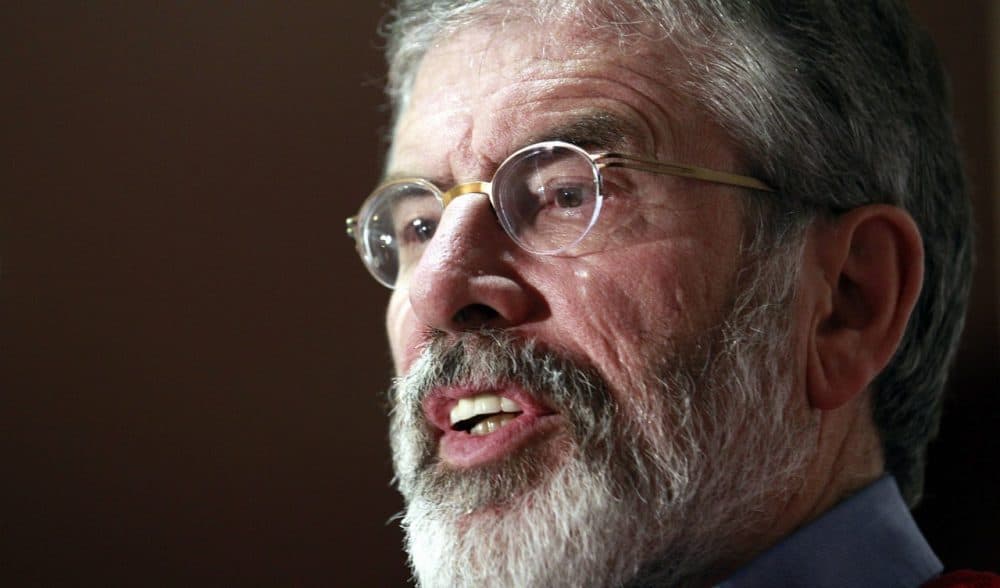 This article is more than 7 years old.
The arrest of Gerry Adams has roots in Boston and in Northern Ireland — and it spans from the 1970s through today. On Thursday, Gerry Adams, the leader of the political organization Sinn Fein, was behind bars. Adams was arrested in connection with the abduction and murder of a mother of 10 in Belfast in 1972. It happened during the heat of the so-called "troubles." That's when there were brutal clashes between those who wanted keep Northern Ireland under British rule and those who wanted it to be independent. Gerry Adams was a fighting for independence.
Adams is being questioned in prison about the notorious death of a woman named Jean McConville. The IRA believed McConville was an informant.
Several of McConville's children were home with her in December 1972. One of them was 11-year-old Michael. He recalls about 12 men coming to the house — he even recognized some of them from the neighborhood. The children cried and clung to their mom. The men said they were merely going to question her, but they took her away. Her body wasn't found for another 30 years.
It's logical to wonder why young Michael and his siblings never told police who abducted their mother. Michael McConville has a ready answer. About a week after his mother was kidnapped, he was walking to his grandmother's home and was attacked by the IRA.
The men eventually let him go. And even today, more than 40 years later, he and his siblings still won't reveal who abducted their mother and threatened them. If they talk, Michael's convinced they'll be shot.
Gerry Adams has long denied any involvement in Jean McConville's murder. He did so again Wednesday night, as he approached the police station to turn himself in:
"I'm innocent, totally, of any part of the abduction, the killing, the burial, of Jean McConnville," Adams told the Irish broadcaster, RTE.
This development is the direct result of research from Boston College. The Boston College Belfast Project consists of a series of candid oral testimonies given by paramilitaries — people involved in the violent fight to free Northern Ireland from British rule. The college wanted them kept private until the people testifying had died, but the U.S. Justice Department ordered them to be made public last year.
Guests
Henry McDonald, Belfast correspondent for The Guardian. He tweets at @henrymcdonald.
Anthony McIntyre, former member of the IRA. He left the organization after the 1998 Good Friday agreement. He also conducted many interviews in Boston College's Belfast Project.
More
WBUR: Sinn Fein Leader Held For 2nd Day Over IRA Killing
"Sinn Fein leader Gerry Adams remained in police custody for a second day Thursday as detectives questioned him over his alleged role in the Irish Republican Army's abduction, killing and secret burial of a Belfast mother of 10 in 1972."
The Boston Globe: BC's Irish Project Leads To Arrest Of Gerry Adams
"Police in Northern Ireland arrested Sinn Fein leader Gerry Adams Wednesday in connection with an infamous 42-year-old slaying, based on allegations contained in taped interviews recorded for a Boston College history project on the conflict in Northern Ireland."
This segment aired on May 1, 2014.